Future of Digital Marketing in India is very glooming, let's see how?
Growing Number of Internet Users:
Thanks to Mobile and Social Media, the number of internet users is growing exponentially especially across Emerging Countries. Over 45% of the world's population got online by the end of 2016.
According to a report: on average, every person spent their 3 hours/day online. now the question is that what they do online? they spent about their 2 hours/day on social media sites and rest on shopping sites.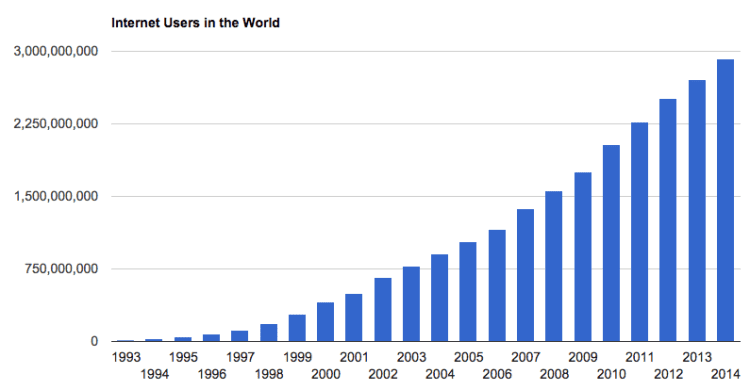 Get Job, What You Want
In present, digital marketing is one of the fastest growing industries in India. This industry is expected to generate more than 20 lakh jobs by the year 2020. And the interesting thing is that fun associated with your work.
Digital Marketing Manager:
This is one of the highest position in the field of Digital Marketing.  Getting this profile one should have to give 2 to 3 years in this field. And can earn between 5 lakhs to 10 lakhs.
Social Media Executive and Brand Manager:
Social media is one of the coolest jobs in the Digital Marketing field. But don't think about only Facebook and Instagram, there is much more.
So as a social media executive/manager, you have to manage the social media campaigns of your company.
And you can build brand awareness for your company and can earn between 4 lakhs to 6 lakhs.
PPC Or SEM Expert:
If you want running Ads and like playing with Google Ranks then it's the right place for you.Because here you can manage Ads Campaign and run paid Ads for your company and can earn between 5 lakhs to 7 lakhs.
SEO Executive or Expert:
In this job role, one has to optimize its site according to the Search Engine guidelines. So that a website can get more organic traffic.
In this profile, you can earn 4 lakhs to 6 lakhs.
Content Marketer:
This is the perfect job for, who love writing. If you can write better, write Content for your company as a Content Marketer and earn up to 10 lakhs.
Freelancer:
If you don't like jobs, you can do freelancing and can work from your home. there is a number of websites which is giving the opportunity to earn as a freelancer.
For Startup:
If you are a startup then Digital Marketing is much important for you. There are a number of startups who did well with the help of digital marketing. like: Olx, Quikr, Oyo, Trivago and many more.
So add on digital marketing skill and give a new direction to your startup.
For Business:
If you are a business owner, you can go online and take your business next level. With the help of digital marketing, you can create a website for your business and can increase your business reach.
Conclusion:
As we see above, the future of digital marketing in India is very bright. So be prepared for becoming the future of digital marketing.