Do you ever wonder that a jacket that belongs to the early '90s still has a worth and remained as an important piece of clothing in so many men's wardrobes nowadays? Usually, we see that trends are changing with time but since the last century, there is no break in the production of leather jackets that we ever saw. But in fact, more leather jackets are produced every day than ever in history.
One of the main reasons that leather clothing remains one of the top-selling items in clothing products is its durability and versatility. Police, Motorcyclist, Cowboys and so many more always enjoy their awesome leather jacket. But every person wears them in different styles and matches with other garments to show off their favourite leather brands.
What is a Leather Jacket?
A piece of cloth that is made up of various tanned hides of several animals like goats, sheep, cows, and many more. These leather jackets are designed for several purposes like protection, but mostly it is designed as a fashion garment. Usually, leather jackets are in black or brown colour but there are so many more colour options are available. So, you can choose one of your favourite leather jackets and surprise everyone with your new look.
What is a Leather Jacket Today?
Leather jackets in today's industry have adopted a new look which was never been seen since the 1920s. following are some reasons why this iconic piece of fabric become so much famous.
Style – Nowadays it doesn't matter what is your personal preferences in choosing leather garments. There is always a piece in the market that suits your preferences. Nobody ever dreams that this industry is so much grown in comparison with the '90s industry. No one knows the fabric that is only used for making jackets is now can be used to make leather pants, leather shirts, leather trousers, leather coats, and many more leather products.
Colours – Fashion has so much evolved over the years and with that leather jackets are not held back. In past, only black or brown leather jackets are the favourite ones but today with time a lot of colours are introduced in the market like yellow, blue, red, green and many more colours. Today Men and women both enjoy showing their unique fashion sense to the world by wearing their favourite clothes including leather ones. Plus, with today's technology, we can expect anything to be greater in this industry.
Customization ­­– This is another benefit of today's technology that we can wear our clothes with our choice that fit our bodies perfectly without high price tags which we are forced to pay by brands. Instead of it, we can make our leather clothing by just visiting the tailor in our budget. Custom leather jackets are now becoming the new trend for both men and women of our time who are frustrated by the ill-fitting of clothing and less colour and style choice in the market.
Evolution of Leather Jackets:
Today the leather jackets come in different styles colours and customization that the first leather jackets wearer never dreams of it. We can easily say that with the vast range of options that we have today there is surely a leather jacket present in the market that fits your need and fashion sense.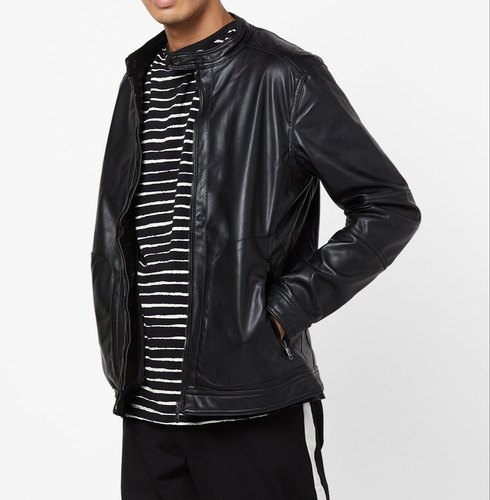 Back in history leather jackets are unimaginative and people never pay attention to that piece of cloth is looking good on their body or not. It was all about the functionality at that time. At that time the manufacturers take only two things into consideration are "Is this jacket provide enough warmth to the body of the wearer?" and the other one "Is this jacket survive the severe weather condition?"
Because the first leather jacket that was created was not for fashion purposes. It was only made for the soldiers to keep their bodies warm enough during the war. But now these leather jackets turned their face towards the fashion industry couple of decades ago.
How did the Manufacturing Process Change Over The Years?
As mentioned above that the first-ever bomber jacket made for the soldiers was made up of sheepskin and contains a very thick fleece to give soldiers a little warmth during the war. With time when leather came into the fashion industry, the leather manufacturers move towards cowhides instead of sheepskin because it was cheaper and more accessible than sheepskin. However, some manufactures use buckskin, lambskin, and antelope among the cowhides for leather jacket production.
The leather-making process is not much changed throughout the last century. Typically, skin s removed from the skin of animals at the time of getting meat from them at different meat processing plants, where it is stored and preserved in a refrigerator. Then it goes to the tannery where these hides pass through a series of processes to make the leather soft which helps him prevent it from decaying.
With new technology, the leather-making process has now become easier and faster than ever. Due to this the tanning process has changed a lot. Now workers can sew jackets quicker with the best sewing machines. This made it easier for manufactures to produce a huge amount of leather garments. Today, most of the leather jackets are stitched with machines but still provide us with the feel of handmade jackets. But there is still an option is available for custom leather jackets. You can buy those custom-made jackets or you can give an order for a handmade jacket.
Leather Jacket: Fashion or Safety?
It always depends on how you are going to wear a leather jacket if it is for fashion then it should be for fashion or you wear the jacket as an extra layer on your skin. This is the major difference between the two of them.
The leather jacket that is made for protection is often made for motorcyclists which is tend to be heavier, thicker, and maybe it comes with armour inside which is crafted only for protection purposes. These jackets are usually loaded with heavy zippers, high collars, and designed to be longer from the back to protect the rider during the ride.
The leather jacket that is made up for fashion is much lighter and did not offer protection to the body of the wearer. these jackets also give you warmth and are made for casual use with everyday outfits at your home, work, or anywhere else.
Conclusion:
At the last, choose the leather jacket by paying great attention to the details and quality of the jacket and then choose the most fascinating among all. As leather jackets are a great investment. If you choose the right one, they will be with you for the rest of your life.