Mehendi has always been an integral part of the big fat Indian wedding. Wedding mehendi is seen as a sign of positive, happy vibes and good luck. Every Indian wedding has a mehendi ceremony before the main day. The mehendi ceremony is celebrated with a lot of enthusiasm, vibrant colors, cool vibes, and music and dance.
As mehendi holds such a vital place in the Indian culture, the brides are always very careful while choosing the perfect one for their bridal look. There are many designs of mehendi available for brides from the traditional fully loaded hands to the simplest ones.
One such mehendi pattern which is well known and liked among the pretty Indian brides is the Arabic mehendi style.
Arabic mehendi patterns are very famous for their flowing patterns and a simplistic approach. They are neither too much in their design nor too little. This kind of mehendi pattern is just perfect for the brides who do want to have their hands decorated with traditional henna but don't want to fully cover their hands.
Arabic mehendi designs give a modern minimalistic look. In designing, Arabic mehendi is usually composed of beautiful flower patterns, diagonally flowing trails, and paisleys. The Arabic mehendi designs generally have a lot of empty spaces here and there which is a kind of attraction as it breaks the monotony.
Here are some of the best and latest Arabic mehendi patterns for all the brides to be!
The simple paisley pattern
This is the simplest and the classiest Arabic mehendi pattern. The hands are adorned with beautiful paisley designs. The paisleys are surrounded by beautiful flowery trails and other mehndi designs.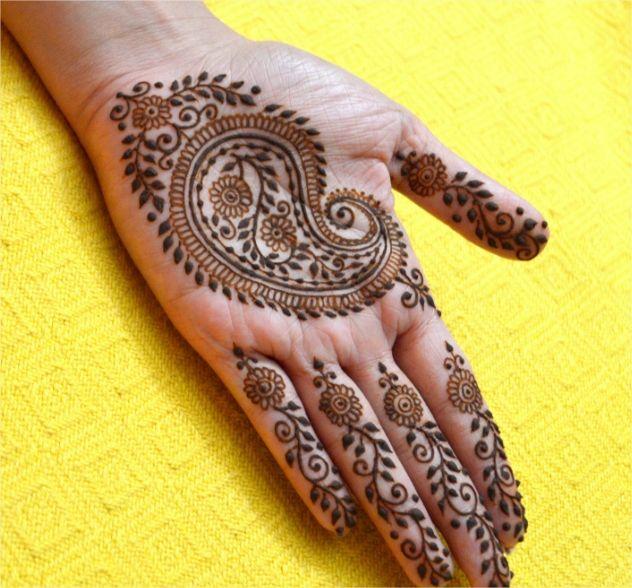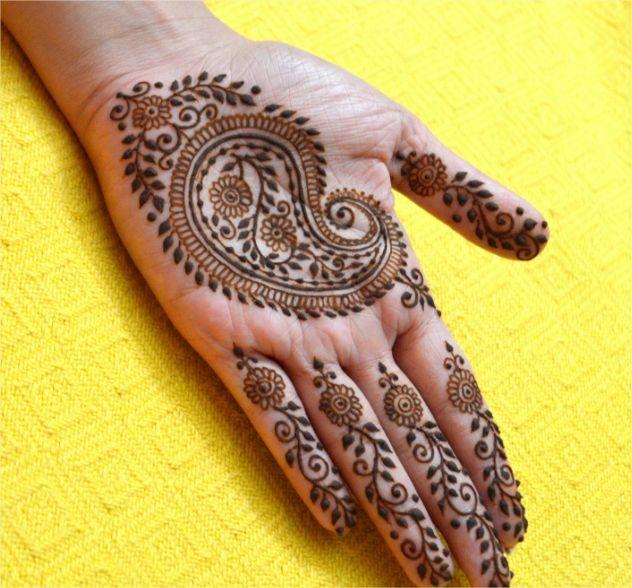 Look at this mehendi pattern. Isn't it just simply beautiful? The basic paisley in between the hands covered with small and pretty details all around is just perfect. Moreover, the simple pattern on the fingers is to die for.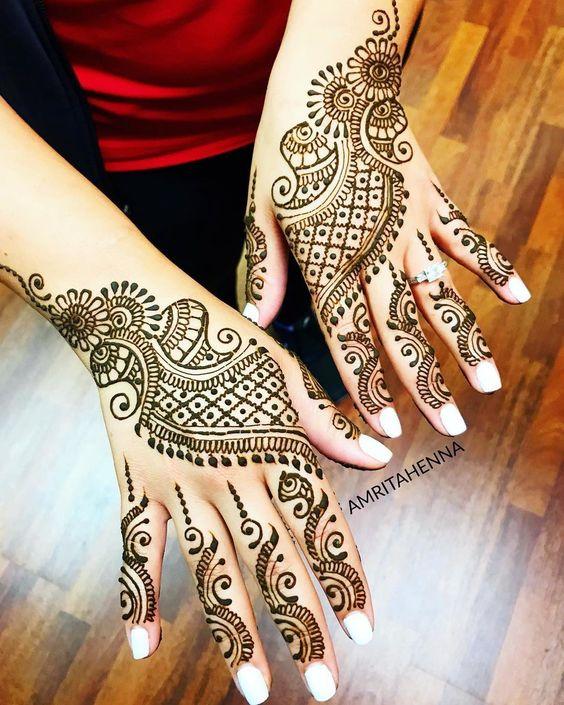 Yet another amazingly designed Arabic mehendi pattern for the back of the hand. The beautiful design on fingers, criss-cross pattern, flowers, and the paisley design; everything good in one pattern.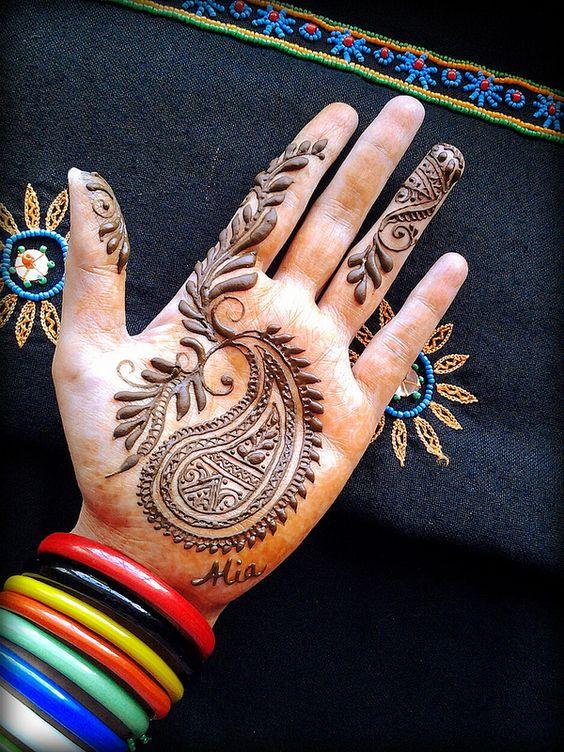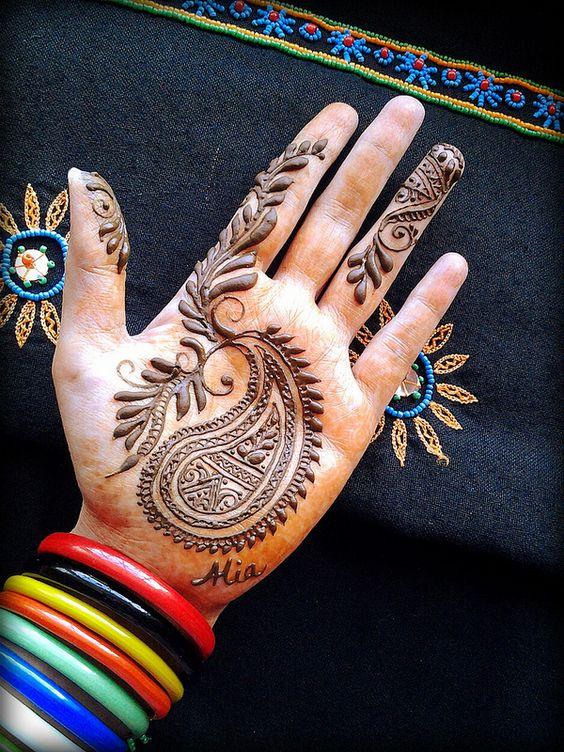 So, this design is perfect if you are looking for a very simple and sober mehendi pattern. Simple basic paisley in the center looks very stunning. The overall grace of the mehndi pattern is enhanced by the glorious leafy trail with the bold mehendi pattern. This design would look amazing once it is dried and the henna is removed.
The rosy affair!
Flowers have an important place in weddings in all parts of the world. Especially when we talk about Indian weddings, flowers like rose, marigolds, etc. are used a lot. From decorations to Jai mala, bridal hairstyles, and a lot more, flowers are everywhere.
So why should you let this flower magic go when it is about your bridal henna. Choose a nice Arabic mehendi design with roses and leaves and it will give you a very gorgeous look.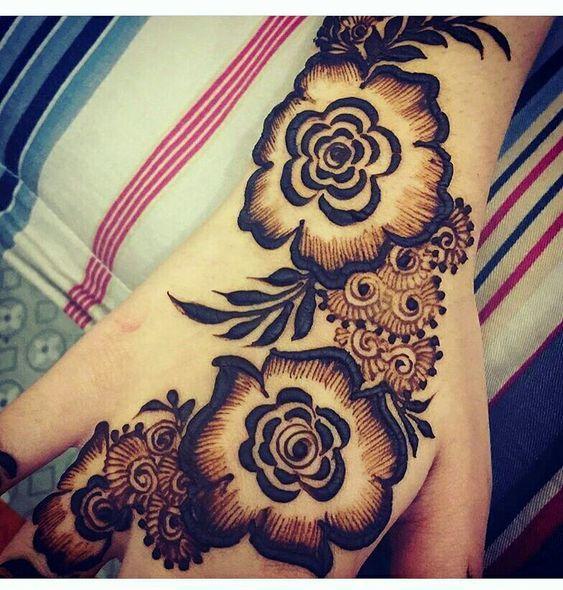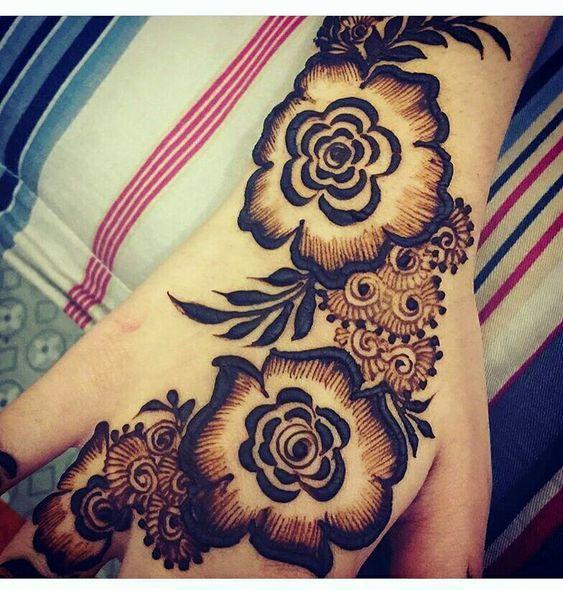 The dark 3-D kind of effect is what makes this simple rose-based mehendi design look extraordinary.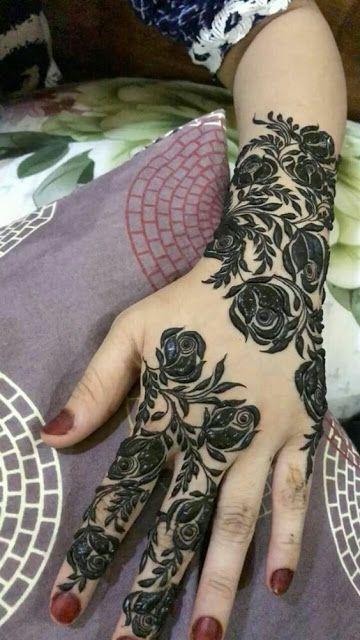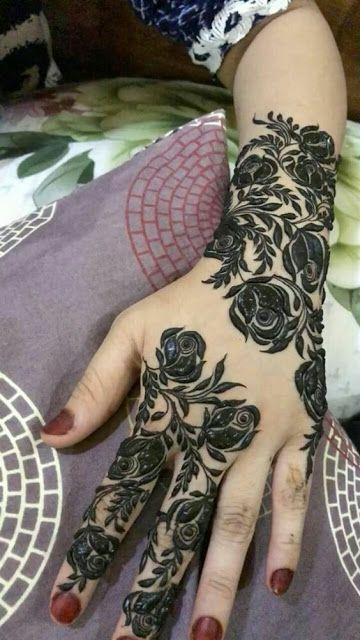 This design is right for you if you want to have henna patterns on your hand but don't want to cover it fully. The gaps here and there highlight the design even more.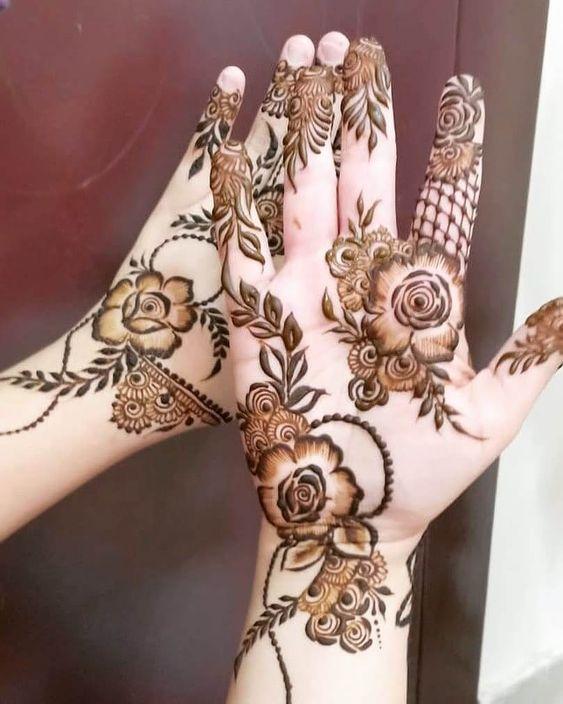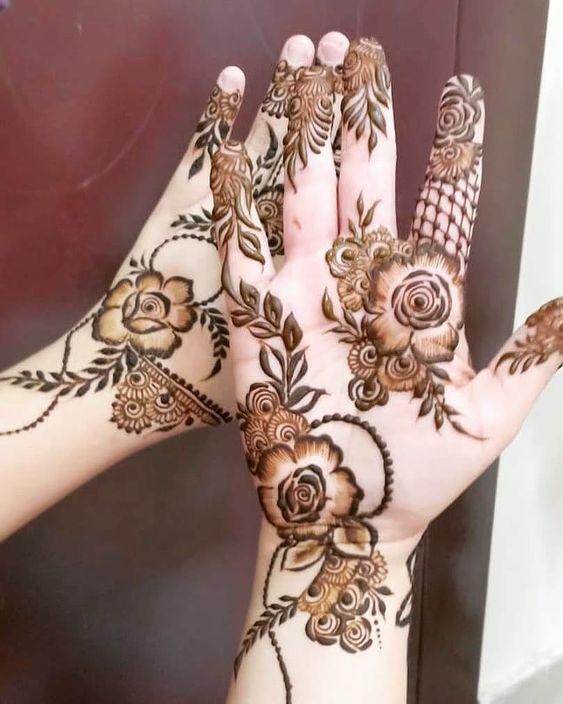 The circle dotted pattern, leaves, and roses, all the designs are arranged so well together. Moreover, the design on the fingers is unique and eye-catching.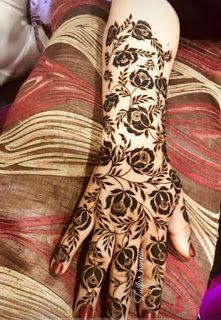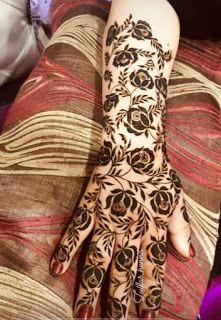 This Arabic mehendi pattern with roses and leafy trails is the perfect one. Look how beautifully it has covered the whole palm. This design looks full and at the same time not too much. Such designs are perfect for the back of your hand.
The simple leafy pattern!
In this Arabic mehendi pattern only leaves are used to decorate your hands with henna. This design looks so pretty yet simple. It is the appropriate pattern for modern minimalistic brides. Even the bridesmaids or the ladies of the family can opt for these Mehendi patterns. Leafy trails are created all over the hand with proper gaps around them.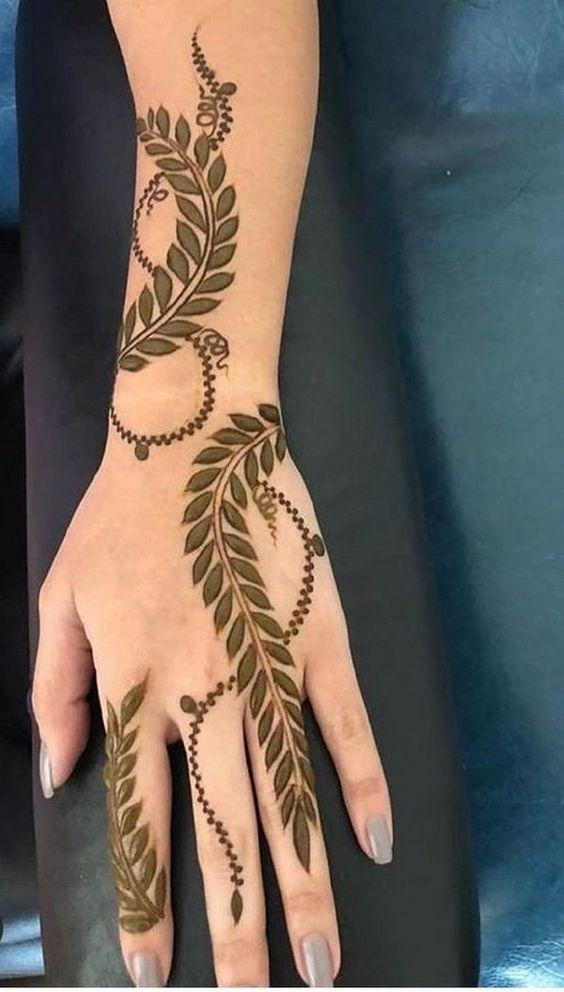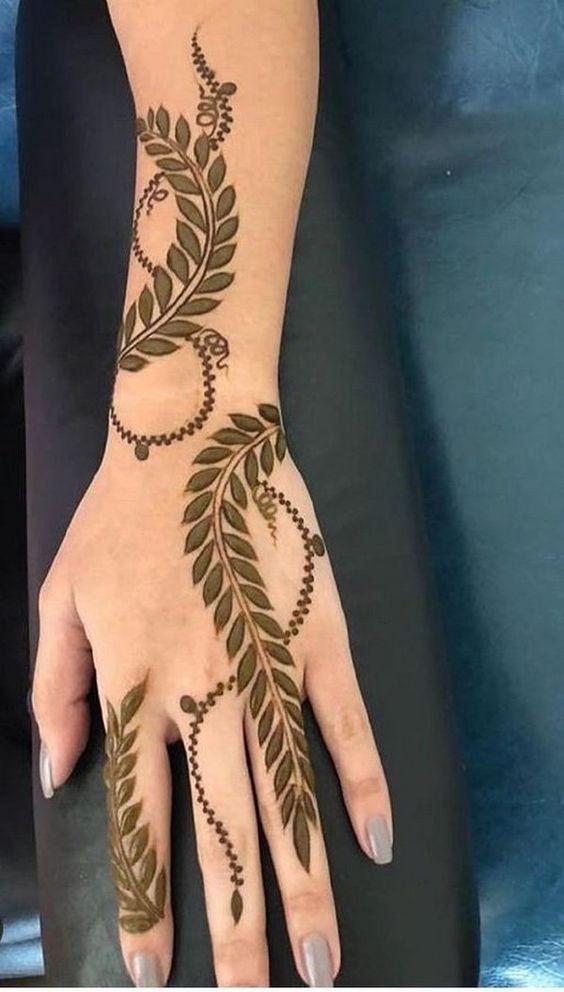 Isn't the simplicity of this henna design amazingly eye-catching. Just two leafy trails with some lines look perfect.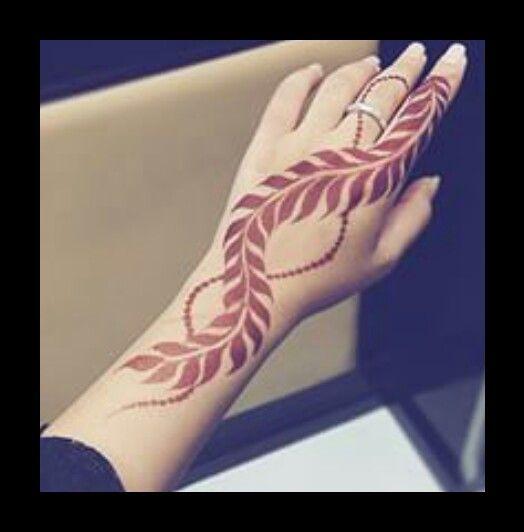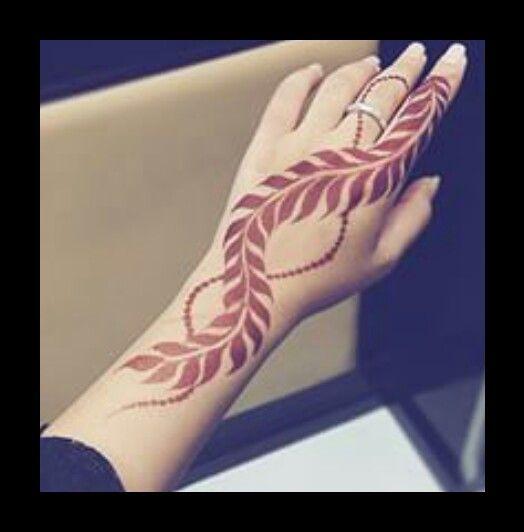 No other design can be this simple yet this gorgeous. Look how neatly the leaves are created and beautiful these look.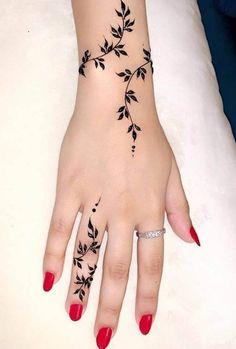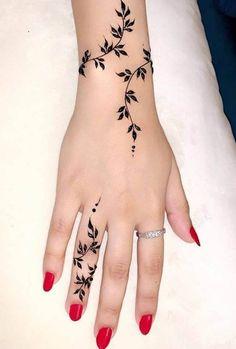 Source – Pinterest
Just a leafy bracelet kind of design around the wrist and some leaves covering one finger, this design is elegant and amazingly striking.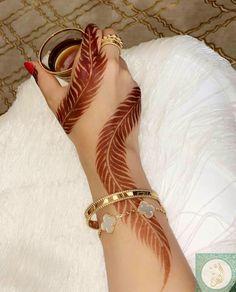 Do you feel that one leaf trail looked too less? Then go with this two-leafy trail design. It looks gorgeous and covers your hand without actually covering it up completely.
The gorgeous jaali designs!
Jaali designs have always been popular in the mehendi patterns. The reason why these jaali designs of mehendi are so popular is that they give an illusion of filled-up hands without actually filling them completely. The jaali patterns have the right amount of free spaces and the right amount of design.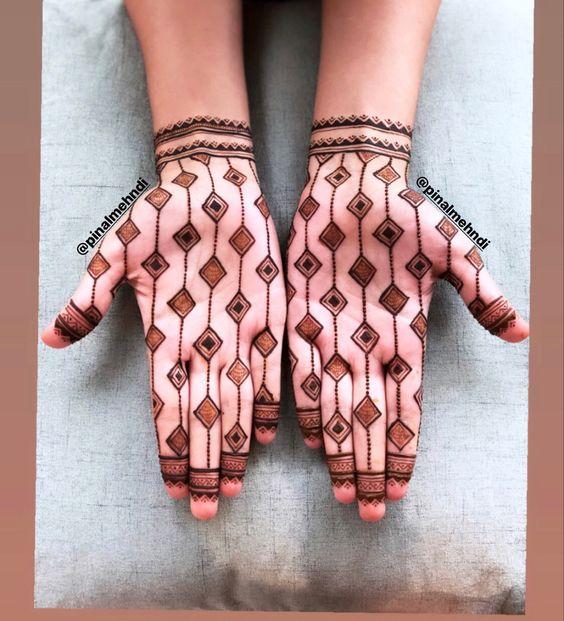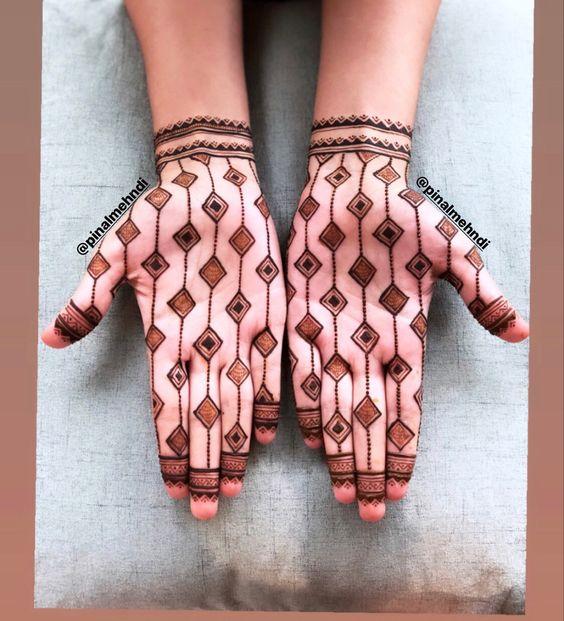 Look at this symmetric simple Arabic mehendi. This looks so classy and has a minimalistic design for the modern simple brides. A similar kind of pattern can also be created on the back portion of your hand for a better look.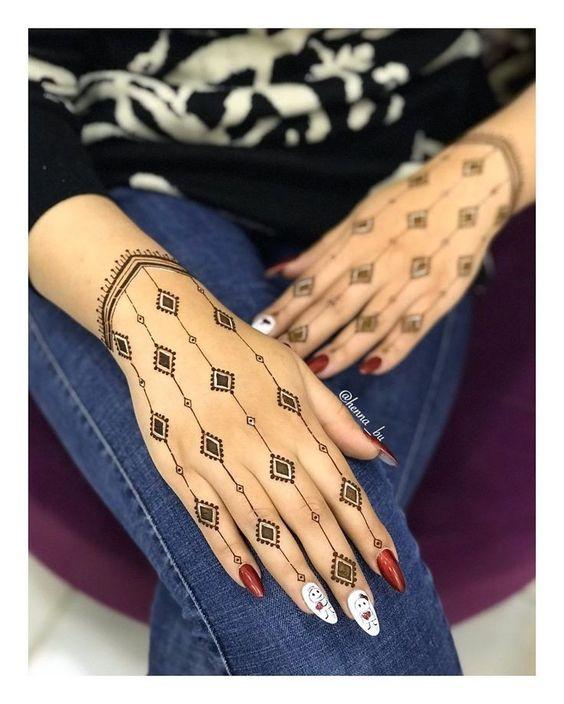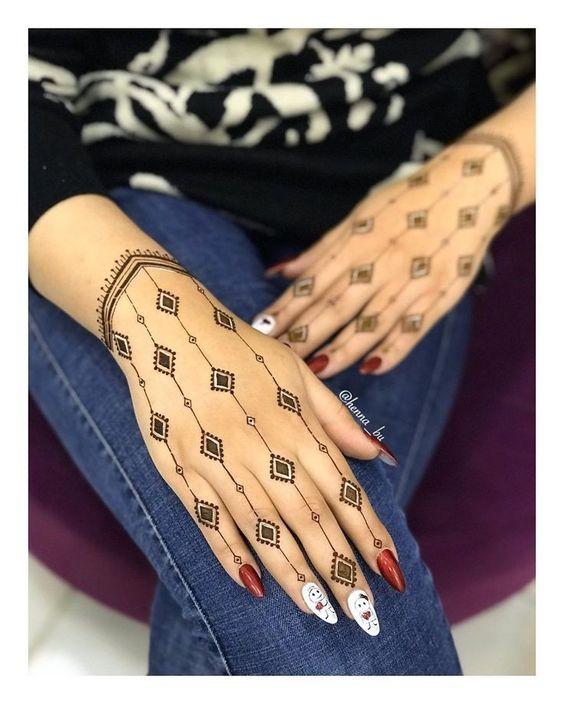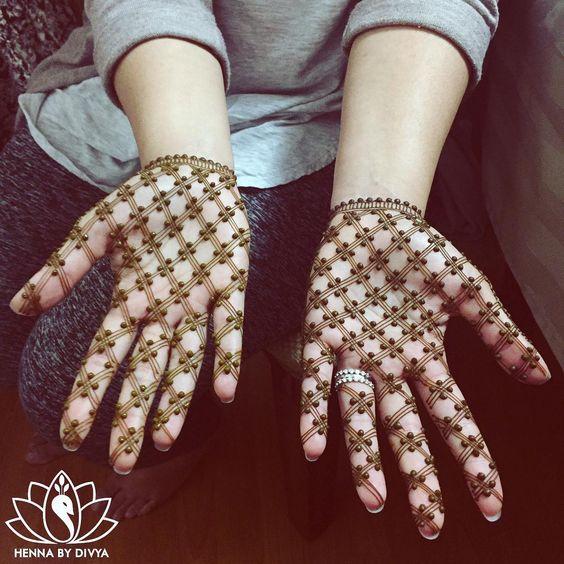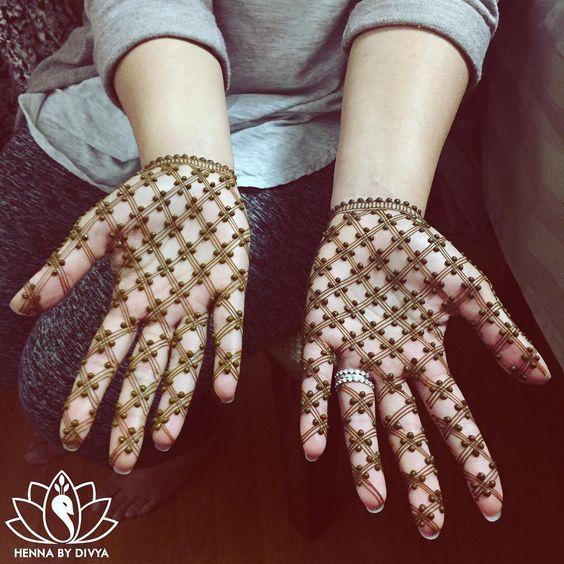 Jaali pattern Arabic designs are available in many different styles and all of them look equally stunning. You can choose for simple checker jaal, floral jaal, triangular jaali, can fill them with starts, triangles, flowers or heart, etc.
Elephant based mehendi designs
Elephants hold a special place in Indian culture. The traditional prints and designs generally have animal motifs and that especially involves elephants.
Arabic mehendi designs having elephant motifs look extremely delightful and are a must-try.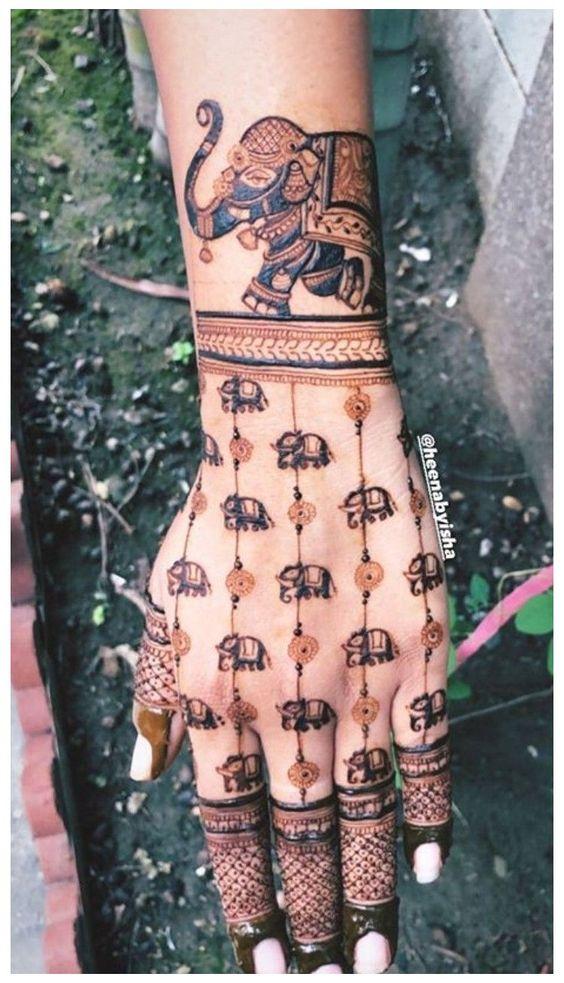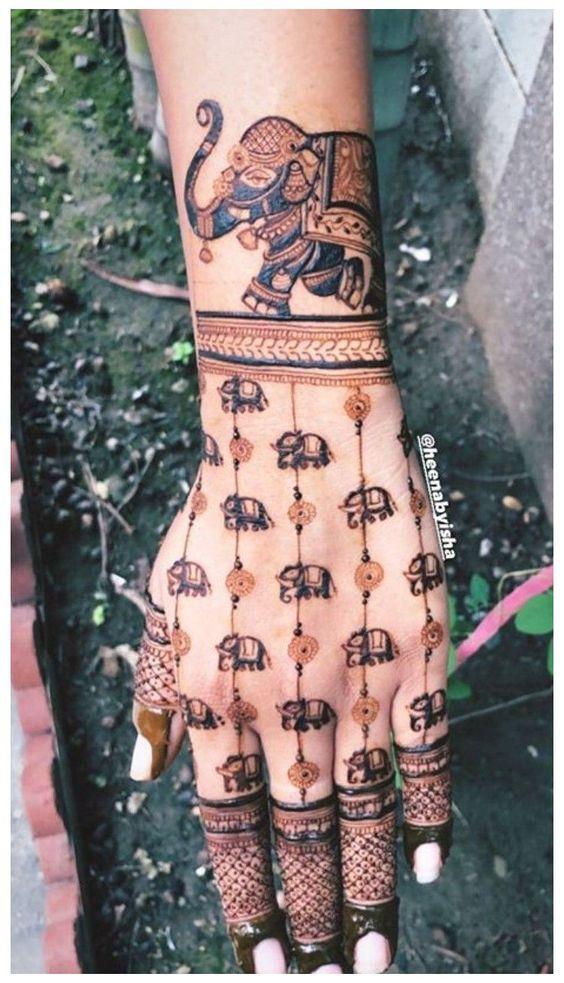 These dropping threads with elephants look so stunning. The small details are eye-striking and will give you a great look.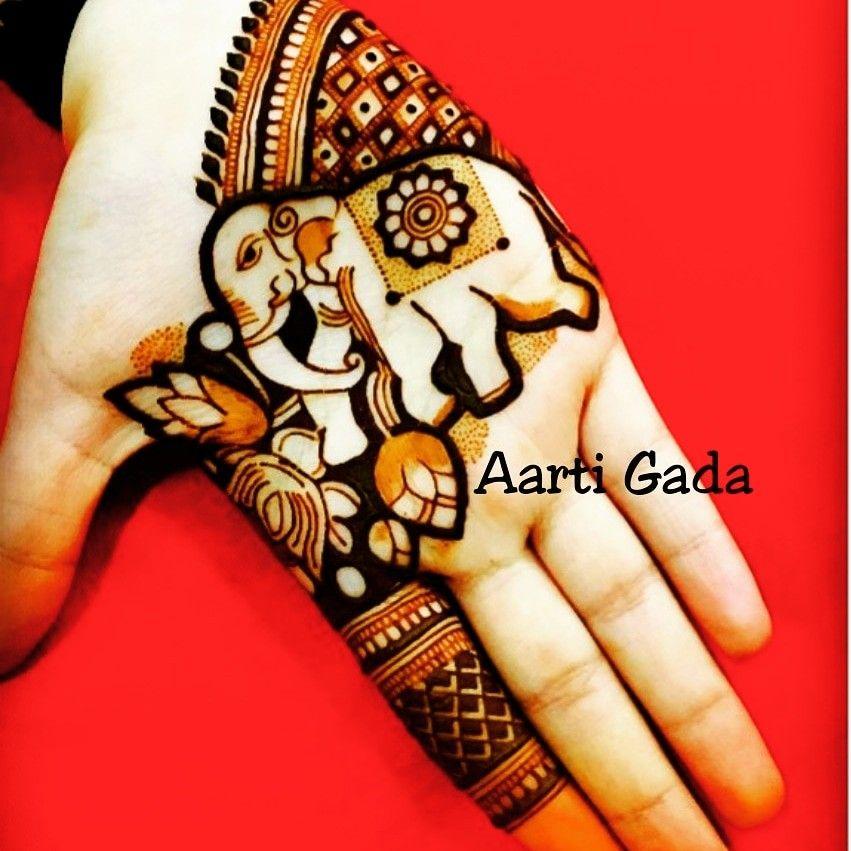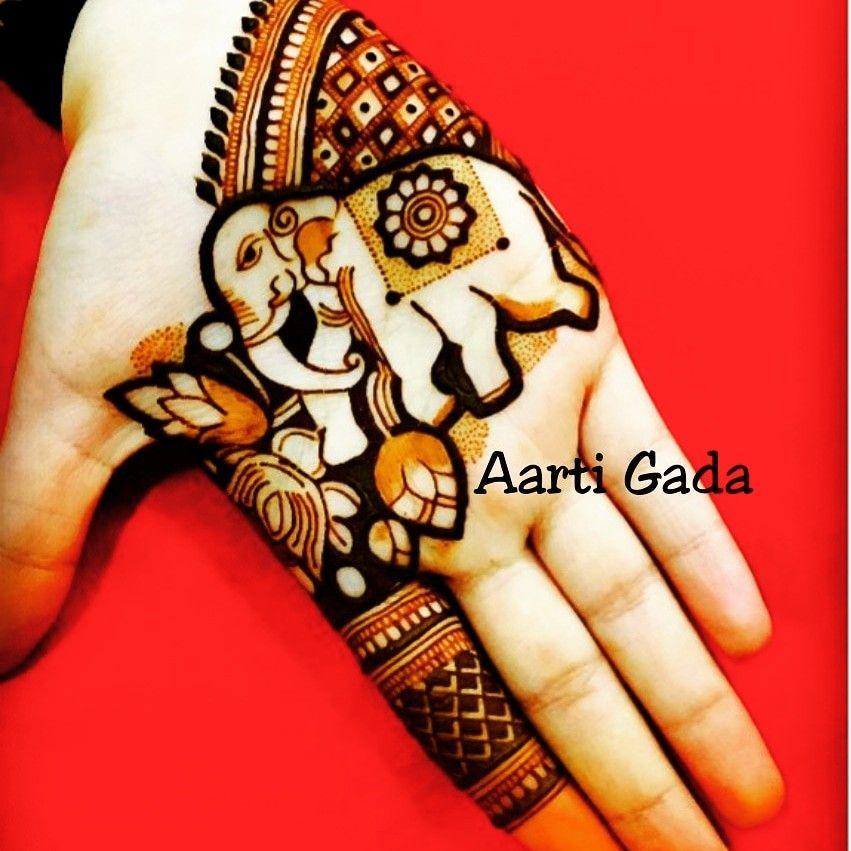 The simple backhand designs!
The Arabic mehendi patterns have stunning designs for the back portion of the hands. Here we are talking about the simplest ones of them. the simple Arabic patterns covering just a finger, center of the palm, and the wrist look absolutely gorgeous. These Mehendi patterns look like you are wearing a bracelet made out of henna.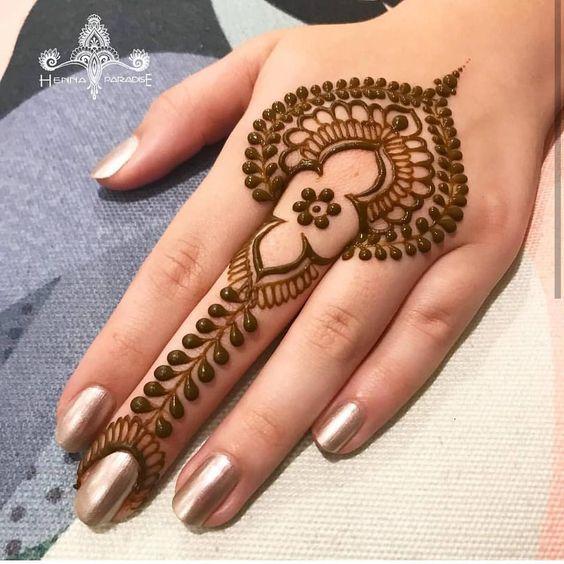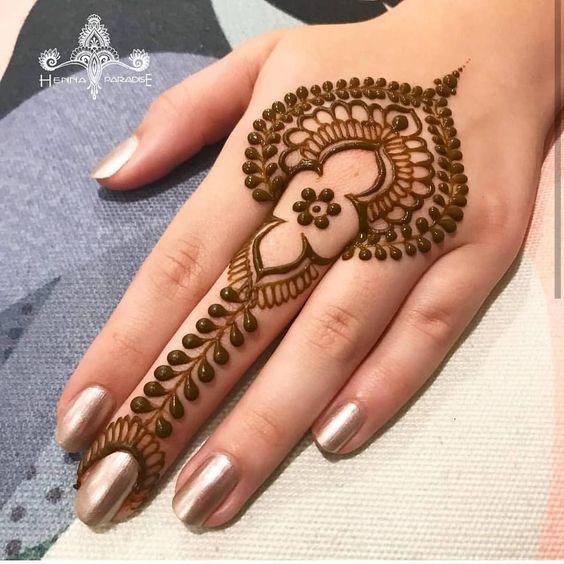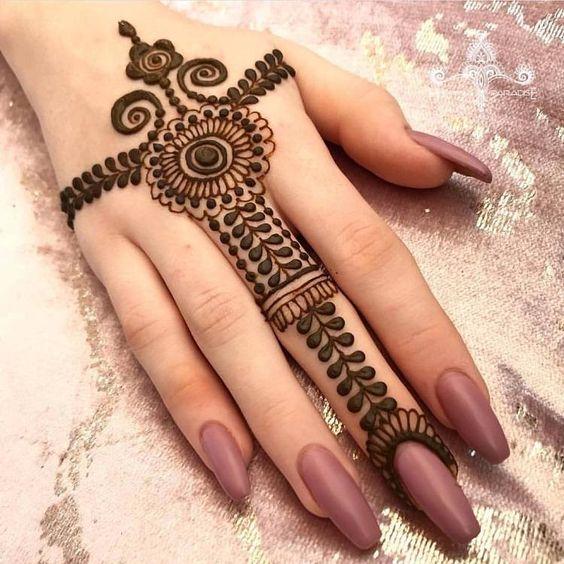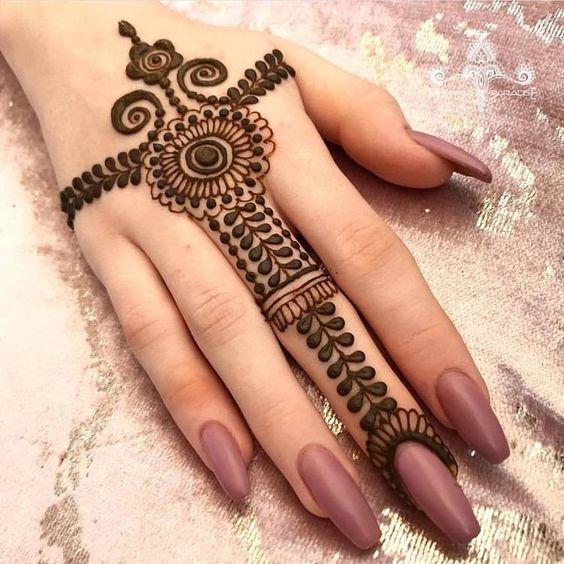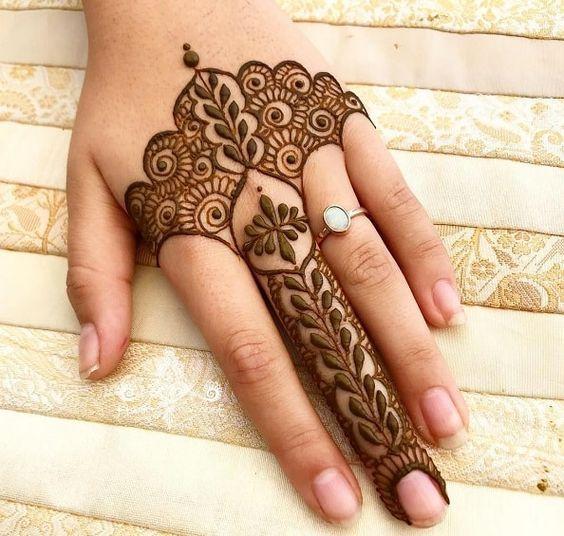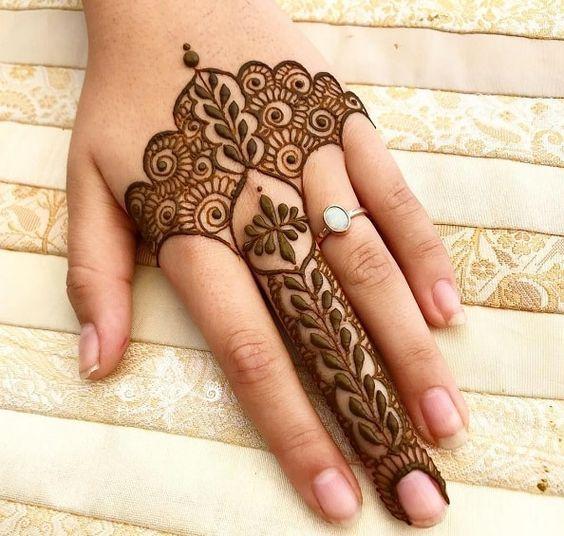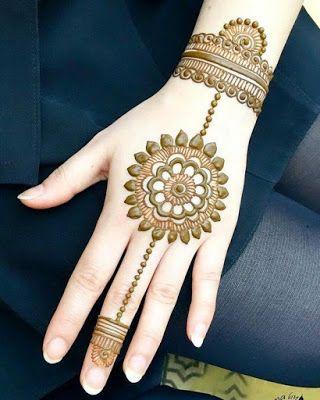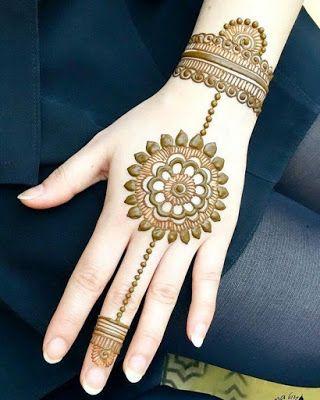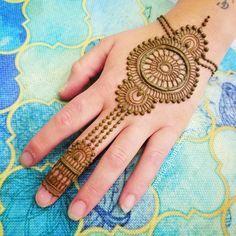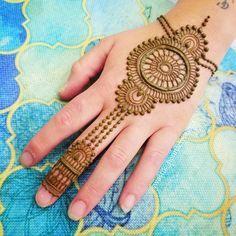 Half-hand mehendi designs!
Do you know what makes a mehendi pattern more impactful? It is the use of empty spaces after a dense mehendi design.
Half-hand Arabic mehendi patterns look exquisitely glorious because of this technique only. The half part of the hand from top to middle is covered with beautiful henna patterns. The other half is left without even touching a point. This makes the entire mehendi design look extremely elegant and alluring.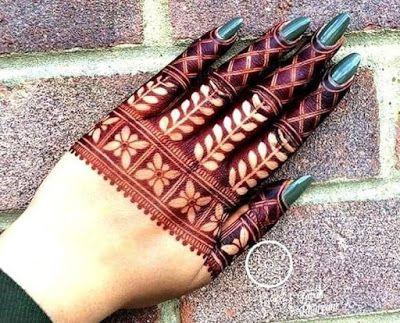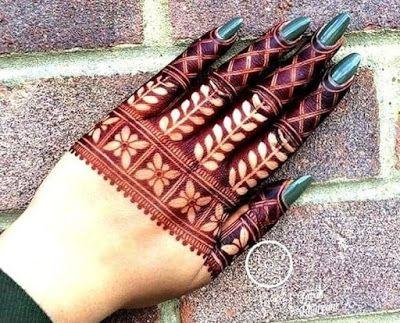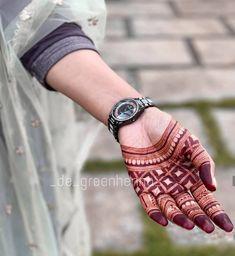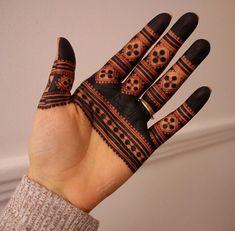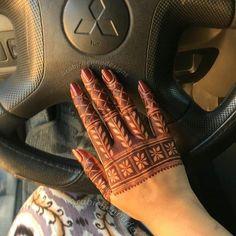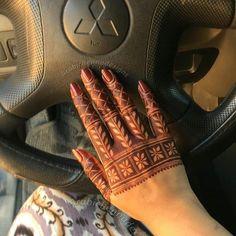 The pinky finger pattern!
In this design of Arabic mehendi, the henna pattern begins from the pinky finger and follows till the wrist or over it. Mostly, the other fingers except the pinky finger are left empty. The design might include any kind of henna patterns like flowers, paisleys, peacocks, circles, etc.
This design works amazingly on both sides of the palm be it front or back.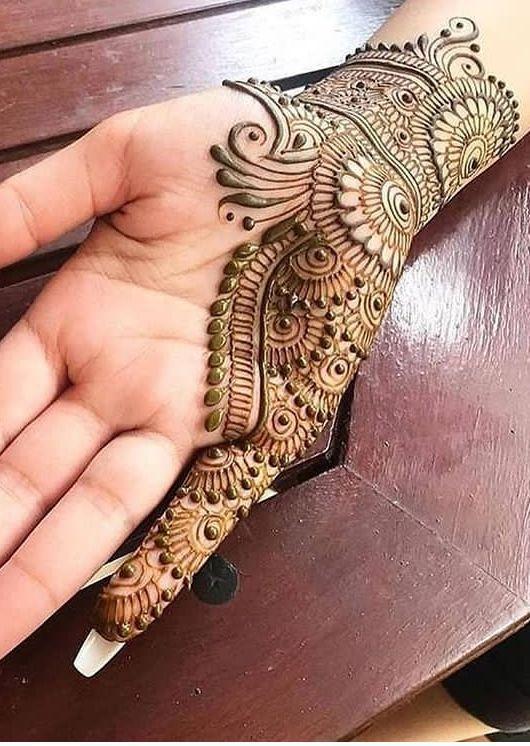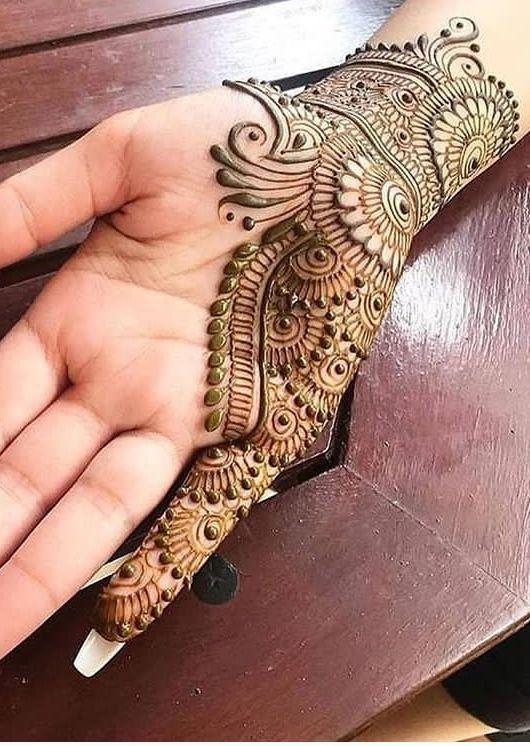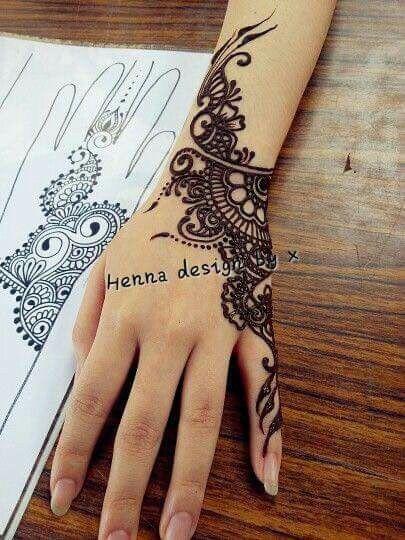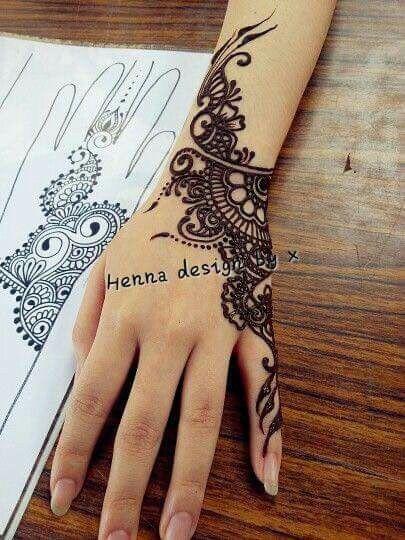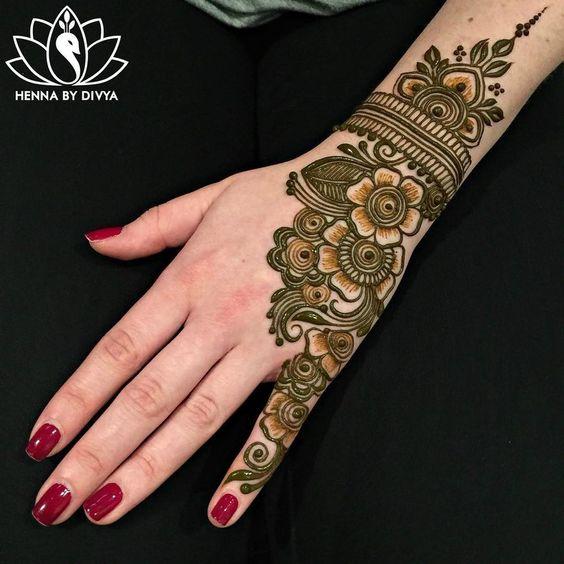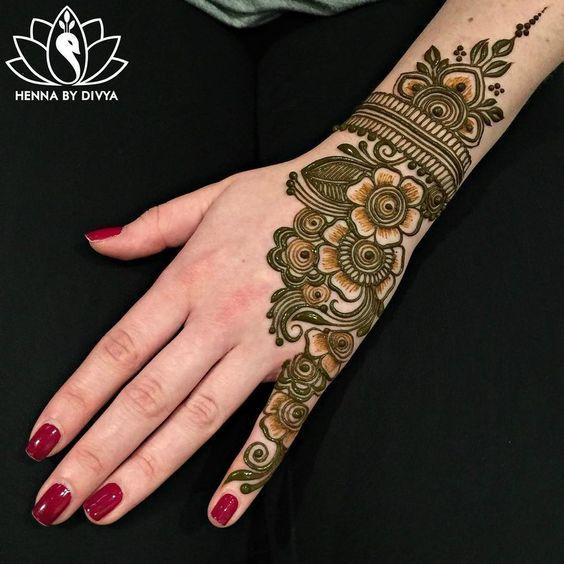 The dense Arabic pattern!
In this design of Arabic mehendi, dense patterns are created all over the hands. There might be some gap between the patterns to give a modern look. The dense patterns are generally made of flower designs, leafs, paisleys, circles, swirls, etc.
This mehendi pattern is the right choice for those who want a fuller look. It can be created on both sides of the hands and looks extremely good.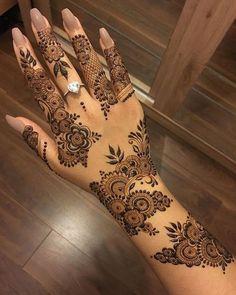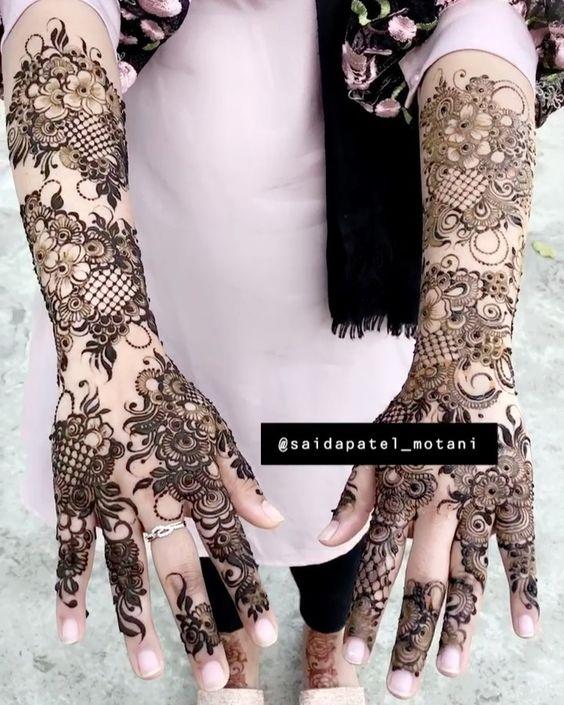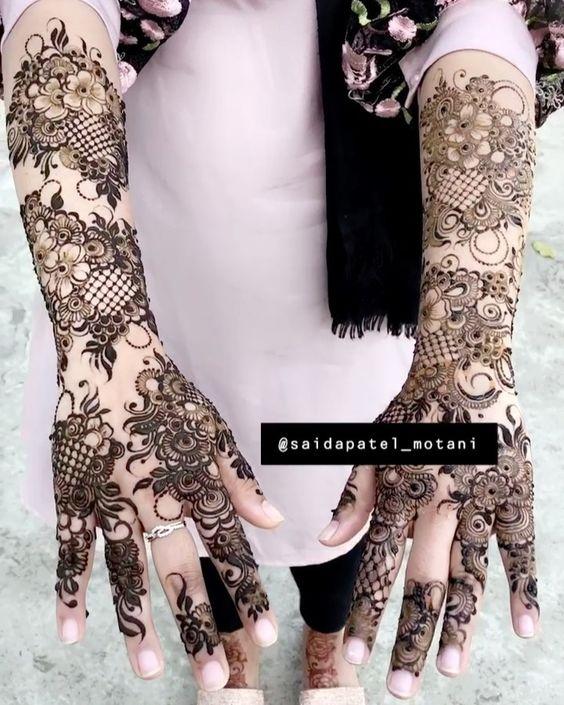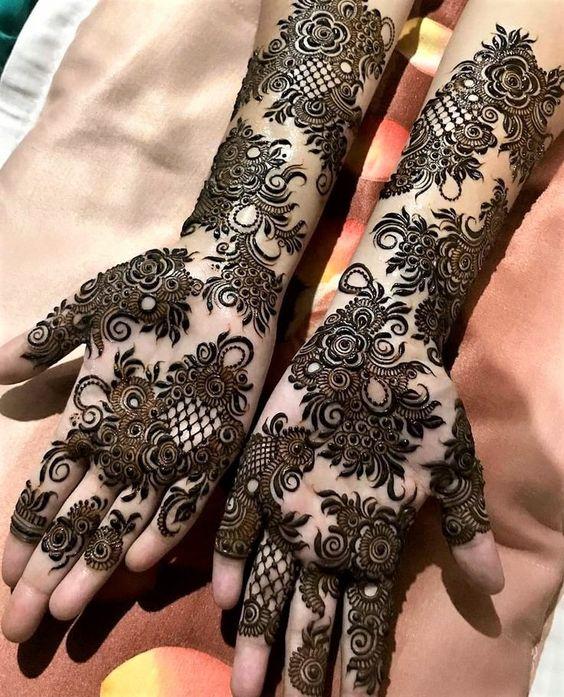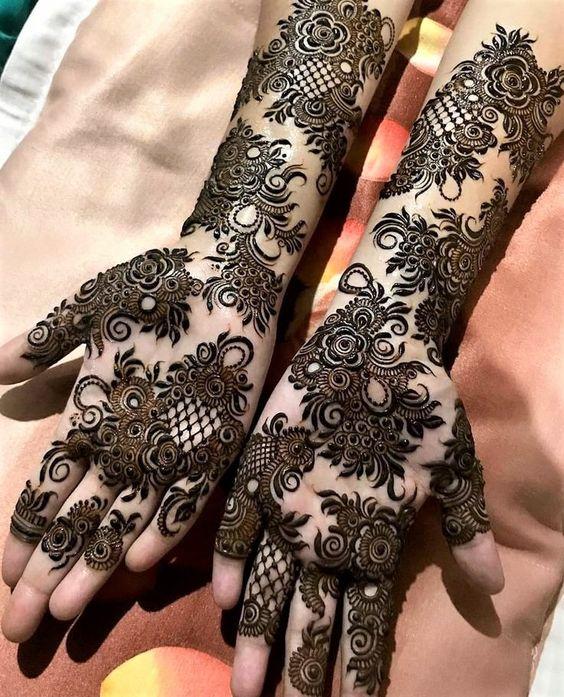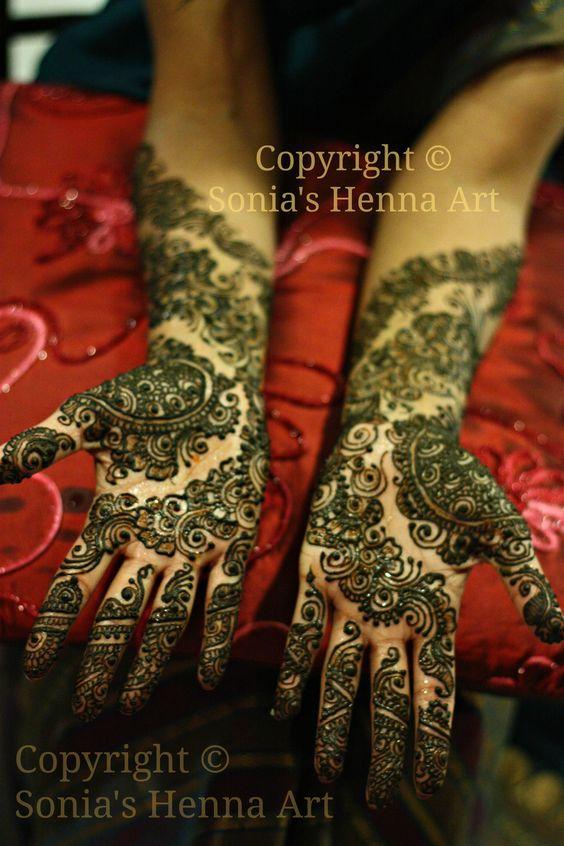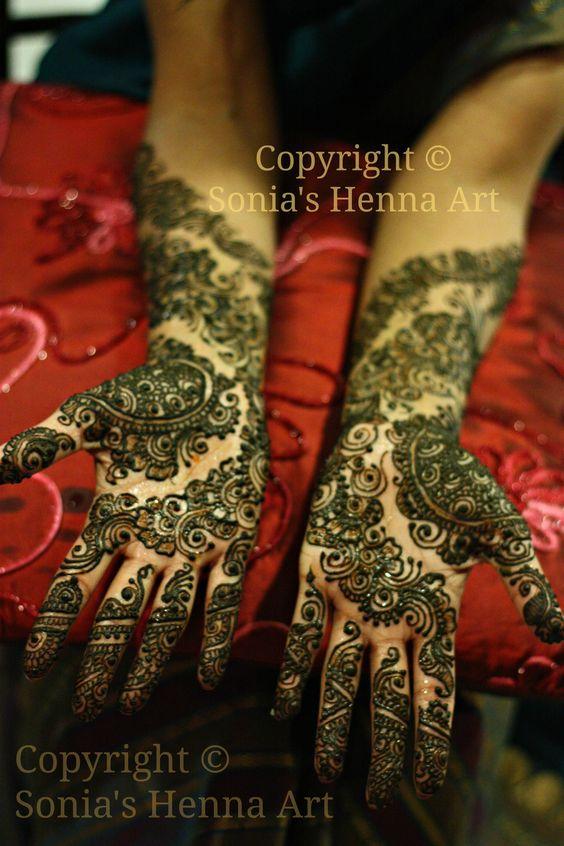 The Arabic mehendi patterns with lotus designs!
This mehendi design is our absolute favorite. It is such a simple yet charismatic Arabic mehendi design. It looks extremely appealing.
Just like other Arabic mehendi patterns, simple unique patterns are created on the fingers and on the rest of the palm. The complete Arabic mehendi pattern is adorned with gorgeous lotus patterns which gives the perfect bridal feel. The lotus motifs with dark and bold outlines are even more attractive for the eyes and look prettier.
The lotus motifs are surrounded by other small details like criss-cross lines, flowers, paisleys, etc. which highlight the design even more.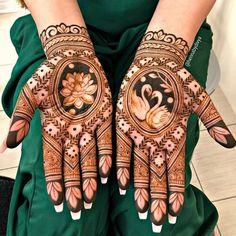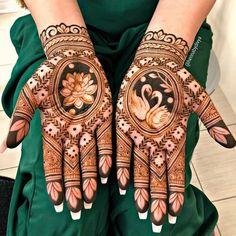 This design is so simple yet so pretty. The circle motif in a circle surrounded by jaali design looks appealing. Moreover, look at that gorgeous finger designing.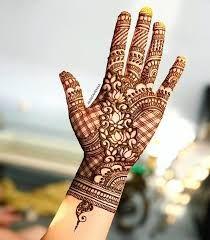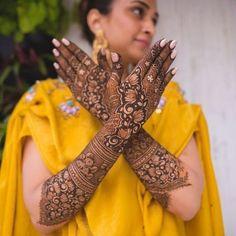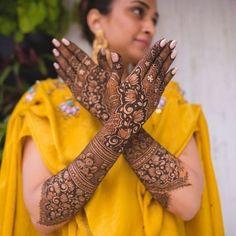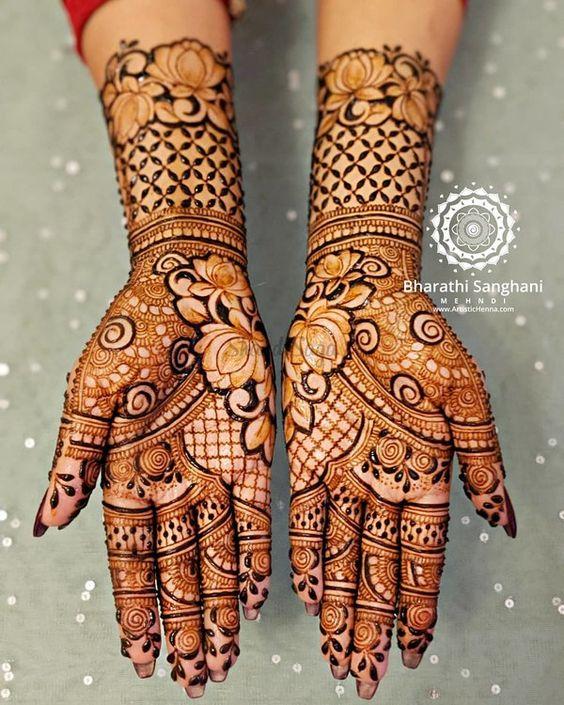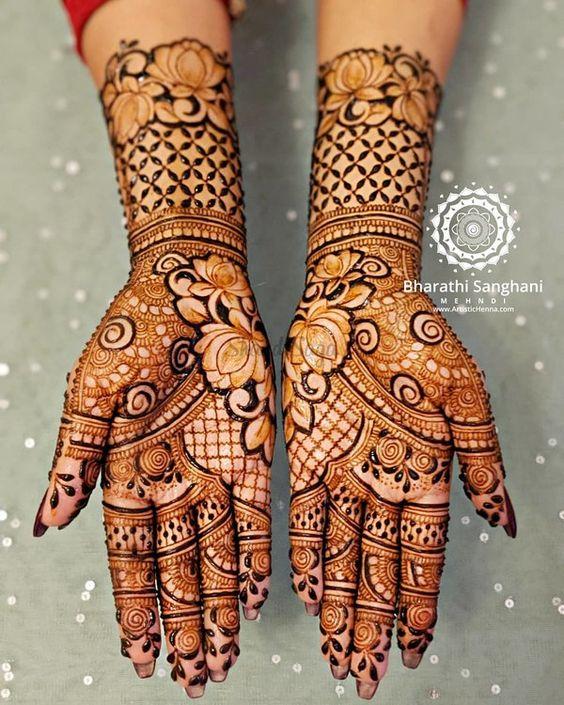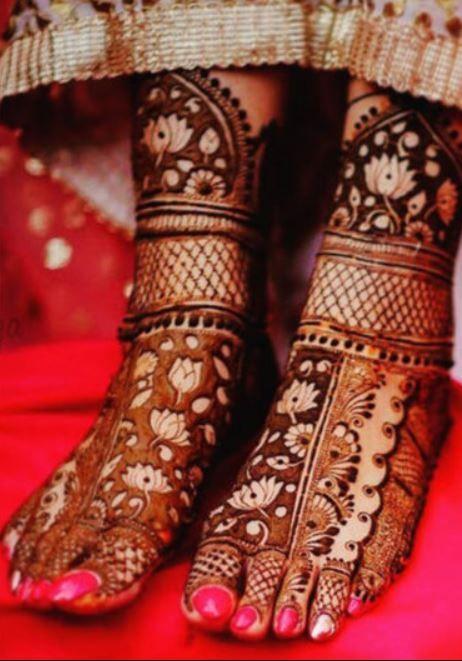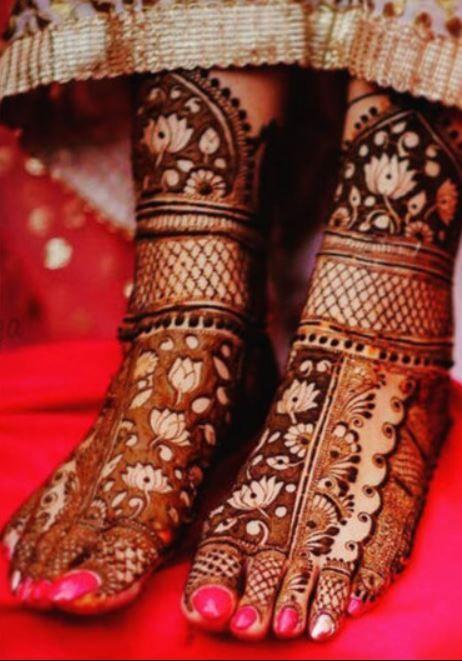 Match your hands and feet with this beautiful lotus motif Arabic mehendi design for feet.
The gorgeous bridal feet!
Applying stunning henna designs on the feet of the bride is also a tradition in our country. However, most of the brides don't like it as the traditional bridal mehendi designs cover their feet with fully loaded henna designs.
The Arabic bridal feet mehendi patterns are perfect for brides who don't want a loaded design on their feet. These look minimalistic and stunning. The Arabic mehendi patterns are very unique and you can choose from a wide range of options.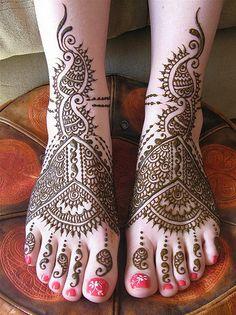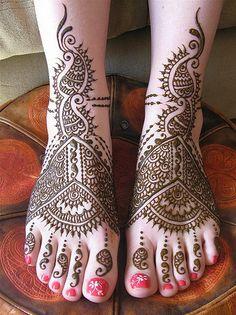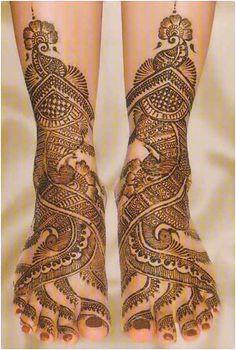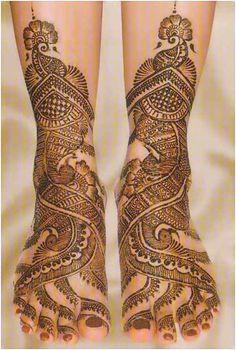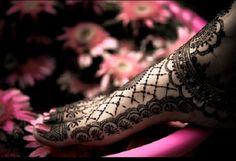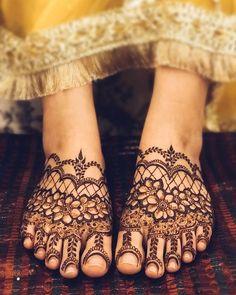 The latest and most unique bridal mehendi!
The latest trend in the bridal mehendi is applying it on the back of your feet or under your feet. This trend is very unique and looks very gorgeous. Beautiful designs are created under the feet which looks stunning on the bride. So, do something different on your special day and get some pretty henna under your feet as well.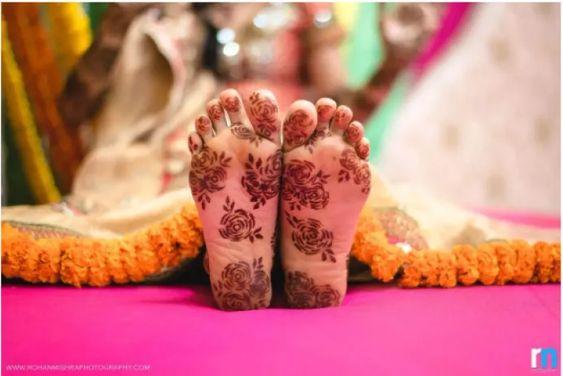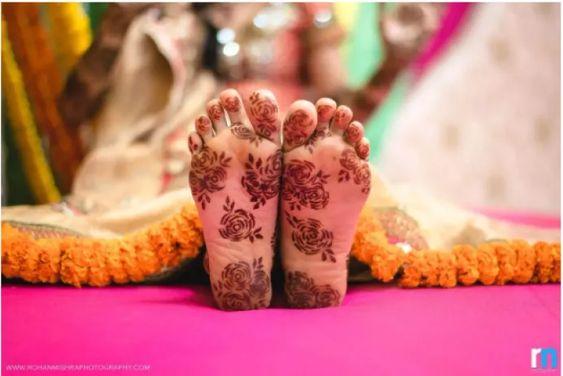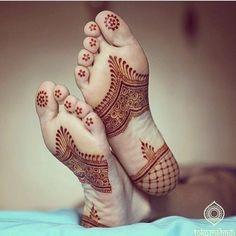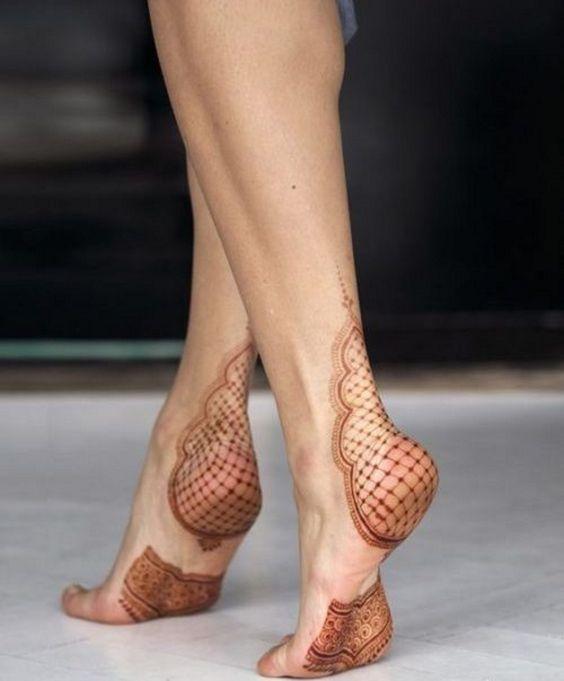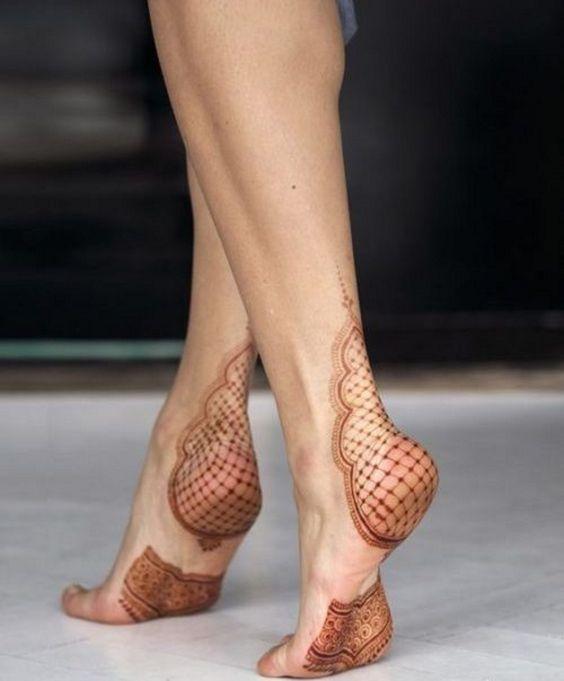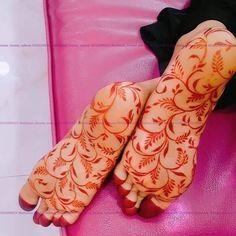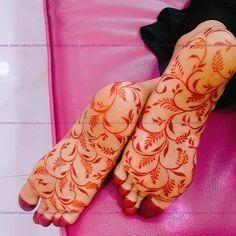 Add some glitter to your bridal makeover!
Glitters and shine is what is necessary for a bride. After all, it is your special day, everyone is going to focus on you and hence you should shine out as bright as you can.
These bridal Arabic henna designs with glitter detailing look fabulous. These are very unique and match the grand setting of an Indian wedding. Also, the best part is that you can match the color of the glitter with your bridal attire to make your overall bridal look better.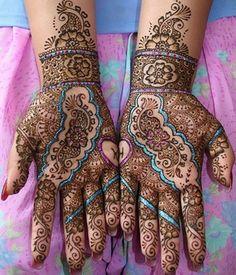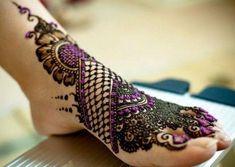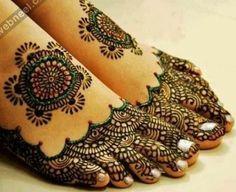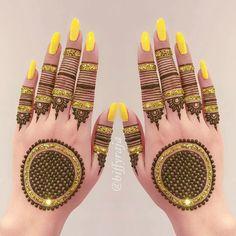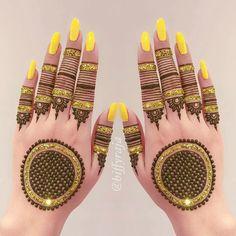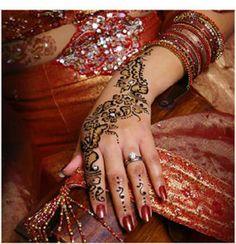 Instead of glitters, you can add shining studs and stones on your bridal henna just like the above picture..
Arabic mehendi patterns with portraits
Creating portraits in bridal henna is also very much in trend these days. Portraits make the henna look more personalized. However, many people think that portraits can be added only to the traditional loaded mehendi designs for brides. Well, this is completely false.
Portraits can be created in the Arabic style bridal mehendi patterns as well and trust us they look gorgeous. In fact, portraits look better in Arabic mehendi designs as the design is simple and hence the focus of the viewer goes directly to your personalized portrait. You can get a portrait of yourself, you and your groom's picture, your parents or any loved one, pets, general Rajasthan bride and groom, etc.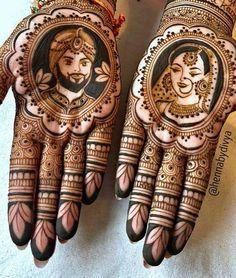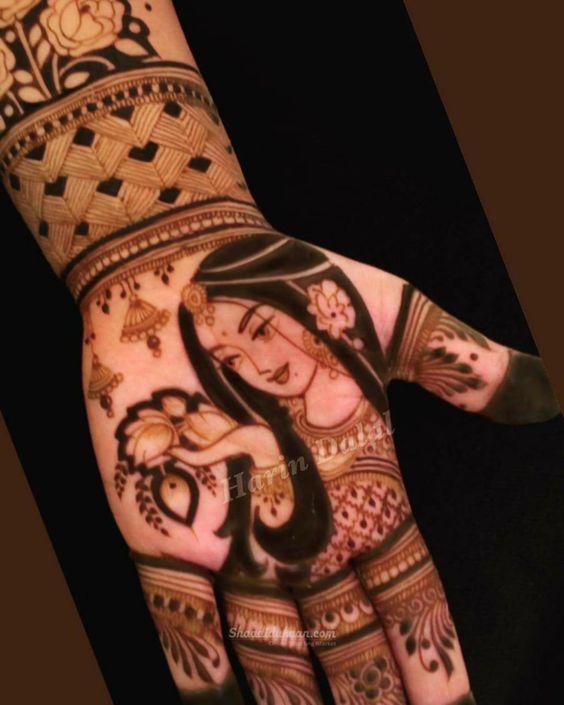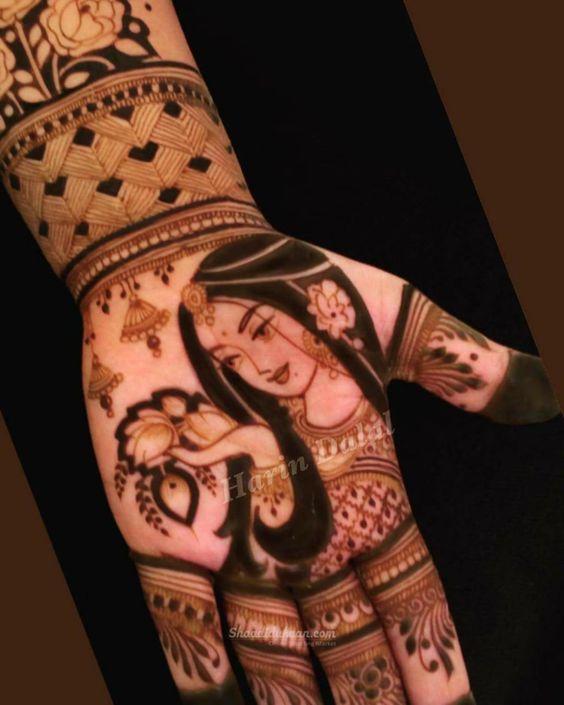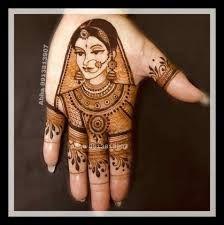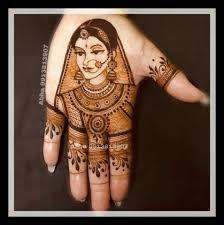 Just some flowers!
When you need something as simple as possible but as pretty as it can be, these designs are the best. Flowers in themselves are sufficient. When there are flowers, you don't need anything else. So, opt for these floral designs for the best minimalistic look. In these bridal Arabic mehendi designs, only a few flowers become the center of attraction. Flowers of different beautiful patterns are created throughout the hands and feet and the final look comes out to be stunning.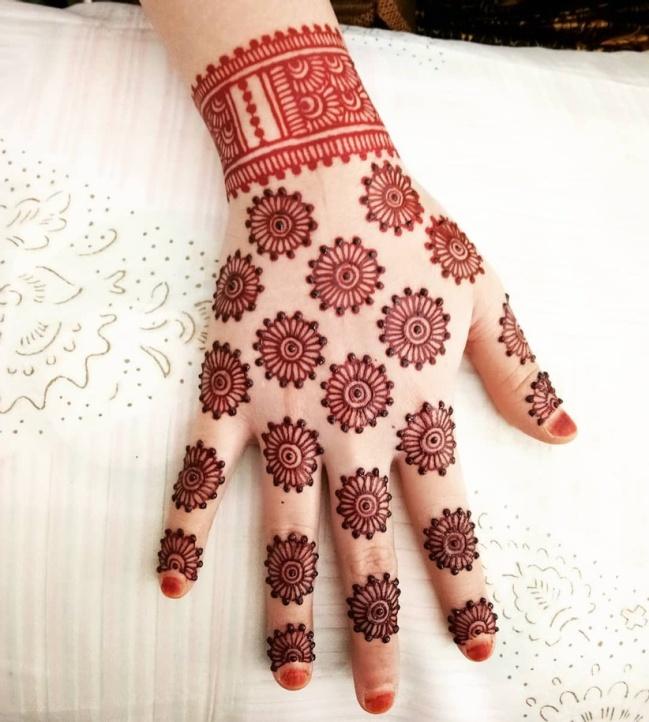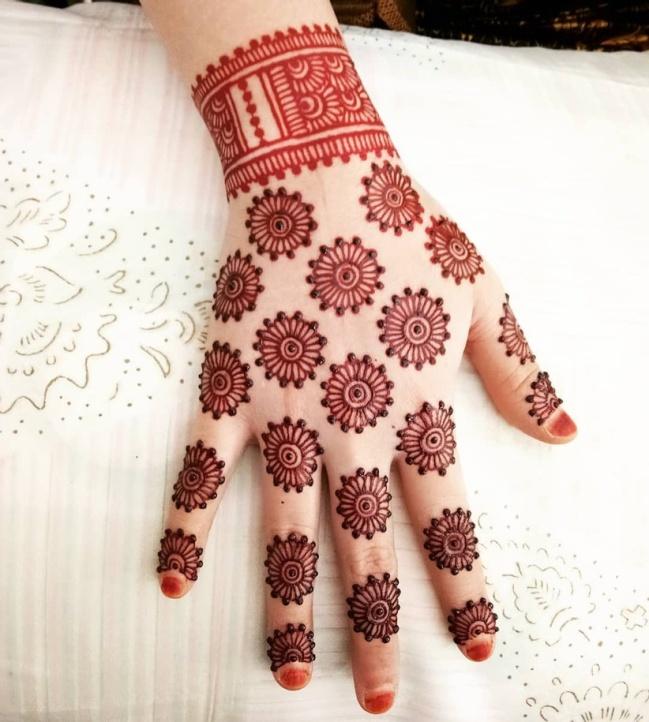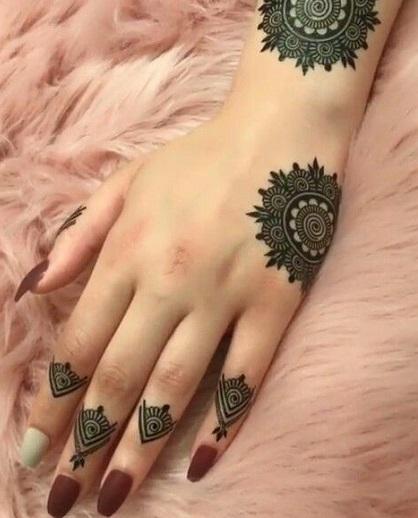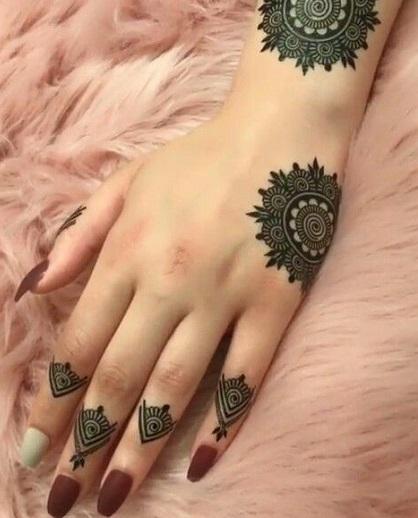 Geometric mehendi designs
Another very appealing Arabic mehendi patterns are the ones created with geometric shapes. Lines, squares, diamonds, circles, etc. are used in such patterns. These designs look very eye-catching. When you opt for such a design always remember that neatness is the key. The more neatly the patterns are created, the more glorious it will look.