Summertime can be extremely tough on us and our wardrobe too. As good as it seems to feel the sun on your skin, the sweat tumbling down your back is certainly not a sensation any of us enjoy. That's why these warmer months call for a fabric option that is exceptionally airy and absorbent. What do we suggest? When in doubt, opt for linen always. The material is much more lightweight than a polo shirt or a cotton shirt!
You can pair this breezy shirt with a pair of sunglasses & some chino pants, and then you are ready to hit the beach! Or tuck them into a pair of smart trousers and accessorize with a quality leather belt & dress shoes, and you will be the talk of the office. The versatile nature of men's linen shirts is why we love them so much!
As a natural fiber, it is also quite durable, extremely moisture absorbent and quick to dry. Trust us when we say that, this fabric is one summer wardrobe staple every man should invest in! And hopefully, with the few tips below, you will be able to don on a linen shirt fearlessly with confidence.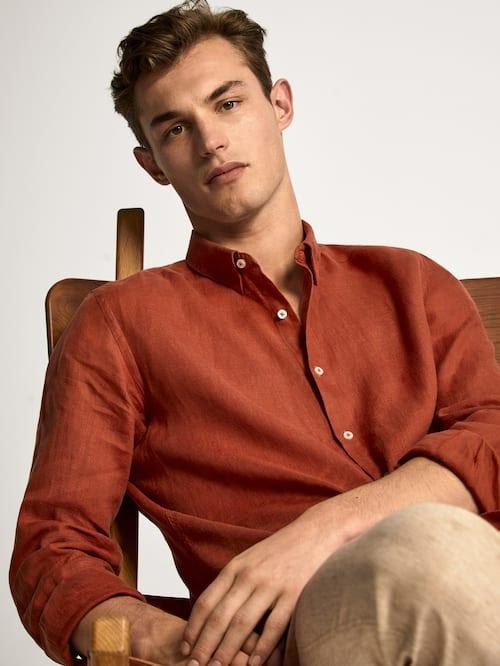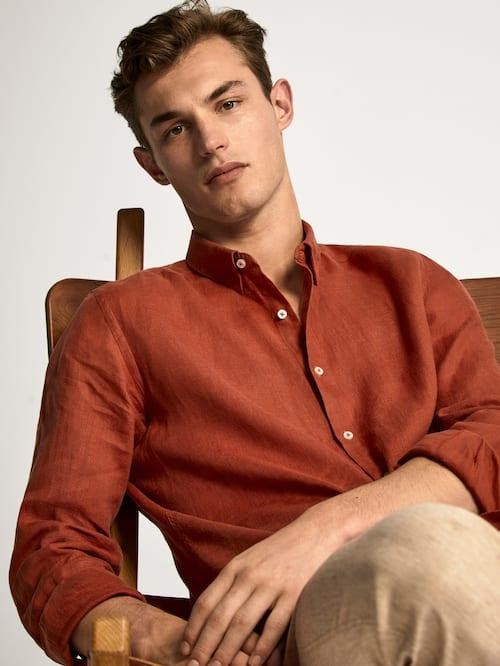 Orange Madras Linen Shirt
Here's a bright color option to spruce up your summer wardrobe. Who says comfort and style can't go together? For a bold yet not over-powered outfit, try on a bright orange-hued linen shirt with a pair of neutral bottoms and casual shoes like canvas espadrilles. You are ready for your day of fun in the sun!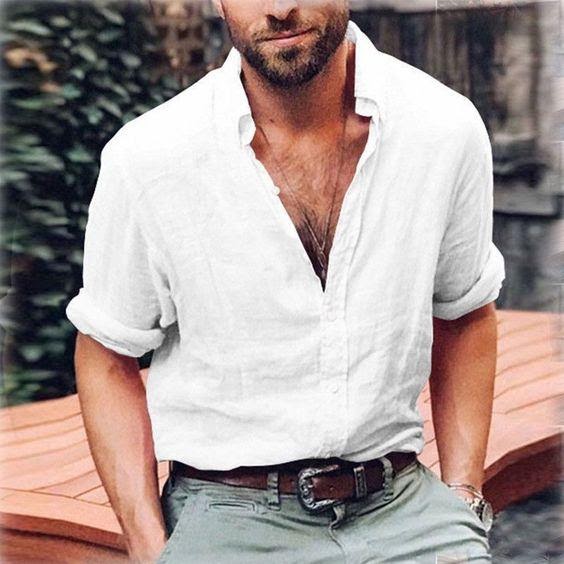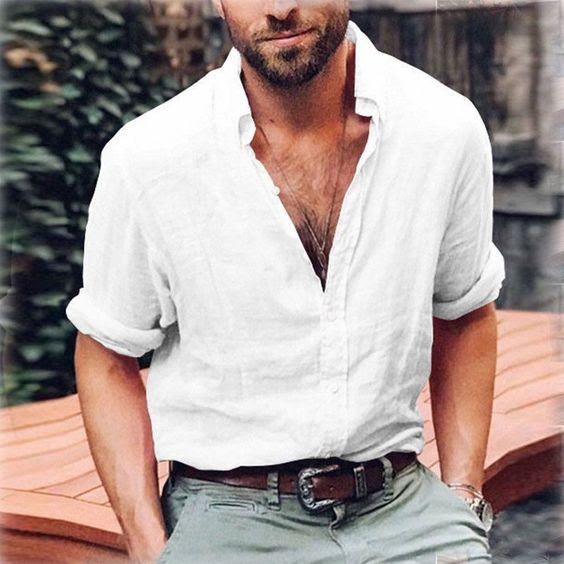 Simple White Linen Shirt
You can't beat the classics! A simple white linen shirt is a soft, supple, and super-charming option to have in your closet for any occasion. If you want to look utterly dashing for a lunch date or a day out at the beach, pair a white or similarly light-colored linen shirt with a pair of dark navy or beige chinos for an effortlessly smart look.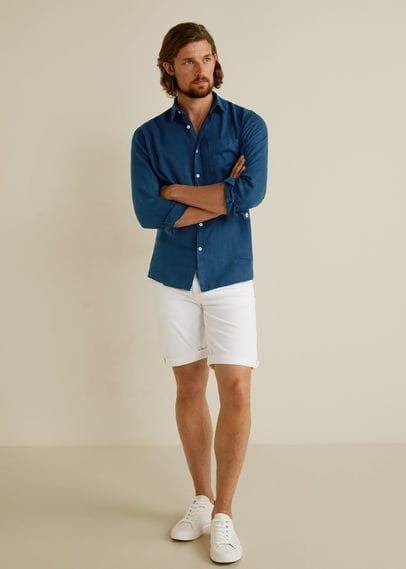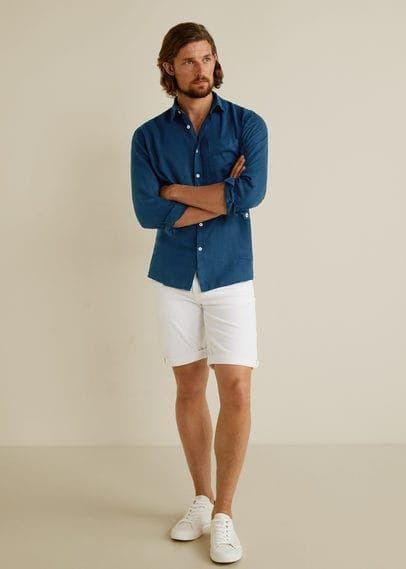 Solid Dark-Hued Linen Shirt
Suppose you would like to play it safe with some staple color choices, solid black, dark grey or navy colored linen shirts are your best mates! With a  pair of light-hued shorts and some sandals, your casual holiday look is ready. You can even pair a long-sleeved shirt with some formal pants for a business attire look.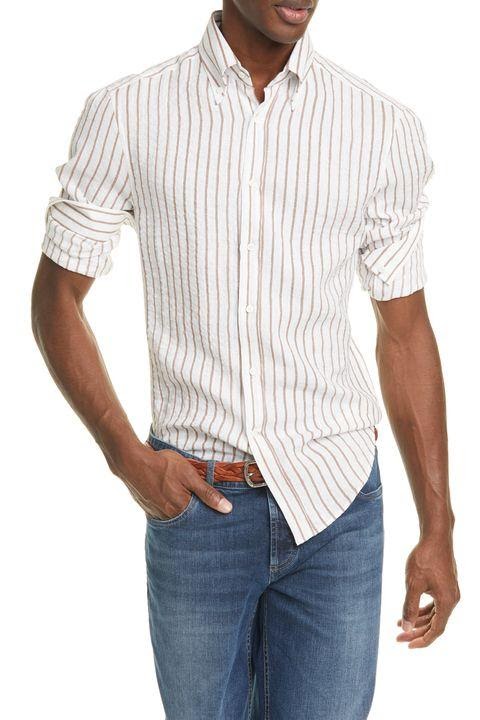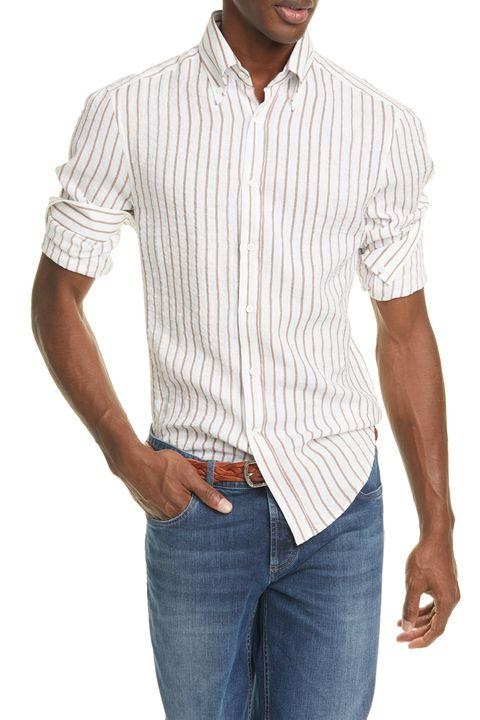 A Striped Linen Shirt
A breezy, light-hued striped shirt can do wonders for pulling off some Insta-worthy summer social pictures. Be it a barbecue or a shopping spree, go to town with this timeless, smart, and lightweight linen clothing. Plus, a little pattern can add a lot of boldness to your style. Go for a slim-fitted striped button-down linen shirt for a smooth looking outfit. Pair it off with a brown leather belt and some blue jeans, and you will be ready to walk the runway. Our suggestion would be to opt for a white-colored linen shirt with blue or brown stripes.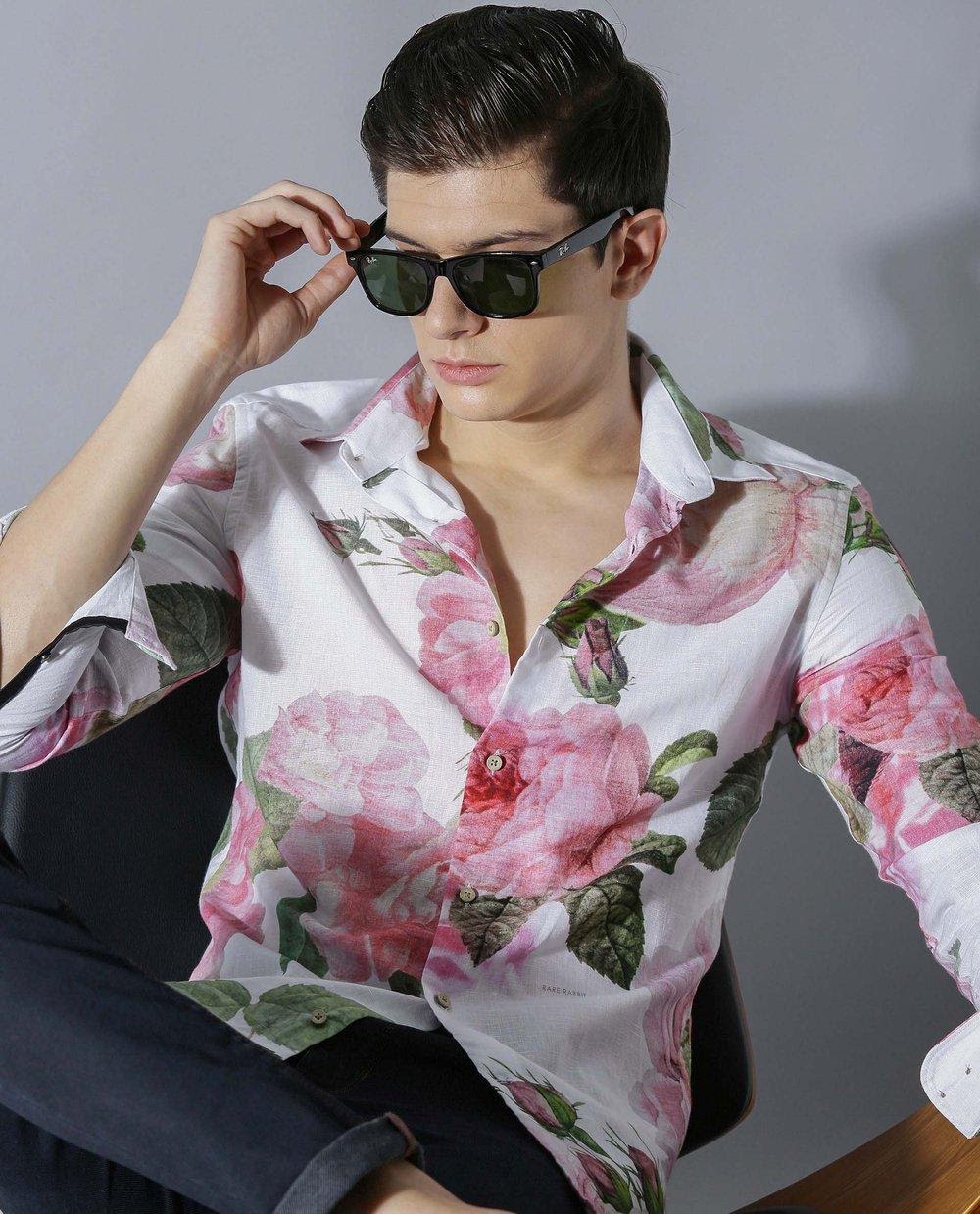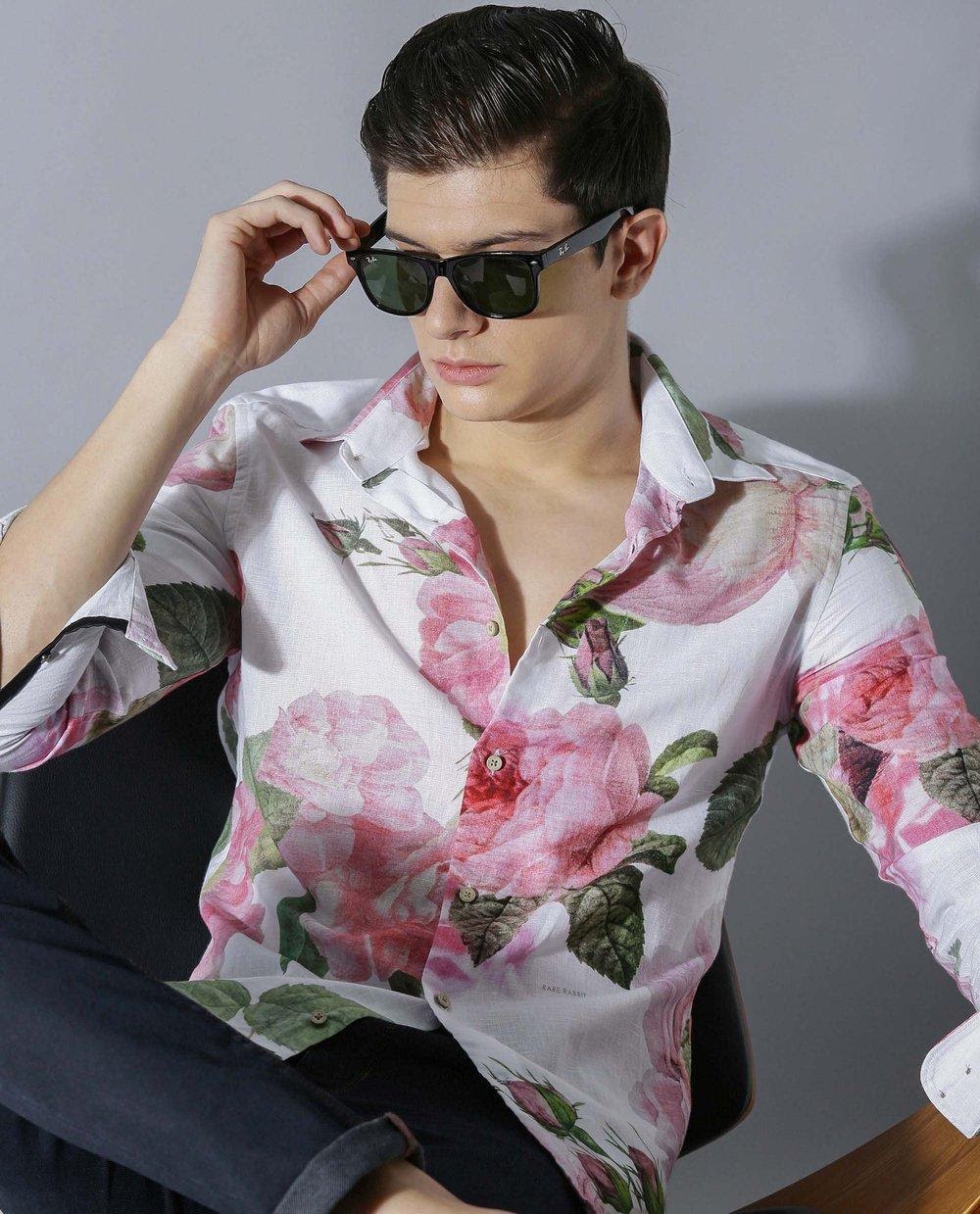 Patterned Linen Shirts
Are you the one to experiment with some unusual patterns and colors? Why not try a bold patterned linen shirt for a real conversation starter. Think prints, think fun! From palm trees to rabbits or even florals, take your pick. Go with a pair of solid-colored bottoms and minimum accessorizes to balance out your entire outfit for the day/night.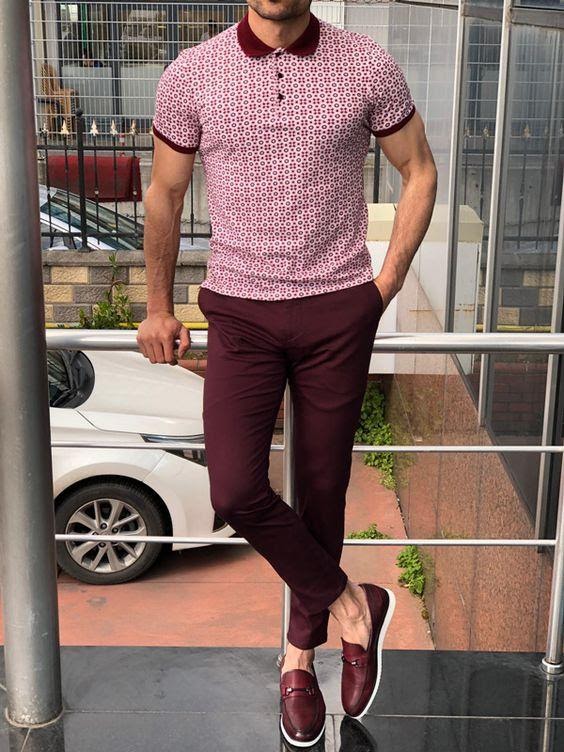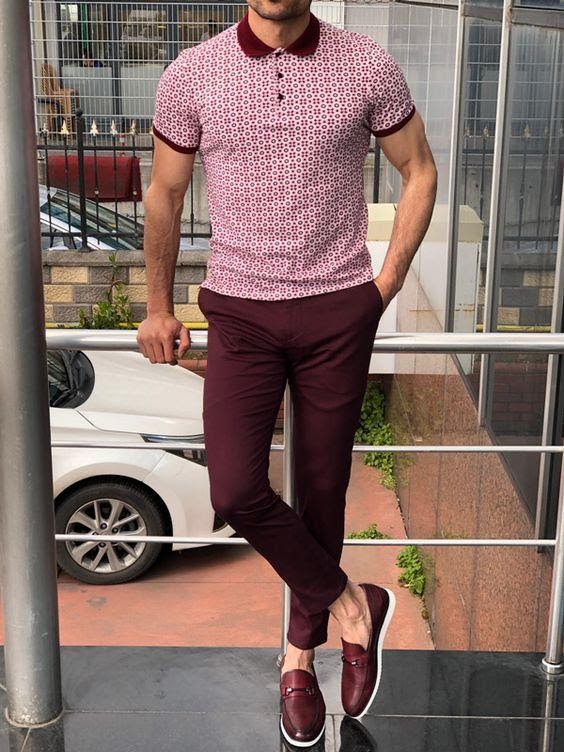 Linen Polo Shirts
Want a break from the usual button-up shirts and scruffy polo tees? Try out a slim-cut linen polo shirt. Yes, those exist too! And they look and feel amazing. For some fun day out on the golf course or a casual Friday at work, it's a breathable and stylish closet piece you will be opting for time and again.
How to Care for Your Linen Shirt
As a general thumb rule, you can machine wash your linen shirts (or even pants for that matter) on a delicate or a short cycle. Go for a cold water wash and rinse it – that will help preserve the soft fabric and make it more durable. If you would really want to make the most of this timeless wardrobe staple, handwash your linen shirts in cold water only.
Stay away from harsh chemical laundry detergents while washing linen clothing; they can ruin the texture and make it scruffy.  Use a mild (if possible, natural) detergent that is specially formulated for delicate fabrics only.  Also, don't forget to separate out the whites and the colors, new linen clothing tend to bleed very quickly in the wash!
Please be sure to only air-dry all your linen shirts. Air them out on a drying rack or a padded hanger. If you must use the dryer, you can tumble dry your clothing on low for five minutes to loosen out any wrinkles. But be sure to immediately take it out and put it on a hanger or layout flatly so it can fully dry. Don't wring it out to remove excess water! Carefully roll each shirt with a towel to remove excess water.
If you end up staining your linen shirt, don't be disheartened. Try rubbing some club soda on the spot. Don't use bleach on any of your linen clothing. That's a recipe for disaster!
We hope you are fully ready to not only pick out the right men's linen shirts for yourself but also pair them off with effortless and stylish ease and care for them for the long term. Trust us, a good and versatile linen shirt will serve you time and time again. All you have to do is learn to treat it right with the utmost care and find the right closet soulmates for your favorite linen shirt!