Have you ever forgotten the doctor's appointment that you have? I mean, who isn't right. These busy lifestyles that we have around ourselves can become too hard for keeping track over and over about things and remembering them. People could easily catch up with many things, and they forgot the main appointment before. So, a doctor needs to remind their clients that the appointment can waste a lot of resources because of the people who are not going to show up at the same time.
The good news, there is a solution – SMS for healthcare. SMS for healthcare is already widely popular among many hospitals, doctors, and even medical practitioners. You can easily send appointment reminders through text messages. Text messaging is utilized for reminding clients regarding upcoming appointments. Let's know more about this in a detailed way.
How Could SMS for healthcare help in missed Appointments?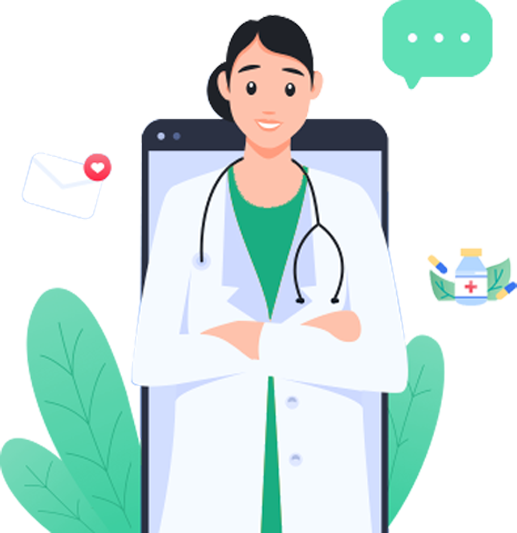 No one can easily control their sudden work tensions. But, there is always a door to tap for helping that 81% of appointments are forgotten easily because of miscommunication.
Many years of services are based on the traditional appointment reminder procedures, yet they are not sufficient. Before days, Postcards were sent slowly and could easily be destroyed as junk mail. Phone calls could also be used to leave a message about the appointments. But, one might not know when a certain patient could know about it. Email alerts are also becoming too popular. However, daily the inboxes are overflowing with Emails. Most emails are just ignored where the spam filters can place reminders from viewing the light.
As per MGMA, who did their research in 2017, the patients documented many ways to help with the appointment. Over 38% declared that a reminder through SMS could help them. Just 14% of people admitted that phone calls helped, and 19% found that email reminders can be helpful. This data is very clear that SMS messages are the ideal way for informing patients regarding upcoming appointments or reminders.
Just as other businesses, medical offices need not waste money or time on ineffective marketing strategies. SMS appointment reminders can cut down the phone time and save the budget. Automating the appointment reminders is another best way to campaign, thanks to SMS for healthcare service providers.
Benefits of SMS Reminders for doctors and medical business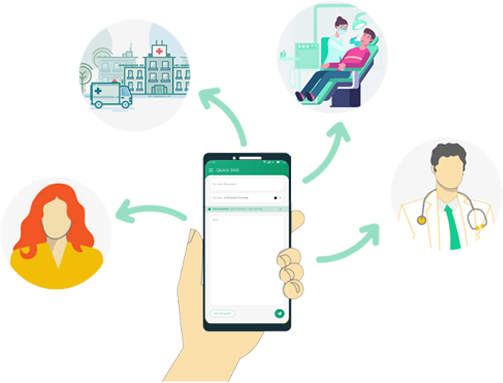 Patients like text messages. Then, phone calls, postcards, or emails texts are proven to be more beneficial. Texts works on any mobiles, or they don't need an app for installing.
SMS read quickly
Emails might sit many days in inboxes before people open them but, 90% of texts read in just 3 minutes after they receive them.
Texts can't be easily ignored.
Patients could check SMS even when they are not accessible for answering phone calls. Just
1% of the text messages go unread. SMS doesn't have any spam box to go to, where the notifications couldn't be turned off.
Enhanced Patient Outcomes
By SMS reminders, patient outcomes could easily be improved. As when your patients get reminded about their forthcoming appointment, they can show up more which means continual care without other disturbances!
No show dates or Lessened Cancellation
SMS reminders not only remind people about appointments, and offer them time to ganache the appointment. Even studies proved that by these reminders, people could schedule their appointment before so, no-show rates can be reduced.
Minimized efforts and Costs
Front desk staff deal with many things, so reminding people can take longer. With SMS, you can set up automated SMS reminders. SMS for healthcare services such as Guni SMS offers automated SMS appointment reminders. So, all you need is the patient's phone number and write the news and time to send it. That's it. You are all in for a treat.
SMS reminded templates
Suppose you like the idea of SMS reminders but are thinking about what to write on an appointment reminder. Here we offered a couple of examples to inspire you.
Dear Justin, this is from a Texas dental clinic for reminding me about the appointment on [add date] at [time]. If you are thinking of rescheduling your appointment, contact us at [ add phone number].
Hi Justin, here is the reminder for the appointment on [add time and date]. Reply N to candle or Y to confirm the appointment. Reply STOP to unsubscribe.
Hi Justin, you have an appointment with Dr Mike on [add time and date].
Dear Justin, Just a reminder regarding the appointment with Dr. Roy. Your appointment is scheduled on [add time and date]. We are looking forward to seeing you.
Pick the perfect platform for SMS reminders.
SMS for healthcare isn't just going to help you with reminders but also helps with serving as issues. So, it is essential to pick the best SMS gateway. If you are looking for SMS for healthcare services, look no more than Guni SMS.
Guni SMS is the leading SMS gateway provider that accesses your staff and you to send SMS from a location and is integrated into your platform for other main activities that involve feedback survey, appointment scheduling, and much more.
As per Health and Human Services, texting is the preferred way for patients to engage with their services. Texting e-PHI to the patients is enabled below HIPAA in restricted circumstances. SMS understands these needs and offers practices with the approval language and tools for obtaining needed consent to be HIPAA compliant. If consent is attained, a practice could text patients regarding PHI — but using texts for marketing purposes isn't enabled.
Once you contact us, the process is handled by us, right from reservations to bookings and reminders, along with follow-up messages. Our text message appointment reminder services automate your tasks that are a nightmare to look after. So, you can automatically send SMS to people about appointments and also when their appointments are reserved. Easy peasy, isn't it. Contact GuniSMS to know more.