Underwater drones allow you to know the mysterious depths of the world's all oceans, seas, and lake. These drones are fully equipped with camera equipment so that you can view and record everything these little crewless submarines encounter on their experiences. The dream of owning a submarine for many of us now came true but for small in size, i.e., submarine drone, racing drone. However, as you see from the price tags, they are not so affordable (for now!).
Underwater drones are a market category of drones that are developing very quickly. These drones are commonly called ROVs (remotely operated vehicles) and are mainly targeting professional users. However, they are still fun to play for hobbyists and diving fans!
Underwater ROVs serve a vast array of professional purposes, such as underwater exploration, filmmaking, boat inspections, scientific research, and more. Their primary purpose, however, would be to capture underwater footage from seas and oceans.
One crucial thing to keep in mind: these aquatic drones are predominantly tethered with a cable into a floating beacon or buoy at the surface. Cable tethering is necessary to find a live video feed from the drone and, more importantly, to ensure the drone doesn't get lost in the abyss.
Most water drones are equipped with powerful headlamps, providing visibility in dark submarine conditions. Many also boast 4K cameras for high-quality image capture. Other standard features and add-ons comprise FPV goggles, robotic arms, and ballasts.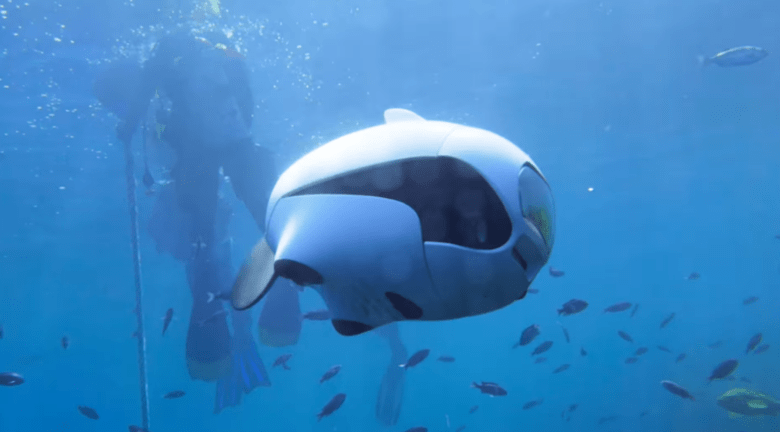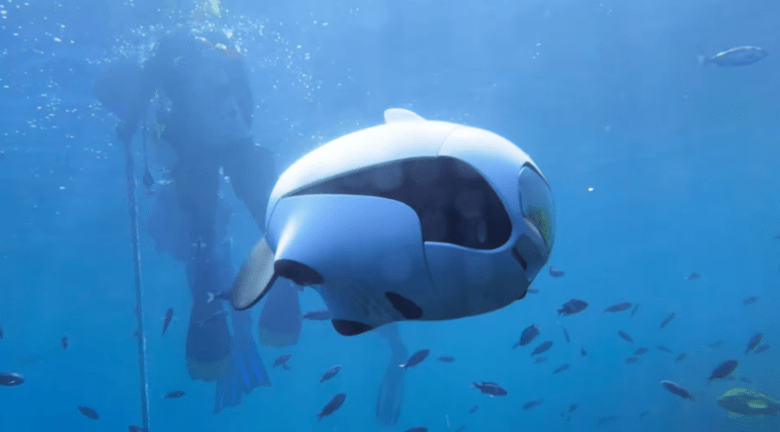 Let us take a look at the best underwater drones in 2019.
1. PowerDolphin
Capable of shooting 4K photography and video, PowerDolphin comes with both intelligent fishing purposes and water mapping purposes. With its external Advance equipment, the platform can find fish, lure fish, and perform fishing. It may also directly tow hooks and lure fish to any desired location. Furthermore, PowerDolphin's front nose has a 220-degree dual-joint rotation 4K camera, enabling it to capture video or photos underwater and above water.
"Underwater drones are thrilling water sports, an exciting lure dropping process, or the magnificent sea scene below, all can be glanced at in the first-person view standpoint," PowerVision claims of its PowerDolphin.
The images captured by PowerDolphin can be transmitted in real-time using ultra-long-range wireless 1080P picture transmission to PowerVision's multi-product dedicated APP Vision+. To accomplish a flip camera preview and recording port, users click on the Vision+ button.
PowerDolphin comes in three unique packages– Standard, Explorer, and Wizard models.
In the list of a most affordable underwater drone in the market, Titan came in first with the highest available water pressure rating, built to go wherever your underwater adventure takes you. With its camera comes with 4K 30fps clarity and compact, game-like management system, Titan can be in your eyes under the lake.
Able to go in depths up to 150m (492ft), farther than any other drone thus far, you can pilot Titan with a simple to use smartphone/tablet app. Capture stunning underwater pictures and videos, find plentiful locations to fish, or perhaps execute exact technical inspections of underwater equipment. The possibilities are endless!
2.Trident
Every facet of the Trident design has been painstakingly thought out to optimize usability and performance in any circumstance. Its versatility is the unique, hydrodynamical offset thruster design. This layout allows you to move through the water quickly and efficiently when you wish to search an area or run a transect quickly but also allows you to manoeuvre very delicately when in tight quarters or while looking at a specific target.
By taking advantage of haul exponential relationship with velocity, the off-centre vertical thruster of the ROV can cause it to pitch at high rates but also hover or alter depth without pitching while working at low rates similarly like a traditional underwater remotely operated vehicle works.
It uses a neutral animation tether to communicate with a towable buoy on the surface (radio waves do not travel well in water), and the buoy connects to the pilot using a long-range WiFi signal. With a wireless towable buoy significantly increases the practical range of the vehicle when doing transects and search patterns since a physical connection between the car and the pilot does not have to be maintained. You may connect to the buoy and control Trident with a tablet or laptop from a boat or the shore.
3. Fathom ONE
At the core of the Fathom One establishes its modular thruster attachment system. All three of those Fathom One's thrusters (two on the sides + one on the rear) clip on and off, allowing you to customize, update, or pack your device easily. This also means that you don't need to limit yourself to the thrusters we supply. If you wish to develop custom thrust modules, go ahead and design them for a unique experience. They intend to roll out an entire lineup of thrusters and accessories since they know the actual innovation occurs when you, the explorer, build your own!
The Fathom One also features with integrated rail system which lets you attach action cameras, additional lights, and additional sensors without difficulty. Regardless of the application, the Fathom One can be tailored to fit your needs.
Fathom One includes a 100-foot lineup that tethers it to a custom floating buoy, allowing for simple retrieval. Our buoy creates its WiFi network, enabling wireless piloting and live HD video streaming to any Android or iOS smart device via our app within a 100-foot radius. That is down to 100 feet deep up to 100 feet away, regular.
The Seattle-2 has many of the same features of this SeaLion but is not as powerful. It's best suited to working in areas with low to moderate currents. This ROV also has front and back facing colour cameras with pan and tilt. Illumination for the front camera is offered by two very bright 2200 lumen LED lights on ROV Lighting for the back camera is offered by a ring of high-intensity LEDs. The Seattle-2 includes a 500-foot depth rated casing and includes 250 feet of cable — command of the ROV's thrusters, cameras, and lights handled with a compact hand-held controller.
4. AquaBotix
Aquabotix is the technology leader in compact underwater vehicles. Aquabotix vehicles are easy to use in accomplish complex missions. We have taken state of the art technology from over the water and transformed it for use under the surface.
With Aquabotix's innovative iPad or notebook applications, everyone can fly the HydroView in the water without training. Watch this video to inspect or research, record the video to share with other people, or document findings and capture still pictures along the way.