People usually ponder about how to utilize wall décor ideas with lights to decorate their home in a best possible manner, which should impress others, and spread positive vibes around as well. The lights are the perfect way to decorate your home interior, as they brighten up the environment and it looks beautiful as well. The lights are best and brighter part of the decoration for interior design. Your home is your heart where you put your soul and relaxes, release all your stress, and put your mind at ease. The place which helps you to calm your struggling mind should be lot more attractive and should have lovely environment around your house.
Decoration is important as a source of creating perfect combination of fixtures and lightings to bring life to the room with different colours of light. Sometimes people wonder about how to place the light on a perfect place with perfect fitting that increase the beauty of a room. You can decorate your wall with so many different light fixtures that can fit right into the wall, which also attract other people's attention and look sophisticated as well. Moving forward with modernization is important in order to gloom and show your thought process to other people. The decoration is not all about modernizing, but also about presenting the home interior in a different and unique ways.
The wall décor ideas with lights should be utilized according to space available and must be compatible to the colours of the walls. The decoration with lights alone can handle to provide the sophistication into the environment even if you do not want to decorate with other decorative objects. You can also consider embellishing the look of your place by string lights, sconces, chandelier, and according to the latest trend introduces in the market. Here are some of the ideas, which will help you finding the exact trend to adorn your place such as: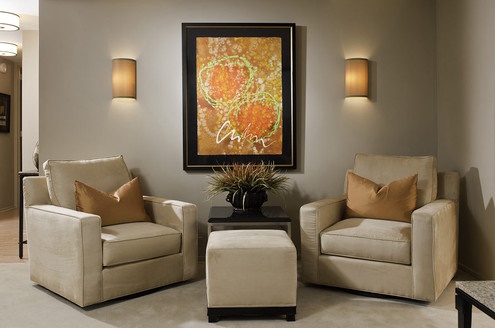 The concept of wall décor ideas with lights is different and unique, and most of all it is considered as modernized way of decoration. In order to decorate your living room, bedroom, or dining room, the idea of decorating your interior with wall sconces serves the purpose very well. The wall sconces are beneficial as they are compatible with any kind of designs incorporated on the wall. The wall sconces are beneficial in other ways as well such as: the quality of reflecting the light on your eyes is soothing and do not put too much pressure on your eyes. The wall sconces create sophisticated interior environment and shows the standard of living that you are experiencing. The wall sconces are available in different designs, which make easier for you to choose between many options.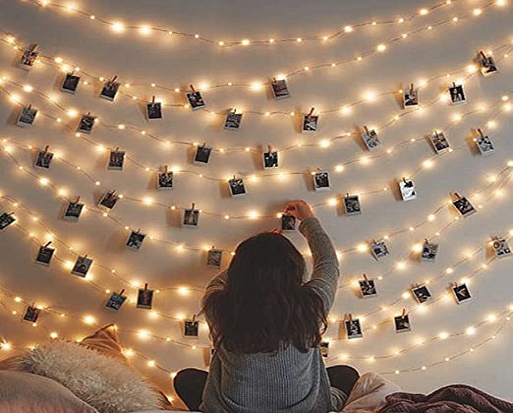 Decorating with string lights are the most interesting idea to utilized to adorn your place. The string lights are the bulbs that are attached with each other though a single or double string. While you maintain all other places in the house with sophisticated artefact, you can specially design your kid's room with different concept and purpose. The kids are all about having fun and innocence, and the concept of sophistication passes over their head. Decorating the kid's room with string lights will be a perfect idea to make the room look attractive and beautiful. The idea of adorning with string lights can utilized in every room including living room, dining room, the backyard area, gallery are, and other places that have vacant space. There are hundreds of ways through which you can maintain the purpose of the sophistication and yet you will be able to maintain the beauty of the room. Here is some important information which must be noted that the string lights are available in different designs, different shape of bulbs, and also different colours. While decorating you must keep in mind that the colour of walls and colour of lights should complement each other, otherwise the appearance will not cooperate with beauty.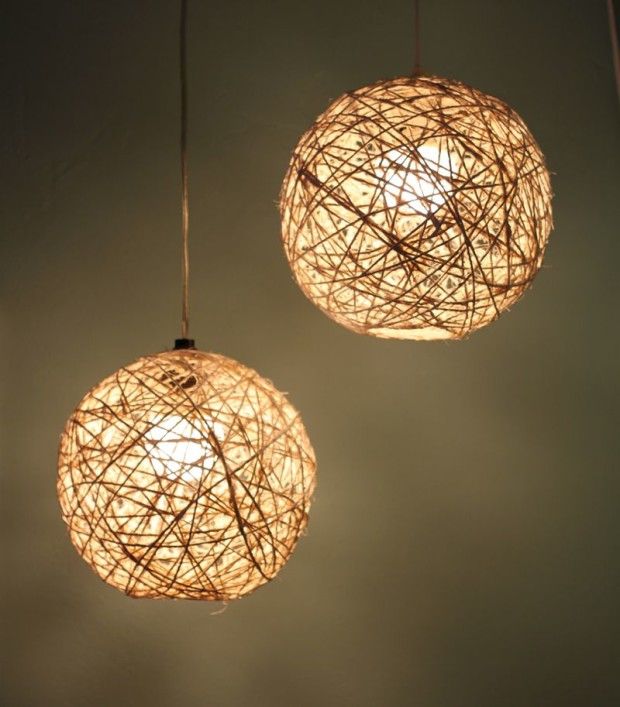 Sometimes it is difficult for some people to afford decoration with expensive lightings. Now, this is where DIY light fixtures come to the rescue. The process of DIY lighting project is very simple and easy to incorporate in your place and to work with. The DIY lighting projects are especially favourable to those people who love to save vacant items and utilize it for lighting purpose instead of wasting the useful component. In both the cases whether you are not able to afford the decorative lightings or you adore making your own projects, the DIY lighting are your perfect solution and useful as well. Whenever pondering over how to utilize wall décor ideas with lights, then you must think of DIY lighting projects, as they are easy to make and can be created for any space like ceiling wall, over the bed side wall, gallery space, on your doorstep walls, and wherever you want. You will need just a pair of bulbs or string lights with vacant jars or clear crystal bottles to combine them in appropriate manner, which will look beautiful after finishing. The DIY lighting can be created as pendant light, nautical light, light fixtures, and so many more.
To move ahead with the modern world and to conquer designing world in your home, you must modernize the way you live. The interior designs matter as per impressing other people and to put your mind at ease while resting at home whether you in bed, in bathroom, in kitchen or in your backyard swinging on beautiful swing. In any case, the lighting affects the vibe you are experiencing and adds up the flavour to your mood. The pendant lights are the best element of decoration when thinking of how to utilize wall décor ideas with lights. These lights enhances the appearance of room, and are perfect while reading, resting or doing anything you love.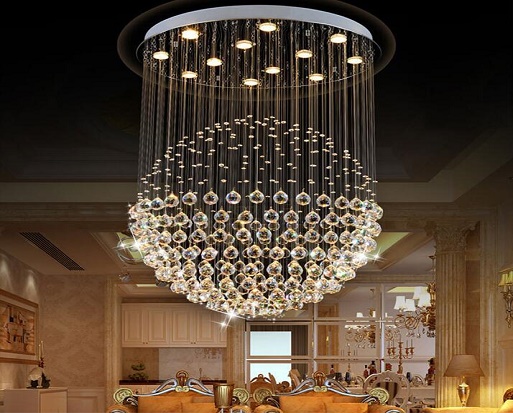 The idea of decorating your ceiling wall with chandelier brings royalty to your place and beautifies your home. The chandeliers are the beautiful hanging crystal prisms, which enhances the appearance of your place, and brings the feeling of sophistication in interior design. As usually people left the ceiling with dull colours, but your ceiling can be more than just a wall. At this point chandelier comes to the rescue to bring your ceiling wall to the life, as it consists of multiple lamps or LEDs and are made with beautiful designs. The chandelier serves more than beautification purpose like it is useful for lighting purpose as well. The lights incorporated in chandelier create effective reflection of lights, which soothes your eyes and mind as well.