Introduction
DEWALT DW715 15-Amp 12-Inch Single-bevel compound miter saw is a nice piece of equipment if you want to have precise and fast woodcuts for your construction. Whether it is a crown molding or a baseboard, the machine always does the job done. Its powerful motor coupled with easy operation can provide you an array of miter-cutting and cross-cutting functions. If you buy this product, the package comes with a carbide blade that can last for several uses, a dust bag, and a blade wrench.
Here we are going to review the DEWALT DW715 15-Amp 12-Inch Single-bevel compound miter saw. If you want you can also read the review of best miter saw stand.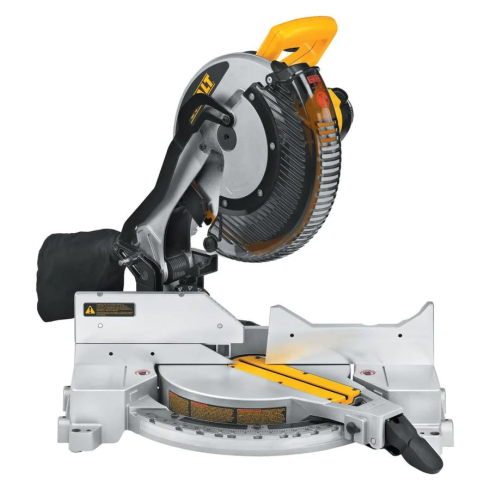 Features
15 Amp motor with 4000 rpm gives extra power and sturdiness
Accurate miter function and machine-based fence support maximize cutting precision.
The bevels are 0 to 48 degrees to the left and 0 to 3 degrees to the right for expanded capacity.
It has a miter capacity of 0 to 50 degrees to the left and right for better adaptability.
It weighs onl4 42 pounds and comes with a built-in handle for easy portability and better carrying
The cam lock miter handle that comes with detent override gives fast and precise miter angles.
It has 3 hard steel Bevel which stops at 0 degrees, 33.9 degrees, and 45 degrees provides adaptability at common bevel edges.
A stainless steel miter detent plate which has 11 positive stops enhances productivity and ensures good cutting results.
The tall sliding fence can support crown molding of up to 5 – 1/4'" nested and base molding of 6 – ½" in a vertical position against the fence as it slides out of the bevel cuts' way with ease.
Benefits of the DEWALT DW715 15-Amp 12-Inch Single-Bevel Compound Miter Saw
The DEWALT DW715 15-Amp 12-Inch Single-Bevel Compound Miter Saw was specially designed for fast and precision cuts. If you go through DEWALT DW715 Manual you can easily know that its 12" blade is supported by a dependable and powerful motor that has 15 amp of electric current. If also offers 4,000 rpm making fast cuts for molding and framing. It also does miter-cutting and cross-cutting tasks.
The durable saw is specially made to give an adaptable setup and great precision for managing various applications. The accurate miter system's adjustable stainless steel miter detent panel has 11 positive stops for effortless setup and enhanced productivity. The easily adjustable cam lock miter handle gives fast and precise miter angles.
The DEWALT Saw is specially made for giving precise bevel cuts. This is ideal for a variety of uses. It can give perfect 45-degree bevel cuts on dimensional wood measuring up to 2 x 8 inches.
The entire machine is relatively easy to carry and transport. It only weighs 42 pounds and comes with a built-in carrying handle. This makes it easier to move anywhere on the Jobsite and lift it easily at the end of the day when the time to put it aside comes. When you buy this product, it also includes a warranty package with a three-year limited warranty. It also has a 90-day money-back guarantee and 1-year free service agreement.
Pros and Cons
Pros
The machine doesn't create much noise when being operated and the cutting is effortless.
The miter scale is easy to read. Its size is enough to read through a lot of wood chippings and sawdust.
The blade has 32 teeth which makes woodcutting quicker.
Very accurate cuts
You don't have to modify anything to keep cutting on the same line.
The saw is very efficient and the blade instantly stops turning when the machine is turned off. This is important for a lot of tools for woodworking for safety concerns.
Cons
The dust bag provided is too small to collect all of the dust produced by the machine's operation. The dust bag is assumed to be generic for other miter saw because other machines of this type have the same size of dust bags available.
No clamp is added to the miter saw. You have to separately acquire one that can fit in this saw.
With a machine of this price, it should come with a laser light feature to easily see where you are cutting.
DEWALT DW715 Review from Customers
A lot of people who used this product gave the DEWALT DW715 15-Amp 12-Inch Single-Bevel Compound Miter Saw 5 stars out of 5. Even ordinary homeowners feel they are professionals when they use this machine. The machine was easy to set up and operate. Even getting it out of its packaging is easy as well. The carrying handle is very solid leaving them not worried it may break while the machine is being carried. This is because the handle is installed as near as possible to the machine's center of gravity. The lock pin keeping the saw head down while being carried can easily be slid inward or outward and has no problem in holding up the weight. Although the pin can easily be moved, the spring pushing the head upwards keeps it from sliding out itself. The handles on either side of the bottom have round-shaped edges which makes them comfortable to hold.
How to Use – How to Maintain
Unplug the machine first before setting it up to avoid accidental starting
Check the entire machine for damaged parts.
As the saw cuts, make sure there are no foreign objects or nails one the wood being cut.
Be more cautious when cutting larger lumber or odd-shaped pieces.
Never leave the machine unattended while turned on. Turn it off and wait for all parts to stop moving before unplugging it.
Never put lubricating agents while the blade spins.
Do not use flammable liquids when cleaning the miter saw.
When replacing parts, make sure to replace the parts only with identical ones and reassemble in exactly the same way you acquired the machine.
Conclusion
The DEWALT DW715 15-Amp 12-Inch Single-Bevel Compound Miter Saw was made is a piece of durable equipment and designed for rugged woodwork. You can use the machine the entire day as it constantly delivers excellent cuts without serious problems. The warranty agreement included in the package gives further confidence if in any case, the machine incurs a problem. The price is a little high, but the cost is worth it when it comes to its features and results delivered. This product is definitely one to have.