FASHIONABLE WAYS TO USE MODERN WALL TAPESTRIES!
A tapestry is a woven cloth on which numerous sorts of designs are imprinted with vibrant and lively colors. Tapestries are usually a decorative rug, that you hang on the wall to create your own castle. Some famous kinds of tapestries like Mandala tapestries, Nature tapestries, Indian God tapestries, and Music tapestries tell stories with their iconic impressions. Tapestries are always accessible and portable and are easy to clean. They used to keep you warm in the winter by serving as a sort-of illustrated insulation in various aspects. Tapestries of different kinds are not only meant to stick on walls as Wall tapestries but also can be used in various innovative ways. In this blog, you can find the most innovative and modern usage of the tapestries in most simpler forms.
Just 10 minutes of Home decor using Hippie Wall Tapestries!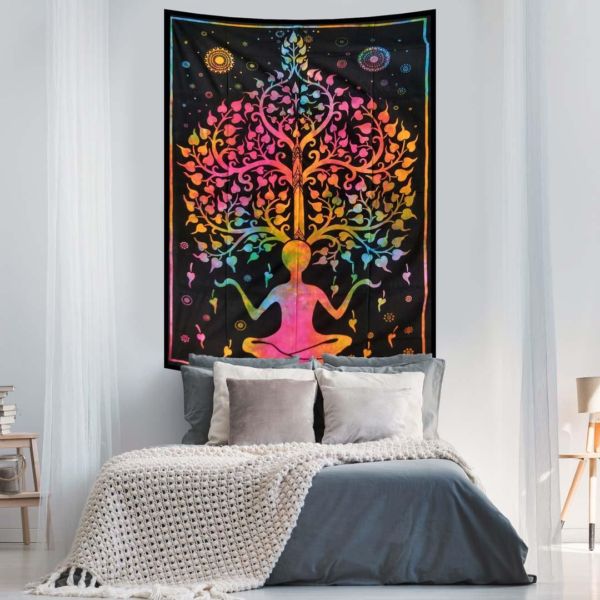 Tapestry as Ceiling Art
Say 'No' to boring walls and your plain dull ceilings. Using mandala or wall tapestries on your ceiling can make you build your dream space and aids in personifying your own kind. Wall tapestries on the ceiling is an excellent idea for those who are eager to create a singular home decor spacing. Tapestries help to prevent the passage of sound between the rooms. There are numerous patterns available on tapestries with unique themes on our site Yogashq.
As there are various types of tapestries available, Mandala Tapestry on the ceiling will give you a remarkable feeling as it will shower the vibe of the cosmos and the universe. You Must Know the Real Value of Mandala Tapestry to know the real essence of it at every inch. A tapestry hanging from your ceiling can add a beautiful scenic feature to your room, giving the foremost forgotten element of your home. So what are you waiting for? Grab one for your space.
Wall Tapestry as your Wind-breaker
This is one of the most fascinating ways of using wall tapestries. Using tapestries as windbreakers and sunlight diffusers will make the curtained shadow fall on your space. Wall tapestries filter the unwanted air and provides you the shade of warm light creating some reasonably soft living light atmosphere. Unlike a curtain, you'll be able to definitely use your own chosen tapestry as on ornament in a most unusual way, leads in creating a serene and relaxed feeling.
You can use a twin or queen-sized wall tapestries as your windbreakers according to the size of your doors and window spaces. Unlike other materials, cotton tapestries are most preferable for curtains and other light diffusers.
Headboard Wall Decor- Hippie Wall Tapestry
Hippie wall tapestries on your headboard will completely change the atmosphere of your area. This is because a simple and elegant wall tapestry has the power to change the entire theme of your place. Using tapestries as your headboard gives you a very personal touch. Also, it protects your wall against abrasion. Varied wall tapestries can give you,
Personalized feel
Easy to use
Comfortness
Change of themes
Uniqueness
to your room! You can use traditional wall tapestries on your headboard to give you a royal and historic look. Twin-sized wall tapestries which are 140 x 210cm is primarily used in placing it on walls for home decor.
Hippie Tapestries as Outdoor Companion
One can feel the vibe and energy around him when he has is own belongings around him. Tapestries can be your buddy out-of-doors. You can use tapestries according to the occasions you check-in. Various kinds of tapestries are available at Yogashq with numerous pleasant themes and colors. Tapestries can be your outdoor companion in various forms such as,
Beach throw
A picnic blanket
A playmat
A throw mat
Tapestries are easy to carry, soft, and are machine washable so that you have no worries of treating them as a troubleshooter.
Extra-large Wall Tapestry/ Wallpaper
Extra-large wall tapestries are widely used for home decors and wall hangings. The easiest and the simplest wall home decor can be done using modern wall tapestries. Instead of painting your walls with boring odd colors, wall tapestries of vibrant colors can be used.
Queen-sized wall tapestries or extra-large wall tapestries which are around 210 x 240cms are generally preferred for wallpapers. Instead of using color paints on walls, a single multicolor tapestry will compete for the best than using usual paints. Using the 4 corners velcro technique, you have that efficacy to change the entire wallpaper of your house. It is as simple as that as it is cost-efficient are everyone can afford it. A perfectly bowed and ironed tapestry can give you the best look as home decor with only a few efforts.
Modern Tapestry as Throw blanket
Throw blankets are useful in different situations and are very handy everywhere. As Hippie tapestries are available in vibrant colors with appealing designs, they are now in trend using as a throw blanket or sheets on your sofas, your sitting areas, or just as a warm insulator when wintry.
Benefits of using Modern Wall Tapestries
The following are the benefits of using Hippie and Bohemian wall tapestries for decorating your own place.
Easy to carry as they are less than 400 – 700 grams
Just take 10 minutes to change the entire ambiance
No more costly paint charges
Multipurpose usage
Cost-efficient and are affordable to everyone
Easy to clean and are machine washable
Breathable and are screen printed
As they are handy, they are used for travel
Gives a modern look
Saves your precious time and money.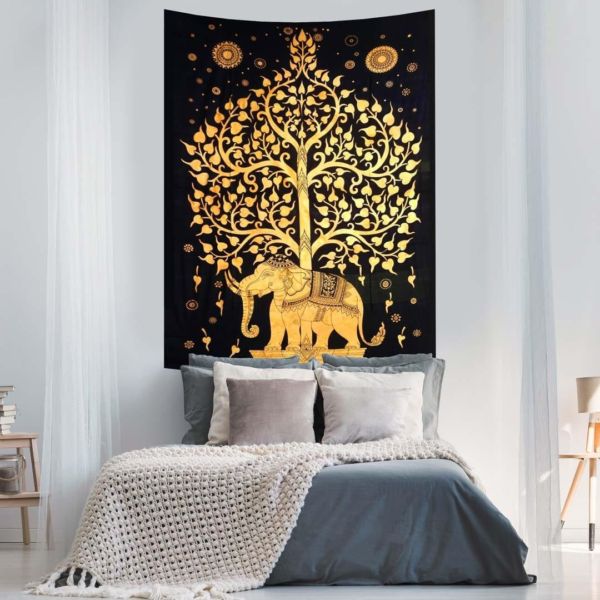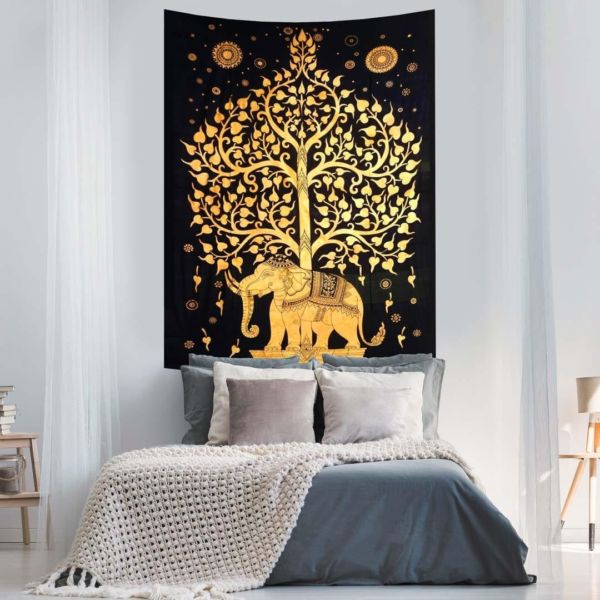 We Yogashq is an independently based startup that offers a mixture of classic to modern sorts of high-end Hippie and Bohemian tapestries with other neoteric yoga accessories to all the yoga and meditation learners and practitioners. We provide over 10000+ range of artisan-made products with high-grade quality. This is our official site yogashq.com that is designed in a user-friendly way for easy shopping.