Guhantara Resort is a beautiful underground cave resort, nestled deep in the heart of Karnataka. The resort is famed for its ambience that brings out the traces of long lost civilization. The carved rock work, monolithic stones, beautiful frescoes, and a blend of nature and tradition will impeccably entice you. Guhantara embellish cave-like architecture that goes hand-in-hand with modern amenities.
Staying in resorts means you don't have to plan, schedule and reschedule things to do, like meals and budgets, as once the package is selected then the day is well planned for you. Resorts furnish luxury, coziness, rejuvenation, and re-celebration of the birth of a lost person inside you. And Guhantara rejuvenates you with its thrilling activities, experiential self, and paranormal serenity with a touch of minimalism.
Things To-Do in Guhantara Resort
The long lasting to-do list in Guhantara Resort brings you close to nature, tradition, and adventure, soon turning into privileges.
Being around traditional folk artists that sways every heart with its single beat is the speciality of Rangamandapa of Guhantara Resort. Rangamandapa is well equipped, with a 700 people capacity auditorium of the resort. Entertainment filled performances by folk artists is the real grandeur of this section. Authentic setting, crafted splendidly on monolithic stones, encourages hypnotizing love of the Indian civilization. Grab a few fascinating tactics of our Indian traditional folk dances in Rangamandapa.
Confined within the cave resort, Agastya Kuteera soothes the exhausted you, with its abundant natural cleansing programs. In the busy city life, exhaustion is the most underrated thing, due to the augmenting competition in the way of development. If your aching with metropolis tantrums, then Guhantara Resort brings its herbal ayurvedic spa treatment by well-trained physicians and therapists. The curative ayurvedic treatment will not only boost your immune system or leave you in good health, but also detoxify and cleanse your system by improving your overall well-being. If you are in Guhantara, then embrace the most awaited section of the resort – Agastya Kuteera.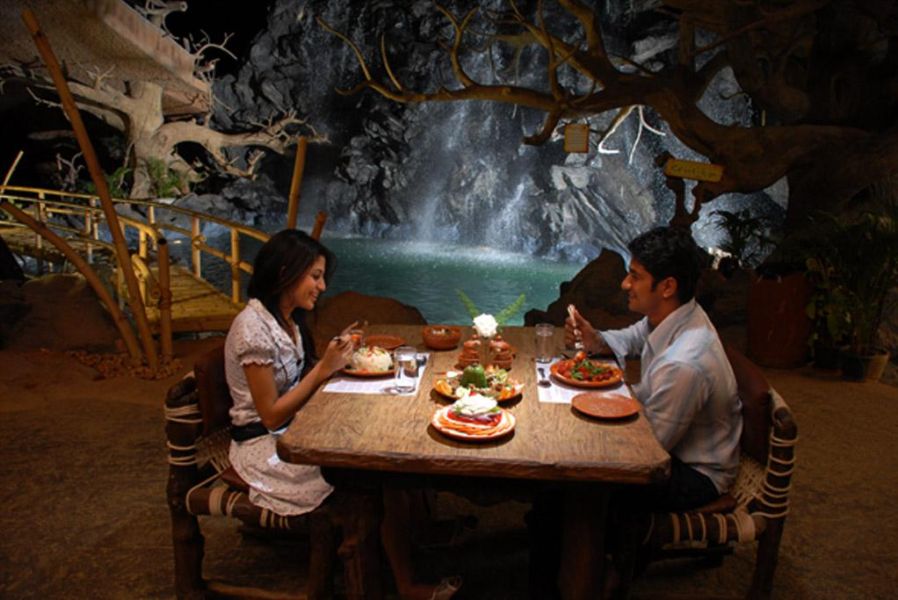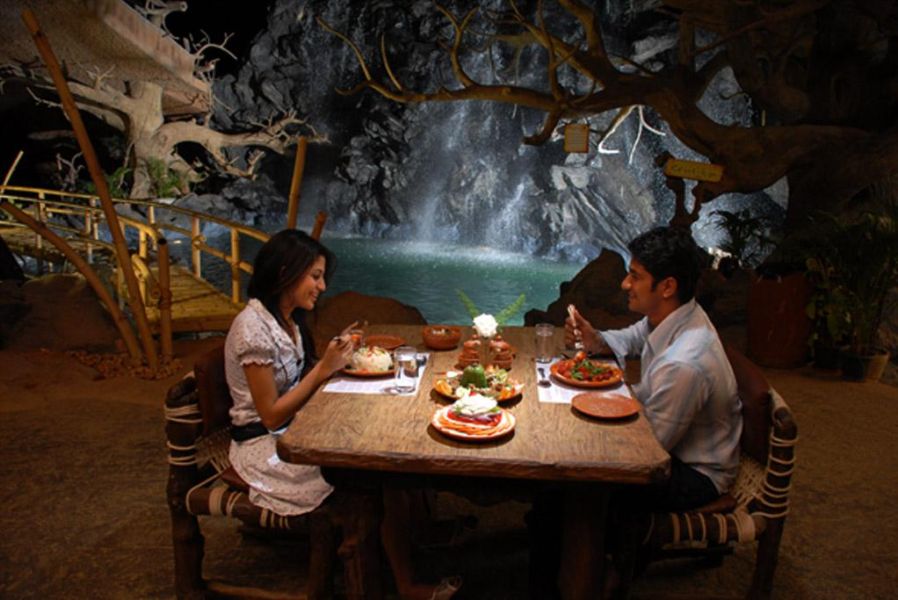 Sambhojana: Tickle your Taste Buds with Mouth-Watering Cuisines
Guhantara Resort pacifies you with startling dining arrangements in its restaurant – Sambhojana. The restaurant serves scrumptious multi-cuisines varying from vegetarian to non-vegetarian. Sambhojana believes in serving love as a main ingredient in everything they cook, resulting in a wide range of delicious cuisines. You can even go for a dietary variant and tastes as per your need, available in the curated menu of the restaurant. Traditionally appealing rock-cave theme, yet elegant dining space, sets Sambhojana different from any other vivacious restaurant. Enjoy tickles in your buds while relishing some out of the world dishes at Sambhojana.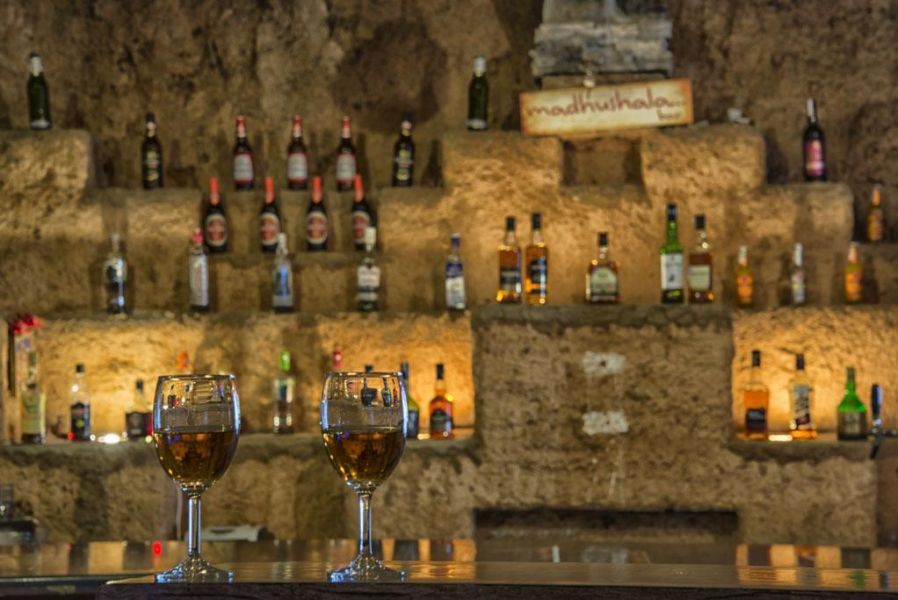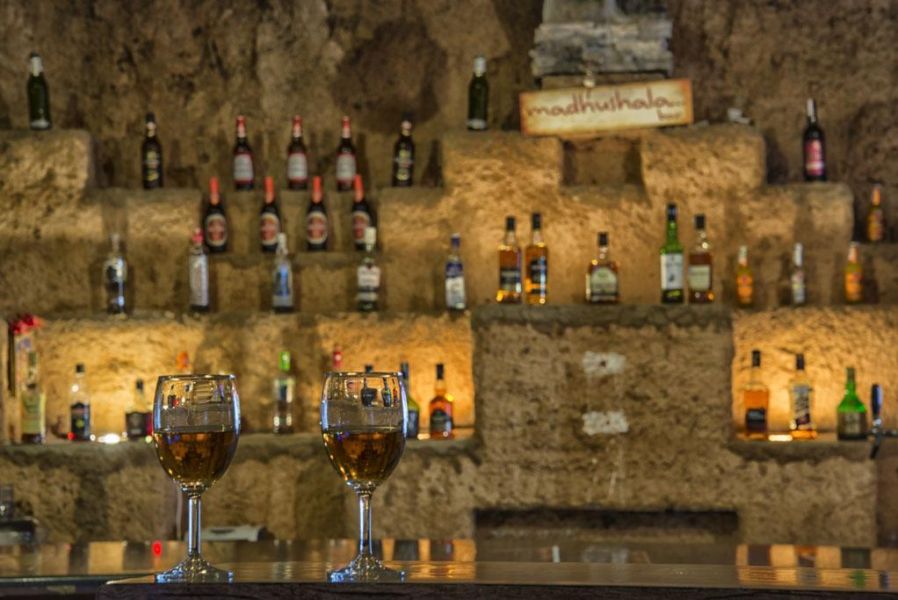 Madhushala Bar Offering Indian and Foreign Liquor with a Cave-like Decor
Having a drink with a setup of tradition is what Madhushala is known for. The Guhantara Resort has its own bar called Madhushala serving both Indian and foreign liquor. The part sets a splendid rhythm with a drink in a hand and cave-like decor in its background. The bar furnishes a menu with a vivid selection of drinks. Get a toss while embarking on a glass of wine at Guhantara Resort's intoxicating bliss section – Madhushala Bar.
Samvaad, as comes with the name, is the fully equipped conference hall of the resort. You can attend all your conference meetings in the midst of a splendour ambience. Guhantara also serves you with 24/7 free WiFi like facilities, so as to eradicate any intrusion in between any sort of corporate meetings. There is also a separate presentation room to embellish your meetings in the resort. So if you are heading to Guhantara for a corporate team or an individual day out, then Samvaad section has all the amenities to serve you with.
A day out is incomplete without plunging in the swimming pool. Guhantara owns a man-made lake and a natural waterfall to bring out the dancer in you at the rain dance floor. The pool is an ideal location for many water activities suitable for both, kids and adults, like beach ball race, water polo and pool volleyball. Lazing by the pool, under the sun is the most enchanting way to embrace the pool's existence.
Kids are always a part of many outings making that a stupendous family outing. Kids, being kids, always need engaging activities to embark on their journey. It is a game that sharpens the mindset of a child. The more a kid gets in touch with other kids, the more he learns about the phenomenon of the world. Guhantara is acquainted with such facts about kids, thereby holding a separate kid's play area. The play area hosts activities like animal kingdom, ludo, blind trust, musical chairs, jumping rope, freeze dance, and many more. If you are assisted by a kid, then one can Indulge in activities held in the kid's play area of Guhantara Resort.
Indoor and Outdoor Activities:
Recreation serves enjoyment to the tired soul and body, which is aptly furnished by Guhantara Resort. Packed in enthrallment, the resort has a giant fun to-do list. The resort encourages you for myriads of indoor and outdoor activities like chess, table tennis, carom, chess, snooker, tug of war, cricket, volleyball, zorbing, kite flying, archery, and dart.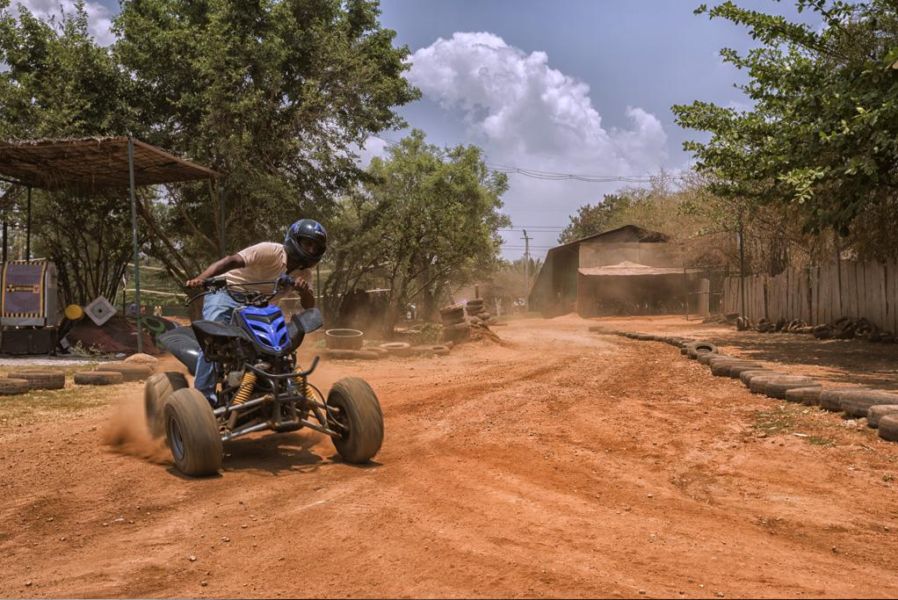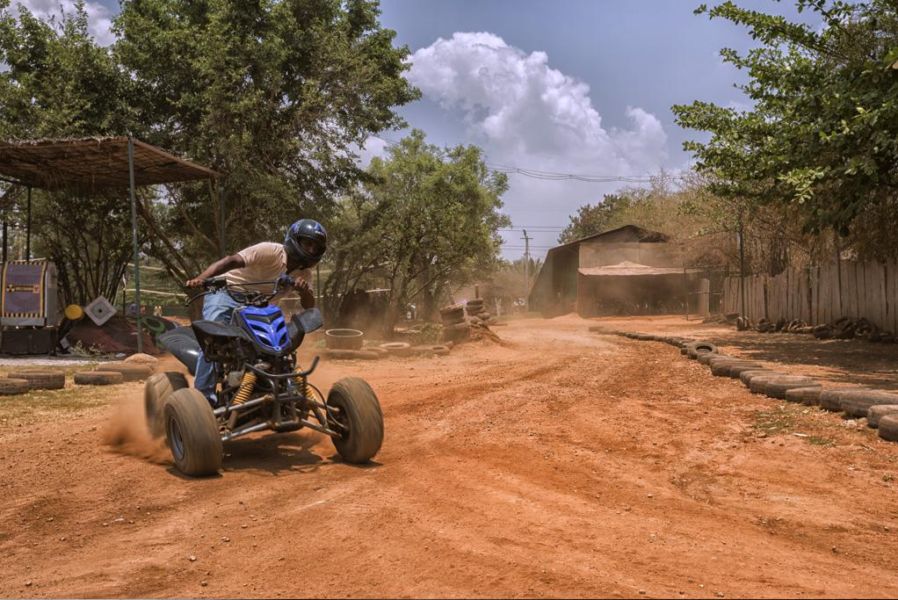 Test the Real Speedster in you at Quad Biking
Adventurous and thrilling activities in Guhantara brings people from different walks of life together through the support of fun team building sessions. The lavish setting of the resort helps you in bracing yourself for future endeavours. Fun serving activities include: bull ride, quad biking, rope walk, dance floor, bungee trampoline, zip lining, fish spa, and horse riding. A few adventurous activities can be availed by you on extra charges apart from the package.
The resort also provides you with free WiFi access, physically disabled friendly ecosystem, CCTV protection, transportation on request and extreme customer-friendly staff. Also, though being an underground resort, it is adhered to proper ventilation inbuilt architecture for cooling the atmosphere.
Guhantara being one of the best resorts of Bangalore, is majestically settled on the Kanakapura road serving the locals, and foreign tourists since years. The resort not only looks after the leisure day out, but also considers your health and hygiene on the top of the list, and hence abides by all the Covid-19 protocols. So feel safe, and book your slot to dive deep into the heart of an underground cave resort of Bangalore – the Guhantara Resort.