The term "Mandala" literally means "circle" in Sanskrit which is a geometric configuration of symbols. According to psychology, a mandala is a symbol of dreams that represents the dreamer's search for completeness and self-unity. So, generally, mandalas are round circles or a representation of some sort of deep meaning acting as a spiritual guidance tool during the process of meditation.
Mandalas updated its version of context to this cosmopolitan age as a diagram or a geometrical pattern that represents the cosmos metaphysically or symbolically of the universe, that structures to show the infinite and the world that lies beyond and within our minds and bodies. If you would like to feel such cosmos energies all around you, just go for a Mandala Tapestry to modernize your castle.
Trust me! Your inner peace and serenity will count on every time when you catch a sight of your cool mandala tapestries.
5 Easiest Ways to use Mandala Tapestries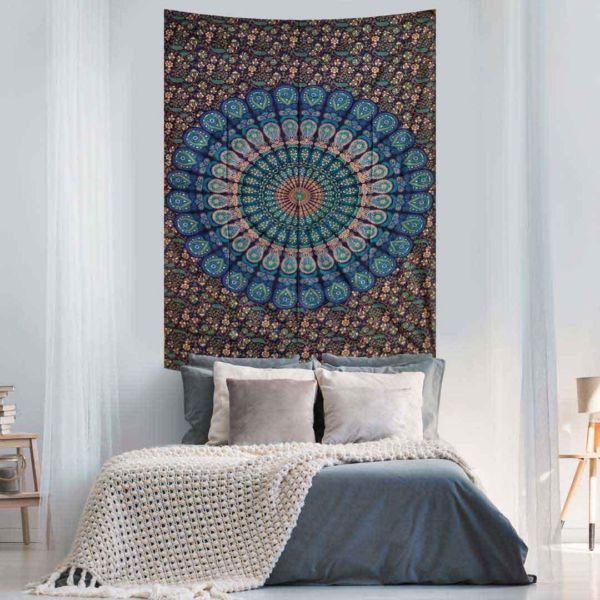 Mandala Tapestry As Yoga Mat/ Meditation Sheet
The first easiest way to use a mandala tapestry is as a Meditation tapestries or Yoga mats. Hippie mandala tapestries are most preferred during your meditation process as it acts as a better insulating material and aids as a companion throughout your breathing travel. The major advantage of using tapestries for meditation is that it provides a 'complete feeling' and as it always gives you a helping hand.
Mandala Tapestries are most preferred on your walls for a better ambiance under your roof while you meditate or workout as mandala patters helps you not to lose the focus point of your breathing and hence acts as a guide tool.
You can also go with mild color tapestries or walls for a serene and calm atmosphere.
Hippie Tapestries as Wall Hangings
Hippie Mandala Wall Tapestries on your walls or on dividers will completely change the atmosphere of your area. This is because a simple and elegant mandala tapestry has the power to change the entire theme of your place with its synergizing potential. Tt protect your walls against abrasion and gives a personalized tough with less cost.
Mandala Tapestries on your Ceiling
No boring walls and plain dull ceilings anymore! Mandala Tapestries on your ceiling can make you build your dream space and aids in personifying your own kind. Wall tapestries on the ceiling is an excellent idea for those who are eager to create a singular home decor spacing.
Usage of tapestries will prevent the travel of sound between the rooms. As there are various patterns of tapestries with unique themes are available on our site Yogashq, Mandala Tapestry on the ceiling will give you a remarkable feeling as it will shower the vibe of the cosmos and the universe.
Tapestries as Throw Blankets
Mandala tapestries as throw blankets are one of the most interesting and creative ways of using it. They can be used in different situations and are very handy everywhere. As Hippie mandala tapestries are available in vibrant colors with appealing designs, it is now has become a trend of using tapestries as your outdoor warm companion, as a throw blanket or sheets on your sofas, etc. Just pick one for your sitting areas while chilling and as a warm insulator when wintry.
Mandala Tapestries: On your Beddings
Instead of using heavy and expensive comforters, adding a screen-printed breathable mandala tapestry on your bed can make your room more original. It aids in having a beautiful scenic feature to your room, giving the foremost forgotten element of your home. Some famous kinds of tapestries like Mandala tapestries, Nature tapestries, Indian God tapestries, and Music tapestries tell stories with their iconic impressions. Tapestries are always accessible and portable and are easy to clean. They used to keep you warm in the winter by serving as a sort-of illustrated insulation in various aspects.
Benefits of using Hippie Mandala Tapestries
Saves your precious time and money
Easy to carry and as they are less than 400 – 700 grams
Just take 10 minutes to change the entire ambiance
Multipurpose usage
Cost-efficient and are affordable to everyone
Easy to clean and are machine washable
Breathable and are screen printed
As they are handy, they are used for travel
Gives a modern look
We Yogashq is an independently based startup that offers a mixture of classic to modern sorts of high-end Hippie and Bohemian mandala tapestries with other neoteric yoga accessories to all the yoga and meditation learners and practitioners. We provide over 10000+ range of artisan-made products with high-grade quality. This is our official site yogashq.com that is designed in a user-friendly way for easy shopping. So what are you waiting for? Grab one for you to modernize your space!