Men's Cricket World Cup 2023 Schedule Download: Date, Time, Fixtures, Teams, Venue Details Announced
The ICC Men's Cricket World Cup 2023 in India has unveiled its fixtures, along with the 10 venues that will host the tournament spanning 46 days later this year.
Commencing on October 5th, the World Cup opens with a thrilling match between England and New Zealand, a rematch of the 2019 Final, at the Narendra Modi Stadium in Ahmedabad.
India, the host nation, initiates their campaign on October 8th in Chennai against the five-time World Cup champions, Australia.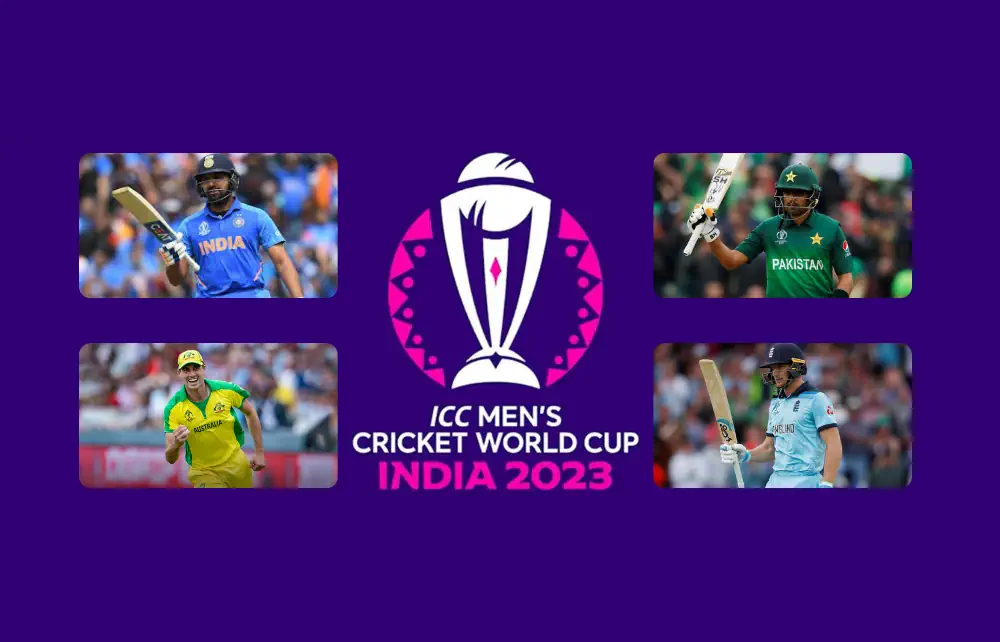 A total of ten teams will participate in this prestigious event, with the first eight already qualifying through the Cricket World Cup Super League. The remaining two spots will be determined at the conclusion of the Qualifier tournament in Zimbabwe, scheduled to end on July 9th.
In a round-robin format, each team will face the other nine, leading to the top four teams advancing to the knockout stage and semifinals.
India ODI World Cup 2023 Full Schedule
India vs Australia, Oct 8, Chennai
India vs Afghanistan, Oct 11, Delhi
India vs Pakistan, Oct 15, Ahmedabad
India vs Bangladesh, Oct 19, Pune
India vs New Zealand, Oct 22, Dharamsala
India vs England, Oct 29, Lucknow
India vs Qualifier 2, Nov 2, Mumbai
India vs South Africa, Nov 5, Kolkata
India vs Qualifier 1, Nov 11, Bengaluru
Complete Schedule for World Cup 2023
| | | | | |
| --- | --- | --- | --- | --- |
| Date | Day | Match | Venue | Time (IST) |
| 5-Oct-2023 | Thursday | England vs New Zealand | Ahmedabad | 2:00 P.M |
| 6-Oct-2023 | Friday | Pakistan vs Qualifier 1 | Hyderabad | 2:00 P.M |
| 7-Oct-2023 | Saturday | Bangladesh vs Afghanistan | Dharamsala | 10:30 A.M |
| 7-Oct-2023 | Saturday | South Africa vs Qualifier 2 | Delhi | 2:00 P.M |
| 8-Oct-2023 | Sunday | India vs Australia | Chennai | 2:00 P.M |
| 9-Oct-2023 | Monday | New Zealand vs Qualifier 1 | Hyderabad | 2:00 P.M |
| 10-Oct-2023 | Tuesday | England vs Bangladesh | Dharamsala | 2:00 P.M |
| 11-Oct-2023 | Wednesday | India vs Afghanistan | Delhi | 2:00 P.M |
| 12-Oct-2023 | Thursday | Pakistan vs Qualifier 2 | Hyderabad | 2:00 P.M |
| 13-Oct-2023 | Friday | Australia vs South Africa | Lucknow | 2:00 P.M |
| 14-Oct-2023 | Saturday | New Zealand vs Bangladesh | Chennai | 10:30 A.M |
| 14-Oct-2023 | Saturday | England vs Afghanistan | Delhi | 2:00 P.M |
| 15-Oct-2023 | Sunday | India vs Pakistan | Ahmedabad | 2:00 P.M |
| 16-Oct-2023 | Monday | Australia vs Qualifier 2 | Lucknow | 2:00 P.M |
| 17-Oct-2023 | Tuesday | South Africa vs Qualifier 1 | Dharamsala | 2:00 P.M |
| 18-Oct-2023 | Wednesday | New Zealand vs Afghanistan | Chennai | 2:00 P.M |
| 19-Oct-2023 | Thursday | India vs Bangladesh | Pune | 2:00 P.M |
| 20-Oct-2023 | Friday | Australia vs Pakistan | Bengaluru | 2:00 P.M |
| 21-Oct-2023 | Saturday | Qualifier 1 vs Qualifier 2 | Lucknow | 10:30 A.M |
| 21-Oct-2023 | Saturday | England vs South Africa | Mumbai | 2:00 P.M |
| 22-Oct-2023 | Sunday | India vs New Zealand | Dharamsala | 2:00 P.M |
| 23-Oct-2023 | Monday | Pakistan vs Afghanistan | Chennai | 2:00 P.M |
| 24-Oct-2023 | Tuesday | South Africa vs Bangladesh | Mumbai | 2:00 P.M |
| 25-Oct-2023 | Wednesday | Australia vs Qualifier 1 | Delhi | 2:00 P.M |
| 26-Oct-2023 | Thursday | England vs Qualifier 2 | Bengaluru | 2:00 P.M |
| 27-Oct-2023 | Friday | Pakistan vs South Africa | Chennai | 2:00 P.M |
| 28-Oct-2023 | Saturday | Australia vs New Zealand | Dharamsala | 10:30 A.M |
| 28-Oct-2023 | Saturday | Qualifier 1 vs Bangladesh | Kolkata | 2:00 P.M |
| 29-Oct-2023 | Sunday | India vs England | Lucknow | 2:00 P.M |
| 30-Oct-2023 | Monday | Afghanistan vs Qualifier 2 | Pune | 2:00 P.M |
| 31-Oct-2023 | Tuesday | Pakistan vs Bangladesh | Kolkata | 2:00 P.M |
| 1-Nov-2023 | Wednesday | New Zealand vs South Africa | Pune | 2:00 P.M |
| 2-Nov-2023 | Thursday | India vs Qualifier 2 | Mumbai | 2:00 P.M |
| 3-Nov-2023 | Friday | Qualifier 1 vs Afghanistan | Lucknow | 2:00 P.M |
| 4-Nov-2023 | Saturday | New Zealand vs Pakistan | Bengaluru | 10:30 A.M |
| 4-Nov-2023 | Saturday | England vs Australia | Ahmedabad | 2:00 P.M |
| 5-Nov-2023 | Sunday | India vs South Africa | Kolkata | 2:00 P.M |
| 6-Nov-2023 | Monday | Bangladesh vs Qualifier 2 | Delhi | 2:00 P.M |
| 7-Nov-2023 | Tuesday | Australia vs Afghanistan | Mumbai | 2:00 P.M |
| 8-Nov-2023 | Wednesday | England vs Qualifier 1 | Pune | 2:00 P.M |
| 9-Nov-2023 | Thursday | New Zealand vs Qualifier 2 | Bengaluru | 2:00 P.M |
| 10-Nov-2023 | Friday | South Africa vs Afghanistan | Ahmedabad | 2:00 P.M |
| 11-Nov-2023 | Saturday | India vs Qualifier 1 | Bengaluru | 2:00 P.M |
| 12-Nov-2023 | Sunday | Australia vs Bangladesh | Pune | 10:30 A.M |
| 12-Nov-2023 | Sunday | England vs Pakistan | Kolkata | 2:00 P.M |
| 15-Nov-2023 | Wednesday | Semi Final 1 | Mumbai | 2:00 P.M |
| 16-Nov-2023 | Thursday | Semi Final 2 | Kolkata | 2:00 P.M |
| 19-Nov-2023 | Sunday | Final | Ahmedabad | 2:00 P.M |