Have you ever visited an online shoe store and purchased the first shoes you lay your eyes on? The answer will probably be no. Every woman puts a lot of thought into choosing things that would be an essential part of their attire and personality, and footwear is no exception. People buy shoes all the time, but do they find the best pair that not only suits their pocket but fits perfectly and looks ravishing? Buying shoes online doesn't have to be arduous if you know what you are looking for. You don't want to second guess your choices in footwear purchases, especially when the heels you bought for yourself are a tad bit expensive. You want to make sure it is a worthwhile purchase. After all, you want to wear it and flaunt it with pride.
It is natural to get overwhelmed with all the choices, but it all boils down to one question- what do you want? Whether you buy oxfords for your office use or the stunning high heels for women that look ravishingly hot at parties and corporate events. Regardless of the purpose, a perfect pair of shoes give women the confidence to walk with their heads high and eyes on their goals. Buying footwear online is now easier than ever. So lean back and look at these five secret tips to find the perfect women's footwear for you.
Know your options and choose the right size and fit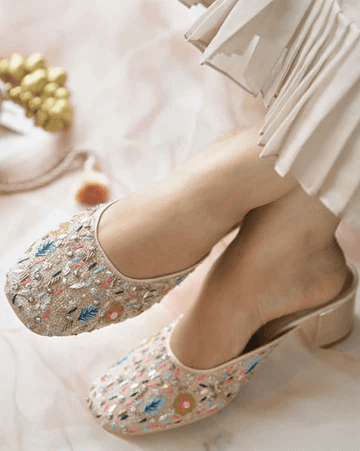 One of the great things about women's footwear is its abundant choices and options. There are so many options that many women often get confused about what they want. Reminding yourself what you want can give you a better perspective on your purchases. You don't have to choose the first pair of shoes you come across. You have the liberty to browse through multiple options and choose what you desire. You can gaze through different options such as bellies, stilettos, wedges, heels, boots, sandals, oxfords, flats and hundreds of other shoe types. Regardless of what kind of shoes you buy, you should never compromise the size and fit. Even if you like the design, purchasing a size that won't fit you won't make sense. Based on different factors like your personality, style preferences, occasion, profession, price, brand, and most importantly, size, you can choose the footwear that you like.
Leverage footwear information for an informed purchase
When buying shoes online, information is your best friend. There is usually a plethora of useful information available on the product page, which helps you make a well-thought and informed decision. Modern footwear brands provide high-definition product pictures that you can easily zoom and see the finest details. Along with the images, you get to see the videos of the footwear to see how they look on the feet. Many brand videos suggest outfit styles and colour combinations that go well with the shoes. You get to choose the size you want, and even if you are not confident about your shoe size, you should use the size charts to measure your feet and find the perfect fit. There are specifications about the colour, design, price, and detailed descriptions about the shoe design and how to take care of them.
If you plan to buy high heels online, you must take extra care, but you can be assured of high-quality products from well-known brands. Popular footwear brands design heels for women with a lot of research and thought. Therefore, heels instantly offer a taller and more confident appearance to your personality. Therefore, it is essential to choose the right size and fit. Loose heels will defeat the purpose and might lead to mishaps. It's also crucial to understand that different companies and brands have different size standards. You must also look for international sizing codes as the US, UK and other global brands use different sizes than India.
Check the heel height.
Apart from protecting your feet and offering safe and comfortable support while walking, shoes offer an additional benefit: increased height. There are mentions in the scripture about women using high heel shoes to increase height. If you plan to add a few inches to your height, you should consider using high heel shoes. If you are using heels for the first time, it's best to start from a small heel height and check your stability and comfort. You should be able to walk firmly, comfortably and confidently without spraining your ankles. With time and regular use of heels, you can walk more confidently and gracefully in high heels. The width of the heels also affects your stability. Thinner heels are a little challenging but look stunning on your feet.
Consider your wardrobe before the purchase.
Are you buying shoes just for the sake of it, or do you want to make it a thoughtful purchase? If it's the latter case, you should keep your wardrobe in mind when buying women's footwear online. Do you plan to attend a wedding, or there's a family function on the day of Rakhi? Whatever the occasion is, your footwear must complement your attire. If you plan to don a designer lehenga to a wedding, designer high heels are undoubtedly the right choice for it. Taking a quick look at your wardrobe will also give you an idea about what you already have and what you should buy. That way, you will spend your bucks on buying shoes that you will use rather than throwing them in the corner of your wardrobe after wearing them once.
Don't let the price stop you from pampering yourself.
Contrary to many other shoe buying guides, it isn't always fruitful to make your purchase based on the price. Sometimes the heart wants what it wants. And if you are letting the shoe price stop you from pampering yourself, it's better to keep that thought at bay. It isn't always good to compare prices because masterpieces are valuable for a reason. They are unique and one of a kind. So if you can't stop dripping over irresistible shoes, don't let the price stop you. Buying shoes online has become mainstream now. But, thoughtful buyers make their purchases based on logic and emotions simultaneously. The shoes you buy aren't just something on your feet. Your footwear represents your personality, charisma and success. You should never compromise your values for the sake of a few bucks. These secret tips will guide you in buying the perfect pair of shoes you won't stop drooling over.