When it comes to bridal jewellery, there's a growing trend towards minimalism. Modern brides are opting for understated elegance over extravagant bling. One piece of jewellery that perfectly embodies this shift is the mangalsutra.
Traditionally a symbol of marital commitment in Indian culture, the mangalsutra has evolved over the years to cater to the tastes of contemporary brides. In this article, we'll explore the beauty of minimalism in small mangalsutra designs. And see why brides are more leaning towards small and minimalist designs
Embracing the Beauty of Minimalism
Minimalism in jewellery design is all about simplicity and subtlety. It's about choosing pieces that enhance your natural beauty without overwhelming your look. Small mangalsutras are a testament to this philosophy. These delicate pieces may be diminutive in size, but they are big on charm and grace.
14kt Yellow Gold Evil Eye Mangalsutra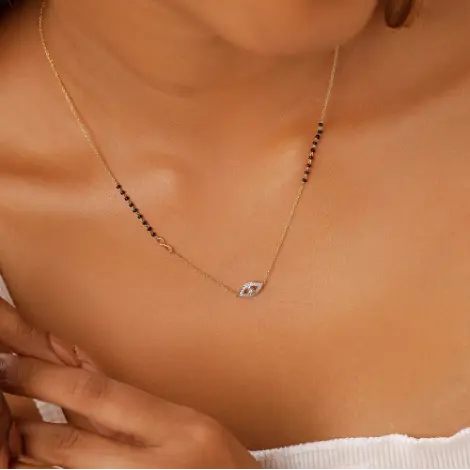 Small mangalsutra designs feature dainty chains and petite pendants, often with small, intricate patterns. They are designed to be lightweight, comfortable, and versatile, making them ideal for everyday wear. The minimalist approach allows brides to celebrate the significance of this traditional ornament without feeling weighed down by excessive ornamentation.
Why Brides are Choosing Small Mangalsutra?
There are several reasons why modern brides are gravitating towards small mangalsutras:
Comfort: Large, heavy mangalsutras can be cumbersome to wear daily. Small mangalsutra designs offer comfort and ease of wear. It allows brides to go about their daily routines without any hindrance.
Contemporary Aesthetics: Small mangalsutras blend seamlessly with contemporary fashion trends. They complement traditional and Western outfits, making them versatile pieces for any occasion.
14kt Yellow Gold Two-As-One Mangalsutra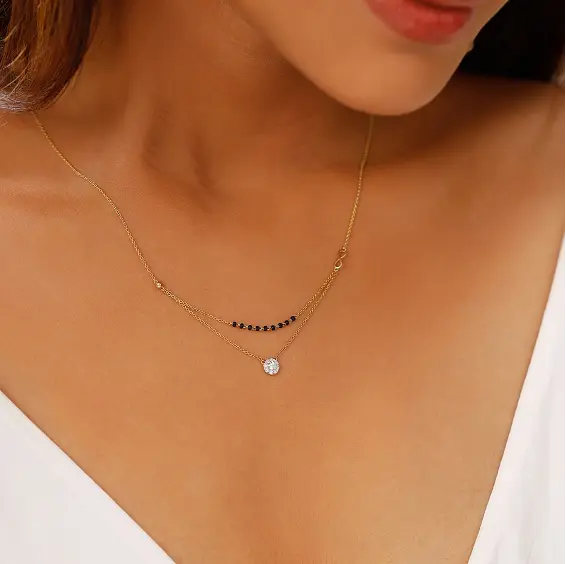 Symbolism: While minimalistic in design, small mangalsutra designs still carry the rich symbolism associated with the institution of marriage. They serve as a reminder of the commitment and love shared between a couple.
Elegance: Minimal mangalsutra designs add a touch of sophistication to a bride's overall look without overshadowing her natural beauty.
Styling Tips for Minimal Brides
Don't be afraid to layer your mangalsutra with other delicate necklaces. It gives a personalised look.
Experiment with different metals and gemstones to create a balanced look. Mix and match a small gold mangalsutra with a silver necklace for an interesting contrast.
14kt Yellow Gold a Budding Heart Mangalsutra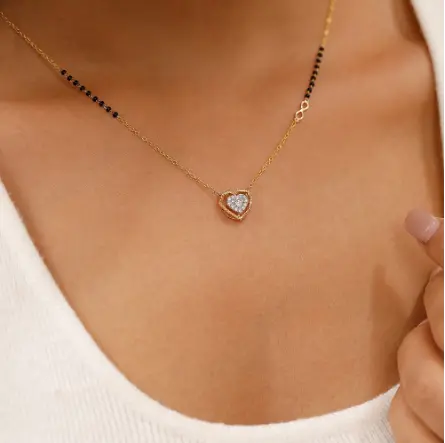 One of the advantages of small mangalsutra designs is that they can be worn daily. Pair yours with simple stud earrings and a classic wristwatch for an effortlessly chic everyday look.
Let your mangalsutra take centre stage by keeping your makeup minimal.
Why Should Minimal Brides Choose Mia by Tanishq?
Mia by Tanishq is a brand that understands the evolving tastes of modern brides. Here's why it's the perfect choice for minimal brides:
It is renowned for its impeccable craftsmanship, creating each piece perfectly to ensure you receive the highest-quality jewellery.
The brand offers various contemporary small mangalsutra designs catering to minimal brides' preferences.
Mia by Tanishq allows brides to customise their mangalsutra to make it truly unique.
It is a trusted name in the jewellery world, known for its ethical practices and transparent pricing. Choosing Mia by Tanishq ensures you're investing in jewellery that will last a lifetime.
Small mangalsutra designs are the epitome of elegance and minimalism. They offer modern brides the perfect blend of tradition and contemporary style. With the right styling and brand choice, minimal brides can celebrate their love and commitment with a piece of jewellery that is as unique and beautiful as their journey ahead.
Mia by Tanishq stands as a shining example of a brand that understands the needs and desires of minimal brides, making it a top choice for those seeking the perfect mangalsutra. So, if you're a bride who appreciates the beauty of simplicity, consider embracing the trend of small mangalsutra designs for your special day and beyond.