Do you always wish to start a career in the field of management or entrepreneurship? BBA is a course that will help you walk on the right path. Well, you must be wondering how BBA is the best option and no other course such as B.com. Then this blog will help you learn the advantages of a BBA degree and which among the top BBA colleges in Jaipur you can pick for yourself.
Table of contents
BBA
Eligibility Criteria for BBA colleges in Jaipur
Advantages of a BBA degree in corporate management
The average salary of BBA graduates in India
Why should you consider Arya college, Jaipur for your BBA degree?
Conclusion
Frequently asked questions
BBA
BBA or Bachelor of business administration is an undergraduate program in the field of business management. In this course, students learn about various concepts of business management and administration which helps them carry out their corporate management job with ease.
Eligibility Criteria for BBA colleges in Jaipur
Students must have passed the class 12th examination with a minimum aggregate of 50%.
The maximum age limit = 20 years.
Advantages of a BBA degree in corporate management
Foundation for MBA– BBA course helps set a strong foundation for students who wish to pursue MBA in the future. This course introduces you to the basics of business administration and all the specialization subjects such as finance, marketing, human resource, and international business, and it helps you have a better understanding and clarity of the specialization you want to choose in your MBA.
Helps in developing managerial skills- Corporate management tends to hire candidates with managerial skills and a BBA degree will help to attain strategic management, marketing, economics, and business skills.
Affordable degree– BBA is an affordable course and not only average but even the best BBA colleges in India provide BBA degrees at an affordable fee. And the degree is worth investing your money and career in as it will reward you with high salary packages and a fruitful career.
Personality development– BBA degree will teach you about personality development. Your degree will prepare you to be a competent, self-assured leader who can manage teams and oversee an entire business. As part of your BBA degree, you are required to do numerous presentations, therefore you are also taught how to speak in front of an audience.
Professional course– BBA is a professional course and you can directly apply for the job right after completing your graduation. As compared to other graduation courses, a BBA degree has better career opportunities and prospects.
Networking– Networking plays an important role in rising the ladder of corporate management. You will have a fantastic network of people working in various firms because after completing BBA, many of your batchmates will start working in the corporate field. These people can provide you with various options, including better jobs and greater networking possibilities.
Job Opportunities– The best BBA colleges in Rajasthan open the door to various job opportunities such as marketing executive, research & development manager, sales executive, and accounting manager. The BBA course is also suitable for students who want to enter entrepreneurship or want to join a family business.
Industry-oriented– The course curriculum of the BBA degree is designed keeping in mind the industry demands. This course is a blend of theoretical knowledge and practical exposure. Students at renowned BBA colleges are also given a chance to go for summer internships which makes them familiar with the working environment.
The average salary of BBA graduates in India–
Below mentioned is the graphical representation of the average salary earned by BBA graduates in different job positions.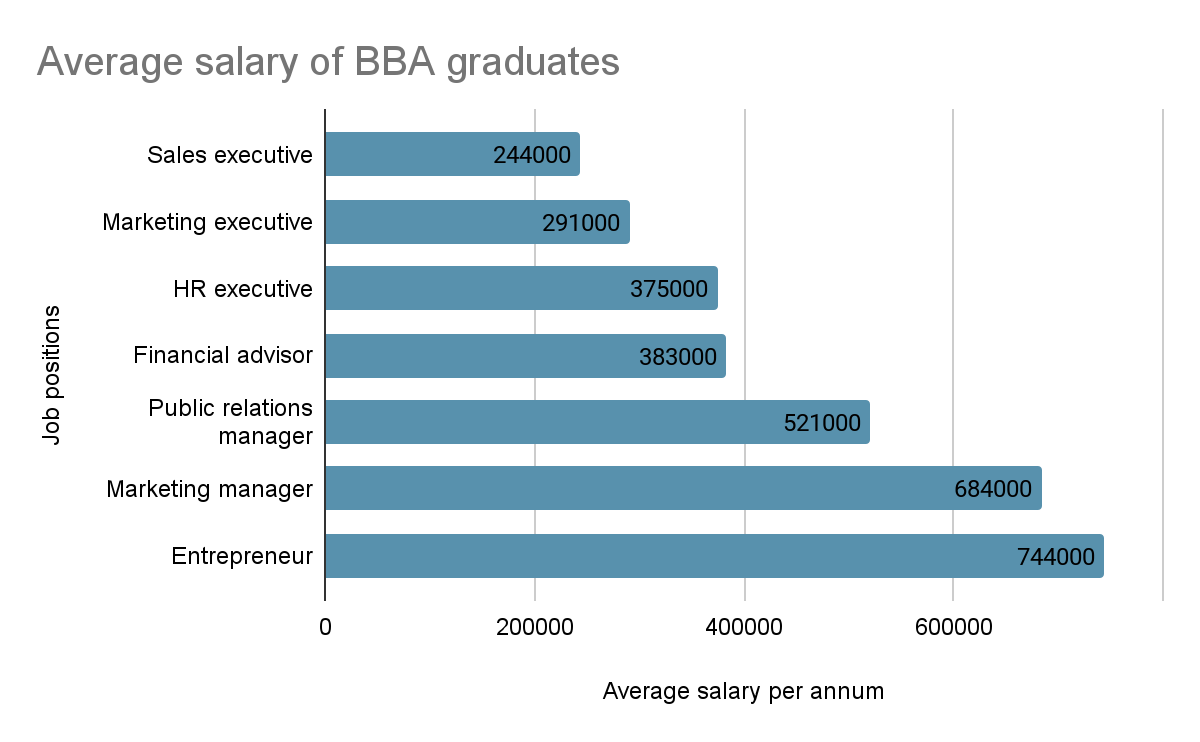 Why should you consider Arya college, Jaipur for your BBA degree?
There are various reasons to choose Arya college Jaipur over others. Listed a few reasons below-
Placement– Arya college provides campus placement opportunities with high salary packages to its students in companies such as ICICI Bank, Sony, Deloitte, tata consultancy services, and Hindustan Unilever.
Updated curriculum– The course curriculum of BBA at Arya college is regularly updated to meet the industry demand. This college focuses on the amalgamation of practical knowledge with theoretical one.
Infrastructure– This college has a well-designed infrastructure with all the amenities such as a hostel, auditorium, library, laboratory, transportation, cafeteria, ATM, and other facilities to give you a comfortable environment to study.
Experienced faculty- At Arya, all the faculty members of the school of management are highly qualified and experienced in their domain. And they nurture students into management professionals.
Conclusion
With a BBA degree, you'll have countless options for employment. Therefore, go for the degree that will elevate your corporate management career. Make the wise decision by enrolling yourself in the top BBA colleges in Jaipur and taking the first step towards success.
Frequently asked questions
Who earns a better salary, BBA or BCom graduate?
BBA graduates earn better than BCom graduates but please keep in mind that your skillset, knowledge, and experience play an important role while getting a salary package. So, whatever degree you choose, select the right college/University that will help you inculcate the right skills and knowledge and will also help you in getting a good placement.
What are the subjects taught in the BBA colleges in Jaipur?
The common subjects taught in all the Universities/ colleges of Jaipur are-
Micro & Macroeconomics
Marketing management
Business laws
MIS
Entrepreneurship
International business management
Human resource management
Cost accounting
Consumer behaviour
Digital Marketing
Computer applications
Production management
Financial management
What are the higher education options available for BBA graduates?
After completing a BBA degree students can pursue MBA, PGDM, or certificate courses in human resource/ digital marketing/ accounting/ and R&D.
What are the necessary skills required to pursue BBA?
The necessary skills to pursue BBA are as follows-
Communication skills
Networking abilities
Entrepreneurial approach
Critical and analytical thinking
Understanding of economy
Multitasking
Time management
Adaptability
Persuading skills
What is the admission procedure for getting admission for a BBA course at Arya college?
Once you meet the eligibility criteria, you can fill out the application form from Arya college's official website.
Applications will be shortlisted on the basis of merit.
If your application is shortlisted, you will be called for a counseling session and you will be given admission to the college.