Everyone wants to make money from the Internet. There are many ways to earn money online like blogging, vlogging, Affiliate marketing, SEO's, Freelancing etc. But all these required patience and skills.

But here is one good news. If you are a cricket fan and love to watch cricket then you can also earn some side income from it.
The idea is Fantasy Cricket. So what the heck is Fantasy Cricket?
Fantasy Cricket?
There are 11 players in the single cricket team. 2 teams played in a match so total there 22 cricketers played a single match.
But in fantasy cricket, you have to select your best 11 players from these 22 players.
This is called your dream team or fantasy team. Here is one example:-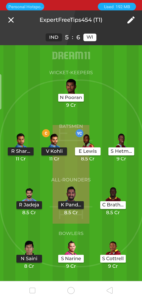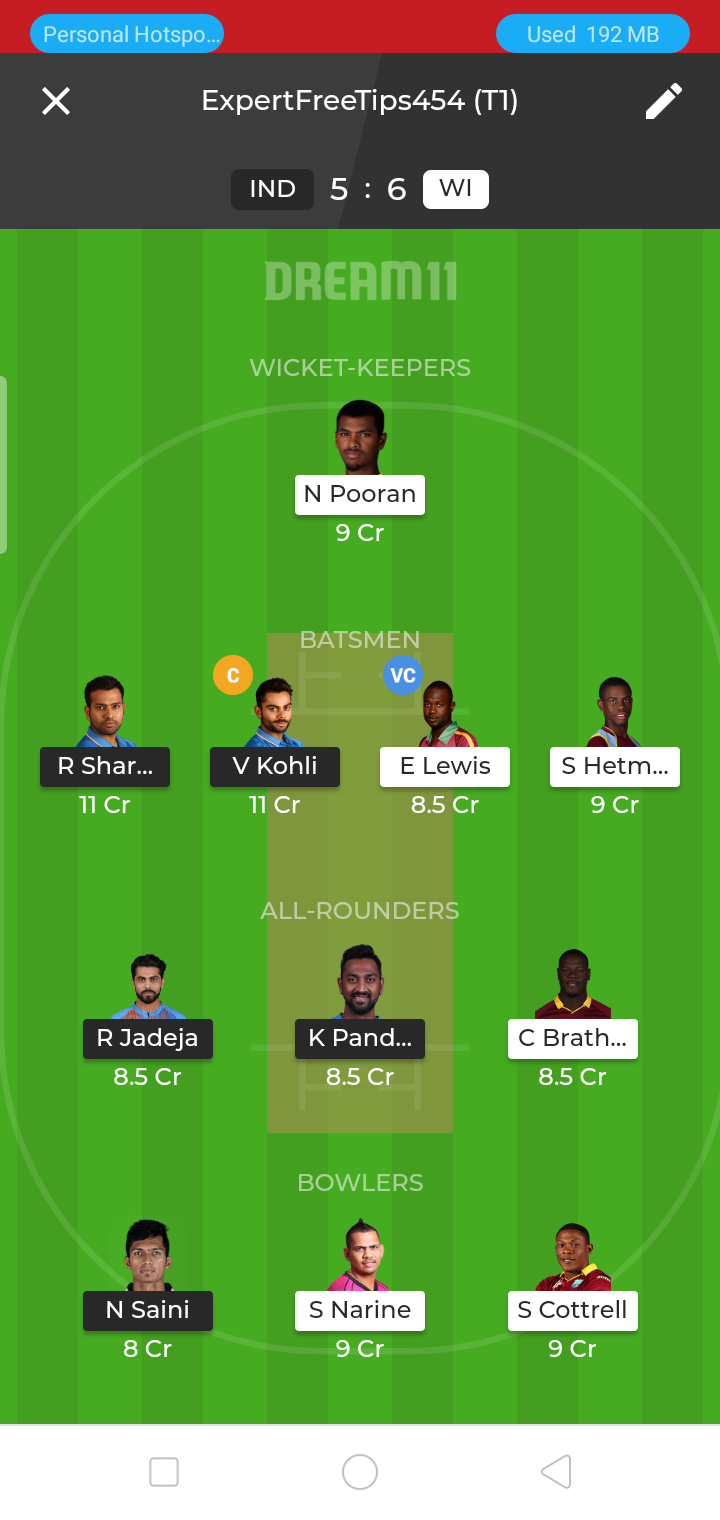 Best Fantasy Cricket Sites In India:-
I have listed some of the best fantasy cricket websites or apps for Indian. You need a refer code to join every site.
Myfab11 (Refer Code nekraj)

Dream11 (This is the oldest site.)
Kaptain 11 (200 Rs Bonus and No Code Required)
Halaplay (Hardik Pandya is brand ambassador.)
11wickets:- Sunny Leone is brand ambassador.)
Ballebaazi (Yuvraj Singh is brand ambassador)
Games91 (New Site)
My11Circle (Dada ka Wada)
Playerzpot (No Pan Card Required, Instant Paytm Withdrawal.)
Basically you can start playing on any site. Just search for a site in google, sign up with your real name, number and email address.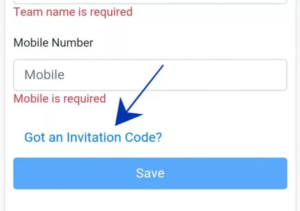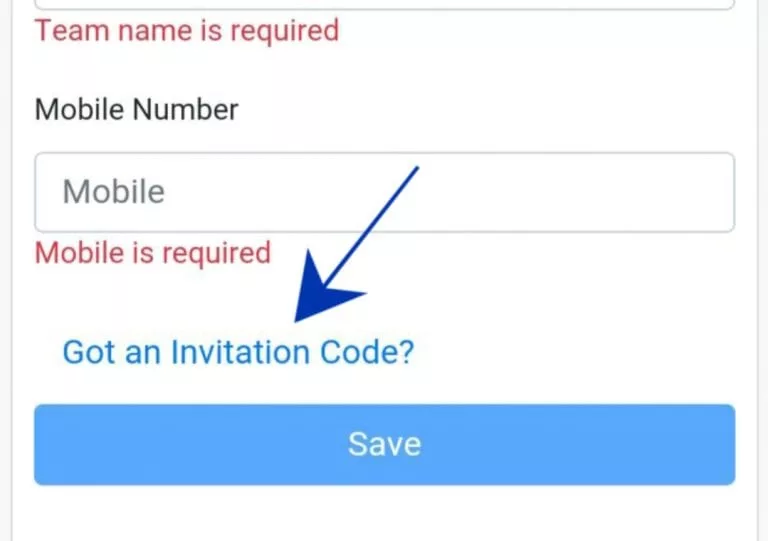 Every site has its own android and ios app.
You must verify your pan card and bank details before you upload any money.
You will get some bonus on every site like on Dream11 you will get 25 rs joining bonus, +25 after email sign up and 50 after pancard verification.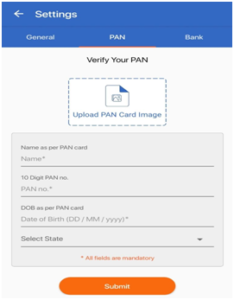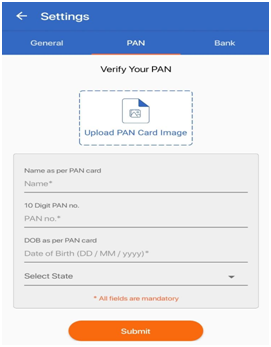 If you don't like to add your pan card or bank account, you can join at playerzpot which does not require any verification. You will get paid in your paytm account.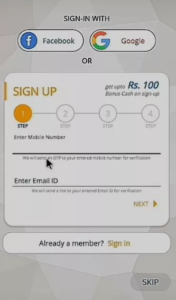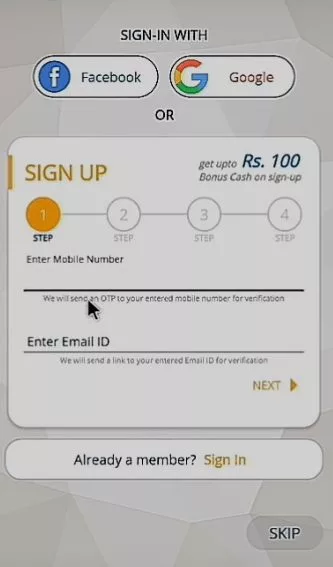 You can play Cricket, Football, Baseball, Kabaddi, Hockey and almost every sport.
After Selecting your sport, you have to select a match, then create a team and join a private or public league.
I would suggest joining the private league because there are more chances to win.
After winning, you can withdraw your money in your bank account or paytm.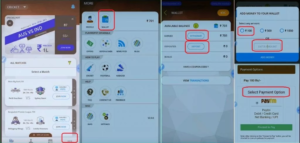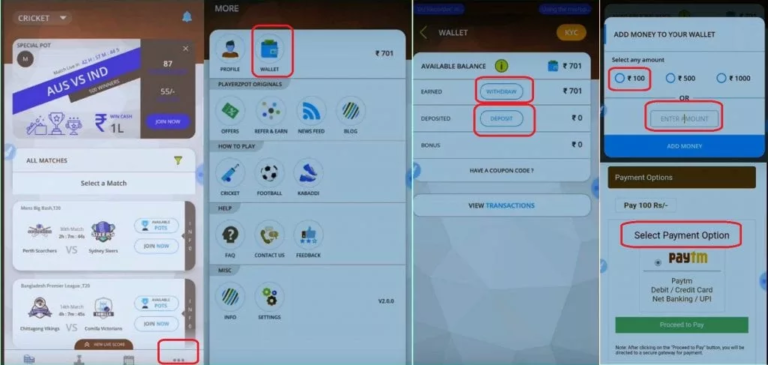 Some sites takes 24 hours to pay while other pay instantly:-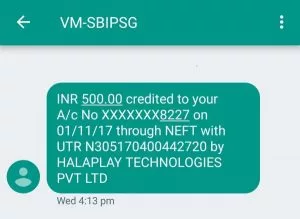 Investment Guide:-
You need to deposit some money before you start playing on these platforms. Only deposit money which you afford to lose.
Never play with your fee or room rent.
You should start with a little investment. First try to play practise contest. Once you learn then playing with real money.
Is Fantasy Cricket Legal:-
Fantasy cricket is illegal in all states of India except Telegna, Odisha & Sikkim. (This is because their government thinks fantasy cricket is a game of luck.)
How to Win 90% Times in fantasy cricket:-
Remember No one can make you win 100% times in any sports. But if you follow these tips, you will be in profit for your life.
Never greed and never fear while taking risks.
Always play with same amount, every day.
Only play small league.

Never investment too much in any match.
Select the best captain and vice captain because you will get 2X points for captain and 1.5X points for vice captain. (Later in this post, I will guide who to do this.)
Must Edit your team after toss. (Remember, you will get 0 points if your player is not playing.)
Never pay any one for the team. This is sucide. (I will share some best resources for you.)
Refer & Earn:-
Every fantasy platform offer refer and earn. You can refer others by whatsapp, telegram, twitter, facebook etc.
If they sign up with your link and code, you will get some free money which you can play. (Remember you can withdraw this money. This is called Bonus.)


For example, Kaptain11 provide 200 Rs on per refer:-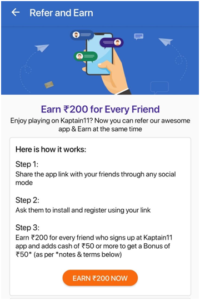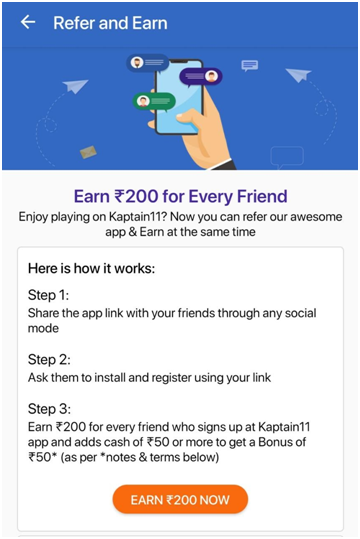 Free Websites Which will help you to stay ahead :-
ExpertFreeTips for daily fantasy cricket teams. (Just copy/paste their team and start winning.)
EspnCricinfo:- For Cricket News, Score.
Fanspole App: This is the official dream11 app. You can get expert predictions from here. Many experts share their team on this app.
Hotstar or Soniliv: For Watching Live Matches.
Telegram Line: You can get a faster update then TV here. Just install telegram and join any Cricket Line Channel. (For example: Ferrari Line, Ground Line etc)
Final Words:- You can earn money by fantasy cricket as others do. But you can also lose your hard earned money if you didn't follow rules.
So just be disciplined, play in limit and enjoy cricket.
Remember: Taking No risk is the biggest risk. So take calculated risk in your life.