Roopak Stores Since 1958 is a fastest growing company and from its establishment decades ago, it has made a key place in the market around the world. Our manufacturing unit is widely known for preparing spices with premium quality and supplying different kinds of Masala products to each corner of market. We have made our entry in everyone's kitchen in a short span of time and received fondness from respected customers.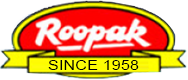 Using raw materials of supreme quality, maintaining hygienic process and advanced packaging of Roopak Stores, we are able to cater the tastes of people that they are looking for. We are very careful towards the selection of the ingredients which further help us in the process for preparing spices with the secret of taste.
Spices offered:
Season Special
Blended Spices
Delicacies
Murabba
Spice Powders
Whole Spices
Dry Fruits


Vision – Roopak Masala
Striving to achieve fineness in all our attempts, we are proud to create prolonged value for our large community. Our key mission is to make the state of superiority in good worth with respect to quality services and products. Keeping in mind the necessities of our customers, our team of experts always give their best efforts in lab to manufacture the best quality and eminence.