Hello ladies! Today we are going to talk and know about an old trend that has made a comeback in the fashion trends and that too for our good. Yes, we are talking about corseting trends.
Whenever we see a picture of a European or a Victorian queen or princess or watch a movie featuring them, the first thing that hits our mind is that stunning waist and perfect figure. So, what do you think? Was it the natural waistline of every woman? If you think so, then, you are certainly wrong. That perfect hourglass figure and that gorgeous waist came with a matching garment. This garment is what we call a corset.
WHAT IS A CORSET?
Like your bras and undies, a corset is also a piece of undergarment designed for women. The main job or motive behind a corset is that it provides you the perfect hourglass figure or at least the illusion of a perfect figure. It shapes your waistline, lifts your bust, and gives a look of a lean and long torso.
WHAT IS STEALTH CORSETING OR STEALTH CORSET?
As the description of this garment tells, a corset is meant to be an undergarment. Even though many people love and wear their corsets above their clothes. Wearing a corset over your outfit looks extremely stylish and bold at the same time.
However, there are people and there are times when a person would like to have that perfect hourglass look but hide the secret behind it. Wearing your favorite short dress, or that perfect ball gown or a fitted top, or any other outfit; many times we wish we could look perfectly shaped but without showcasing a corset.
Here, comes the trend of stealth corseting to get you out of this problem. Stealth corseting means hiding or covering your corset under your clothes.
So, if you are planning to stealth your corset for some occasion as well, here are some of the best tips through which you can do that!
CHOOSE THE RIGHT FABRIC!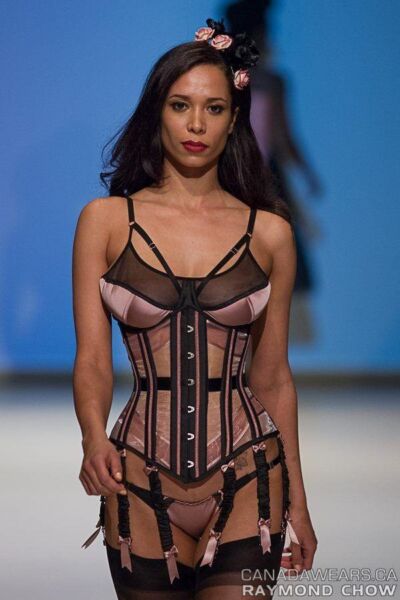 Source-Pinterest
It is very obvious that the material of your outfit, as well as the corset, matters a lot. First of all, let's talk about the fabric of your corset. If you are planning to wear your corset on a hiding mode, then, make sure that you opt for thinner and smoother fabric for your corset.
Thinner and smoother fabrics like mesh corsets or satin corsets are easy to hide if you wear layers over them.
On the other hand, thicker or bulkier fabrics will give you crease lines over clothes, bulkiness, and also might end up making you uncomfortable due to too much layering.
Now, let's talk about the fabrics of your clothes. When going for stealth corseting, it is a better option to opt for the thicker material for your outfits. This is because, if you wear a very thin layer over your corset then, the crease lines and seams will most likely be visible.
So, make sure to go with outfits that are thick enough to cover up all the evidence of the corset you are wearing under it.
THE RIGHT WAISTLINE!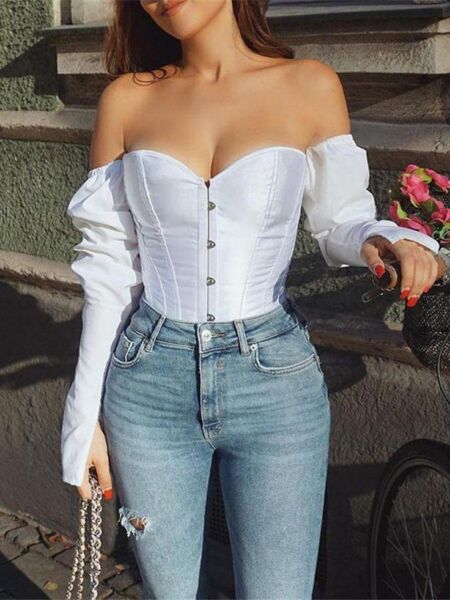 Source-Pinterest
Along with the right fabric, it is also very important to opt for the right waistline. Whenever trying to stealth corsets, make sure that you wear a cloth that is of a natural waistline.
When we say natural waistline, we mean that your bottoms should not be below the waist. Either opt for one that hugs you on the right spot or one that fits high above the waistline.
However, the better choice is wearing a high waist bottom. If you wear a low waist bottom with your corset, there are chances of a weird-looking lower abdomen being visible making you look a bit under the mark and making it clear that you are wearing a corset.
So, whenever going for stealth corsets, pick up bottoms like high waist jeans, jegging, high waist treggings, high or normal waist skirts, etc. and, we are sure that this is not going to be a problem for you as high waists are the new trend.
THE CORSET FITTING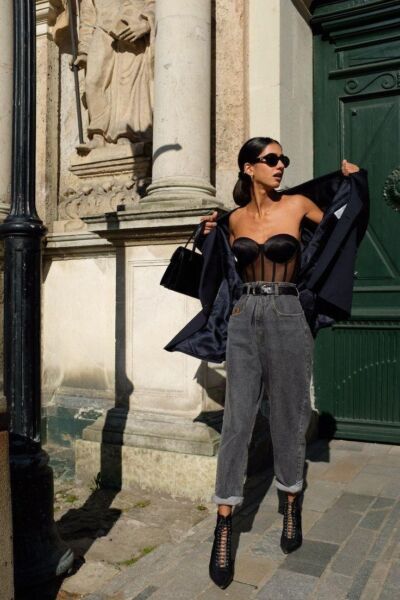 Source-Pinterest
Another important thing that you need to keep in mind when stealth corseting is that the corset that you chose to wear should be of a perfect fit. A loose fitted or oversized corset is going to create problems for you.
It is very difficult to hide a loose corset under your clothes. They will make a way out to showcase from beneath you over clothes.
Moreover, a loosely fitted corset is also not going to do its job properly. A corset can't define your shape perfectly if it doesn't fit you in the right place and the right manner.
So, always go with a perfect sized corset whether you want to hide it or not.
WHO'S A CORSET'S BEST FRIEND?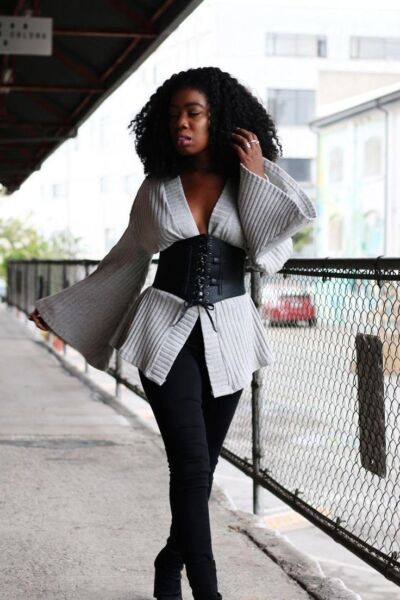 Source-Pinterest
So, what do you think? Who is the best friend of a corset? It is a belt.
A belt over your outfit will enhance the hourglass look provided by your corset. It will also stick to your waist giving an illusion that there is nothing underneath helping your waist to shrink.
And on top of it all, most of our favorite corset styles have a belt in them. Wearing a t-shirt dress or a loose t-shirt with leggings and a pair of heels, add a belt to give a defined look. Wearing a short dress, add a matching belt to accentuate its style, and many more.
LAYER IT UP AS MUCH AS YOU CAN!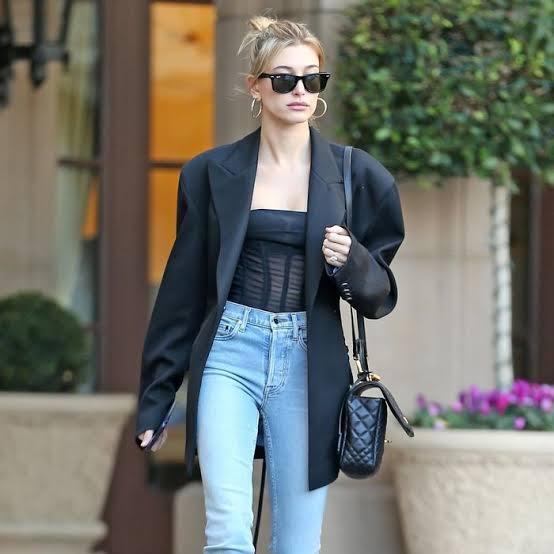 Layering goes a long way on two occasions. One, if it's too cold outside and the other if you are hiding something inside.
Stealth corseting is much easier in winters. Those thick sweaters, jackets, cardigans, scarves, and whatnot; everything is going to assist you in hiding the corset.
But, don't worry. You can substitute the layers in summers without compromising with your hourglass figure. Add a thin scarf to your outfit, a belt, and whatever you think suits you. Play with your layering game and skills and we are sure that you will rock the look.
COLOR OF THE CORSET MATTERS!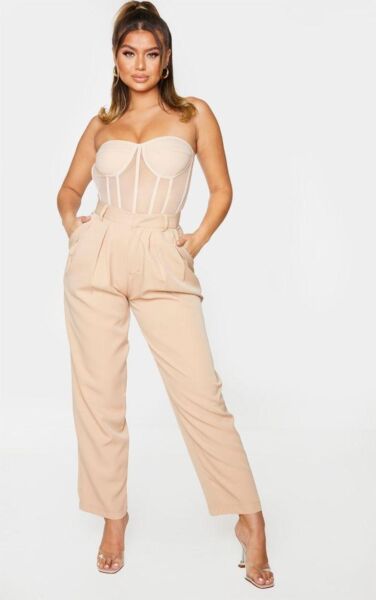 Source-Pinterest
The color of your corset also matters a lot. If you want to hide the corset under your clothes then, you need to make sure that its color compliments your outfit.
When you are planning to wear light shade outfits over it then go for a corset in a light color as well. For example, if you wear a black corset under a white tee then it is going to be visible for sure!
It is certainly difficult to keep a matching corset for all your outfits. So, what you can do is, invest in two or three shades that go with every color.
The first and the most important one being a nude or a natural shade matching your natural skin tones. This nude corset is going to work with most of your outfits. Other than a nude one, investing in black and white corsets is also a good idea for stealth corseting rather than the colorful ones.
THE TYPE OF BONING!
Source-Pinterest
There are three ways in which the corset boning is done. These are- external, sandwiched, and internal boning channels.
When planning on going for stealth corseting, we prefer that you pick corsets with sandwiched or internal boning channels.
Even though the corsets with external boning channels are most comfortable because their channels are sewn over externally, these are not appropriate for stealth corseting. This is because the external boning will give impressions on your over clothes.
On the other hand, despite being a bit uncomfortable in comparison to external boning, corsets with internal or sandwiched boning are best in case you want to hide them under clothes.
HIDE THOSE LACES!
Source-Pinterest
Unfortunately, most of the corsets come with laces to tighten them up. But, these laces become quite a problem when you need to hide the corset under your clothes.
The laces generally are left out at the bottoms after tightening and tying them up. So, what you can do to cover these extra lengths of your corset laces is tie them in thin bow ties and tuck the leftover lengths under your corset properly. You must do this very neatly to avoid any kind of bumps in the corsets due to these laces.