Beginning with Ganesh Chaturthi, Ganpati Utsav celebrations last for ten days. Ganesh Chaturthi, a well-known Hindu holiday that is also known as "Vinayak Chaturthi" in the southern portion of India, is observed by followers of Lord Ganesha all over the world as his birthday.
Throughout these ten days, Lord Ganesha is adored everywhere, from lavish pandals to exquisite pooja halls. Even if there are enormous pandals decked up with lights, flowers, and everything glittery in every nook and cranny, it might be difficult to design a grand mandap for Ganpati with the ideal decorations for your house.
Check out these useful ideas suggested by one of the top interior designers in Dwarka –
A Few Good Practices To Follow:
Put your Ganesha statue in the northeastern corner of your house.
One day before the celebration, thoroughly clean your house.
At your door, place a toran and some banana leaves.
Prepare the laddoos and modaks.
Purchase a clay idol to safeguard the environment.
Simple Decoration For Ganpati At Home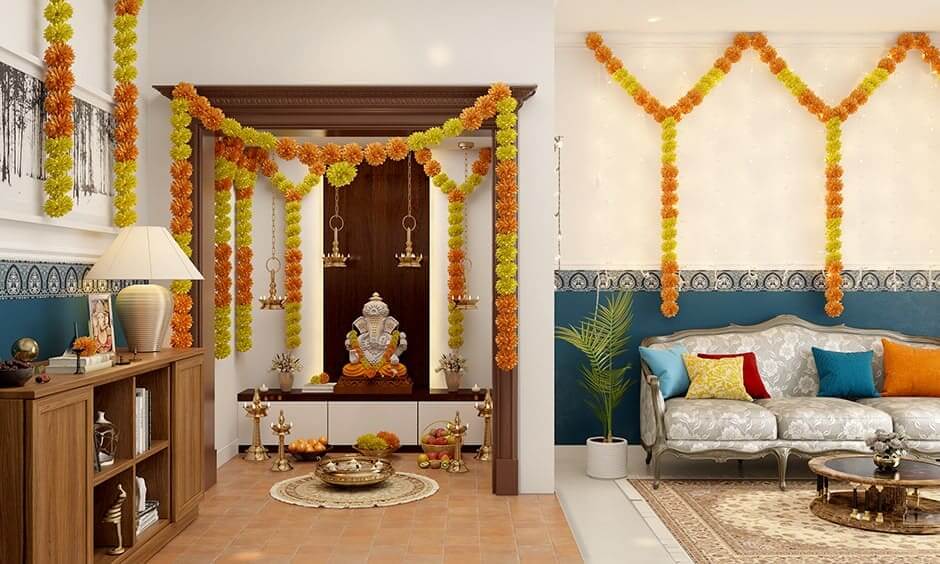 And if you lack creativity, don't worry—there are always ready-made alternatives that are just as lovely! Makhars, which are little mandap-shaped pandals composed of thermocol sheets and flowers, are very simple to erect. They make a beautiful backdrop for your Ganesha idol. You may also add additional lighting to this makhar, such as lanterns, fairy lights, and spotlights, to create a glittering look. Make your statue of Lord Ganesha the center point of your home.
Pick A Theme For Ganpati Mandap Decoration
We advise you to choose a theme for your Ganpati mandap decorating this year as choosing a theme for practically every celebration has now become popular. Please go ahead with your theme if it is something like Eco-friendly Ganesh Chaturthi Decoration Ideas this year. Make a plan or imagine how the subject might be implemented. Make a list of the supplies and equipment you will need to complete the look. Make sure the motif you choose is one that may be easily implemented in your home.
Ganpati Mandap Decoration With LED Lights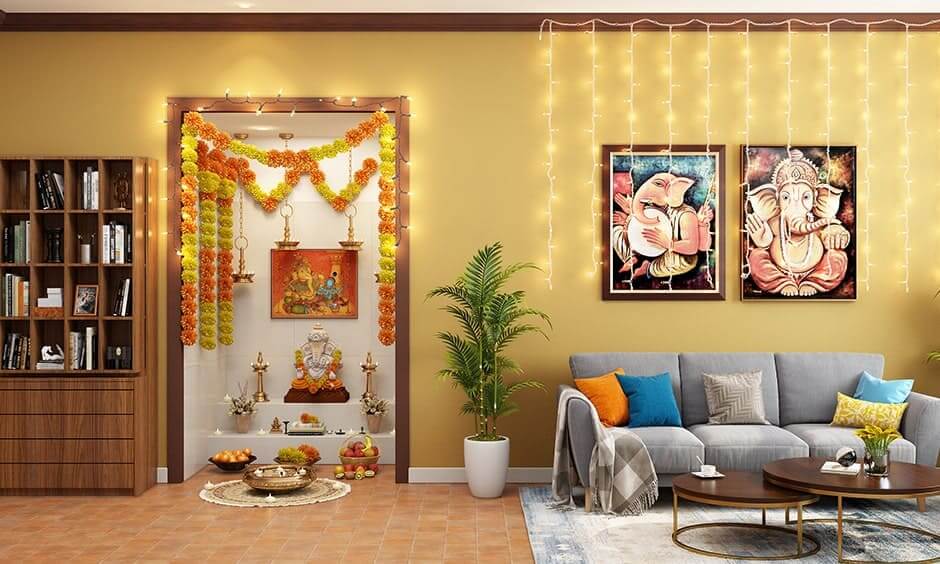 LED lighting may improve your Ganesh Chaturthi decorations in your home in a spectacular way. You can choose from a variety of LED light types that are sold on the market. For your mandap decorating, we advise choosing the ones in vibrant colors. LED lighting is quiet but powerful enough to fill the room with light.
Ganpati Decoration With Origami
If you're a hidden art and craft pro, now is the moment to show it off! A creative decoration idea is origami, a paper folding technique practiced in Japan. With origami, you can create some incredibly simple patterns like swans, butterflies, and umbrellas. Create a number of these patterns, then paste, attach, or decorate them on a blank wall or piece of fabric. As per one of the top architecture firms in Delhi, choosing a specific hue to unify the entire ensemble is another way to stay on theme. The opportunity to spend quality time with your children while DIY-decorating your Ganpati mandap is provided by this festive décor hack.
Ganpati Mandap Decoration With Flowers And Fruits
Without a doubt, no Pooja would be complete without flowers, fruits, and more flowers and fruits! What if we told you that adding this organic touch would improve your mandap decoration?
Flowers and fruits should be the proper size, color, and arrangement to enhance the beauty of your Ganpati mandap design.